Outdoor Wedding Venues in Cuttack for a Garden-Party Themed Wedding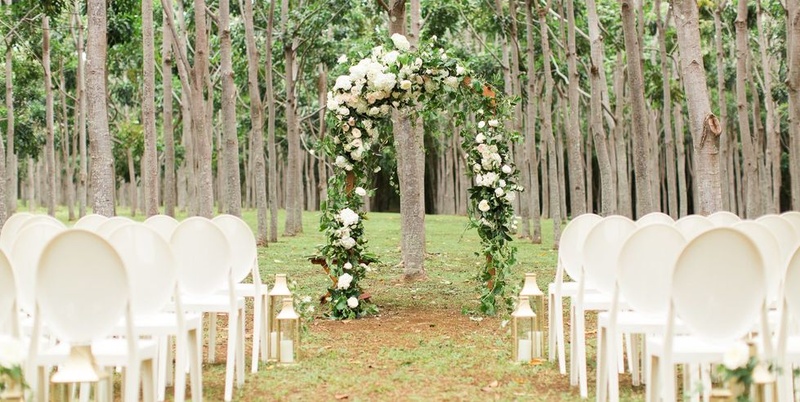 When it comes to weddings, big, showy celebrations are gaining popularity. Moreover, what can be trendier than open-air garden weddings. We all know and certainly, believe that the event area, where you choose to get married, sets the tone for the entire celebration. The hard part is that many couples, maybe you included, don't know where to start when it comes to looking for the venue that's best for you and your partner to tie the knot. So, we have compiled a list of the best outdoor wedding venues in Cuttack for your garden-party themed wedding. Check it out. 
Starting our list with one of the best wedding lawns in Cuttack – Santuka Palace. They offer bespoke halls and lawns for your wedding festivities. The decor team at the venue provides beautiful floral decor, drape & set decor arrangements and anything you wish for at your wedding day. Santuka Palace is dedicated to making your wedding day dreams come true. You can transform your wedding into a beautiful fairytale at this beautiful place for weddings in Cuttack. So, book this venue and make your wedding look heavenly. 
Key Features:
Both indoor and outdoor banqueting facility available
Ideal for an upscale wedding celebration
Open catering and decoration
Santuka Palace, CDA Sector 9, Cuttack
Address: Santuka Palace, Markat Nagar, CDA Sector-9, Near Saraswati Sishu Vidya Mandir, Cuttack, Odisha 753014
Landmark: Sector 9 PlayGround
Royal Garden is a contemporary and modern Lawn with unrivaled views of the open spaces and the garden, making your wedding look enchanting, and we bet, all your guests will be mesmerized by the beauty of this wedding destination in Cuttack. It has both indoor and outdoor event areas with distinctive decor, and you can spice it up more with the aid of the in-house decor team. Royal Garden will make sure that your event is everything you hoped it would be and more. This wedding garden in Cuttack will surely be a great choice if you are looking forward to hosting a trendy and sophisticated wedding ceremony.
Key Features:
More than 50,000 square feet of function space
Ample parking facility at the venue
In-house decor services
Royal Garden, Rajabagicha, Cuttack
Address: Royal Garden, Mahammadia Bazar, Cuttack, Odisha 753002
Landmark: Mahima Ashram
Kailash Mandap offers halls and lawns to choose as per your preference to celebrate your big day. All the event spaces are perfect for small-scale weddings to fit your tiny guest list. You can club the indoor and outdoor settings to host a wedding for large-sized gatherings. Along with food and decor, this venue in Cuttack also offers premier hospitality, leaving no room for worries. So all you actually have to do on your big day is enjoy it to the fullest. All in all, this is surely one of the best wedding venues in Cuttack to host a wedding of your dreams. 
Key Features:
Open decor and food services available
Multiple party areas to choose from
Overnight functions allowed
Kailash Mandap, Sikharpur, Cuttack
Address: Kailash Mandap, NH16, Sikharpur, Cuttack, Odisha 753004
Landmark: Sikharpur Play Ground
Cuttack has a lot of large wedding lawns apt for a lavish marriage celebration. One such wedding venue in Cuttack is Monalisha Palace, which has an accommodation capacity of around 2250 guests. The interiors at this wedding palace are a little old-fashioned and rustic, which can give a different touch to your wedding with a blend of old-world charm. Food and decor services are provided in-house, but they still permit you to get your service providers on-board. Go ahead and book this venue for celebrating the time of your life grandly. 
Key Features:
Complimentary changing rooms available
Ideal for large scale weddings
Serves alcohol at the venue
Monalisha Palace, Tulsipur, Cuttack
Address: Monalisha Palace, Near Raghunath Jew College, Deulasahi Colony, Cuttack, Odisha 753008
Landmark: Police Hospital
Last on our list is a wedding venue that has a huge occupancy – JBS Garden and Convention. It can easily host alfresco weddings for around 2000 guests. The lawn is very spacious, and the decor team use their endless creativity to make your wedding look whimsical. This wedding lawn in Cuttack is one of the most sought-after event areas for grand wedding celebrations. This place also has a hall that can be used as a pre-function area and also for all your pre and post-wedding functions. Choose this venue if you have a big list of invitees ready to dance at your wedding.
Key Features:
Open-air lawn apt for very large gatherings
Ideal for multiple events at a time
Well-connected wedding venue
JBS Garden And Convention, Tulsipur, Cuttack
Address: JBS Garden and Convention, TV Road, Tulsipur, Cuttack, Odisha 753008
Landmark: Sun Hospital Pvt Ltd
This was our pick on the best outdoor wedding venues in Cuttack for your garden-party themed wedding. You can check out more venues in Cuttack if you haven't decided yet.