Pallak and Sid's Off-Beat Destination Wedding held at Dona Sylvia Beach Resort, Goa
A stunning destination wedding held at the Dona Sylvia Beach Resort, Goa that gave us new Indian Wedding goals! Pallak and Sid's Goa wedding was the perfect mixture of tradition along with that destination wedding fun. Whether it was their sangeet or their pool party – each element of this destination Goa wedding was all things different, it was all things fun! The couple decided to mix up their engagement with their vibrant outdoor pool party and also had a gorgeous wedding mandap – one like we've never seen before! If you're looking for inspiration to make your destination wedding a hit, then Pallak and Sid's wedding brilliantly shot by Shutterdown Photography is all you need to see!
Pre-Wedding shoot
The moment we set our eyes on these pre-wedding photos of Pallak and Sid, we were so impressed with the way they played around with styles and themes – showcasing their funky fun side at the beach shoot. They kept it playful in vibrant Indian outfits in a rustic themed shoot and later went all out classy with Pallak in a gorgeous navy ball gown and Sid in a sharp white shirt, with suspenders and a bow-tie to match.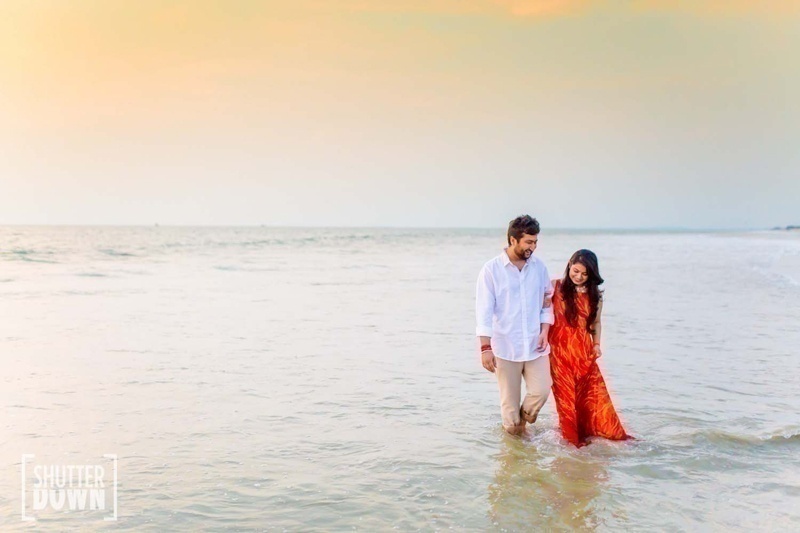 Pool Party and Engagement
While most people mash up their engagement ceremony with either their sangeet or cocktail party, Sid and Pallak decided to take it a step further and up their wedding game with a pool party engagement! Loads of vibrant colors, tribal drums and masks, floral garlands along with that truly desi sharaab di gaddi  – this was one event that had us thinking "WOW"  throughout!  To add to the awesomeness, they also had a caricature artist, gola wala, a hookah spread and many other uber fun elements to keep their guests entertained and happy under the bright shiny Goa sun!
Sangeet and Shagun
We love the little elements that Indian weddings are made up of. Be it the Naak Khichai, Joota Chupai, or finding the grooms name in the girls mehndi – All of these little things only add up to the excitement of the big day. Pallak and Sid had an emotional moment as the mother of the groom gave the soon-to-be bride gorgeous gold kangans to mark the beginning of their special journey together. After this, all of the ­thumkas began with their super Bollywood sangeet ceremony! Dressed in a pretty pink Arpita Mehta lehenga, Pallak was sparkling as much as the designers signature mirrorwork all over the outfit. We believe that Jodhpuri suits can never do anybody wrong and Sid in his dapper navy suit proved us just right!
Haldi
Strings of marigold flowers, kesari  gaddis, bolsters and so much love! As we scroll through the intimate haldi pictures, "din shagna da chadya"  is the only song that plays at the back of our minds. The feelings, the raw emotions and the warm, warm hugs shared between mum and daughter. Along with the Haldi, they later had a Choora rasam  where the red hued set of bangles were drenched in milk and fresh rose petals as a symbol of purity and blessing to Pallak as she embarks on this new phase of life.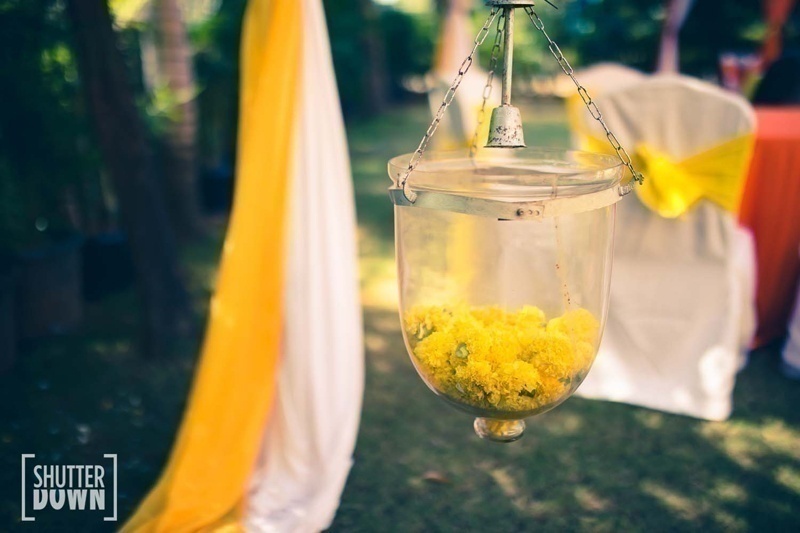 Photos with #TeamBride
The girl and guy gang got together to take pictures with the pretty Pallak in their customized #TeamBride tshirts – an amazing giveaway idea for your closest friends!
The Wedding
All of these super fun events lead up to the grandest part of 'em all – The Wedding! It's not an exaggeration when we say that the moment we set our eyes on Pallak and Sid's wedding mandap. It was a never seen before, unusual, magnificent kind of design that gave us all the #WeddingMandapGoals. Their mandap was made up of four arched pillars adorned exclusively with an abundance of fresh red roses. We love love how they used one single flower and made a huge style statement! Pallak and Sid too followed suit with the grandness in their outfits. Sid wore an off-white embroidered sherwani while Pallak made a gorgeous bride dressed in a peach and gold Sabyasachi. It was an evening filled with love, stunning attires and décor that left us spellbound.
P.S – Major props to the mother of the bride for rocking a classy emerald green Sabyasachi lehenga like a pro!