Polki Lookbook: A Guide to One of the Most Trending Bridal Jewellery Options
A couple thousand years ago, we humans felt a desire to beautify ourselves. And ever since then, jewellery has become just about synonymous with every Indian woman. So it only justifies that on the most important day of her life, she would want to be adorned with the best, most exquisite works of unparalleled art. And rightfully so, the limitless range offered by Indian jewellery delivers just that and more for the gorgeous Indian bride.
No doubt, looking at the sea of equally mesmerizing options available to her, any bride-to-be would be stumped about which one gets to be the lucky wedding-day pick. So to make your hunt for the perfect a little less manic, we bring to you Polki jewellery: one of the most trending styles that would make an excellent choice for your big day.
What is Polki jewellery and what technique does it use?
In layman's terms, Polki is a term that simply refers to raw, uncut diamonds in its natural state. Having its roots in the Mughal era, Polki jewellery has been around for a long, long time. It is unrefined, unprocessed and has no artificial enhancement done to it; because of which, it shines a lot more and is much more expensive than its sister, Kundan.
The technique: The diamonds are placed on a gold foil that adds to the brilliant shine when they reflect light. They are then further adorned with other precious stones.
Polki and Kundan are often confused because they both essentially comprise of stone-studded gold but a small difference is that while Polki jewellery has gold foil studded with only uncut, precious stones, Kundan jewellery also uses glass imitations studded over gold or even silver.
Maintenance
Polki jewellery is extremely high-maintenance as it loses its shine if exposed to moisture or dust. An effective way to keep your precious pieces as good as new is to avoid keeping them in the velvet boxes that they are sold in. Instead, keep them in airtight containers and make sure to wrap them in butter paper or cotton so as to keep the moisture away.
Do not keep all your Polkis in the same container as the clashing of one diamond against another can result in scratches. To ensure that they look shiny, soak them in warm water mixed with detergent. Wipe them with a clean cloth after a few hours and there you have it.
Rihanna will be proud. 😛
Note to keep them away from cleansers that contain Chlorine as this will not bode well for the gold.
Pricing
Polki jewellery is very expensive, seeing as it is made of natural, uncut diamonds. The value of each piece depends on the carat, clarity, colour and cut of the diamonds used in the making of it.
The average price of a Polki choker would be around 4-15 lakhs, while an entire set can cost up to 3 crores, depending on the design, number of stones and workmanship used.
The price range of Polki is relatively much higher than any Kundan piece which can be attained anywhere between 50,000 to 2 lakhs.
Return/Resale values
Because of its uncut nature, the demand in the global market is always high. The value and market price is kept steady and also considered a good investment.
It certainly does have its drawbacks since the gold content in these sets is considerably low as it is only used to make the frames which are filled with lac on the inside.
Some jewellers do however, add gold to the back of the piece as this would increase its pricing considerably.
A good idea would be to pick classic designs that will be in style even 10 years from now rather than going for something that is trendy just to keep up with the times. Reselling and resetting your gold and diamonds often is never a good idea as you only get back 90% on resale, losing about 10% every time you return or exchange the pieces.
Where
The best place to get authentic Polki jewellery would be Johari bazaar, Jaipur. Rajasthan is also an excellent source of these precious stones.
If you don't want to make the trip, prestigious jewellery stores in metro cities like Tanishq and Amrapali also have a significantly brilliant collection of Polki pieces.  
Check out these amazing visuals for a detailed idea!
Polki Maang Tikka
Polki Paasa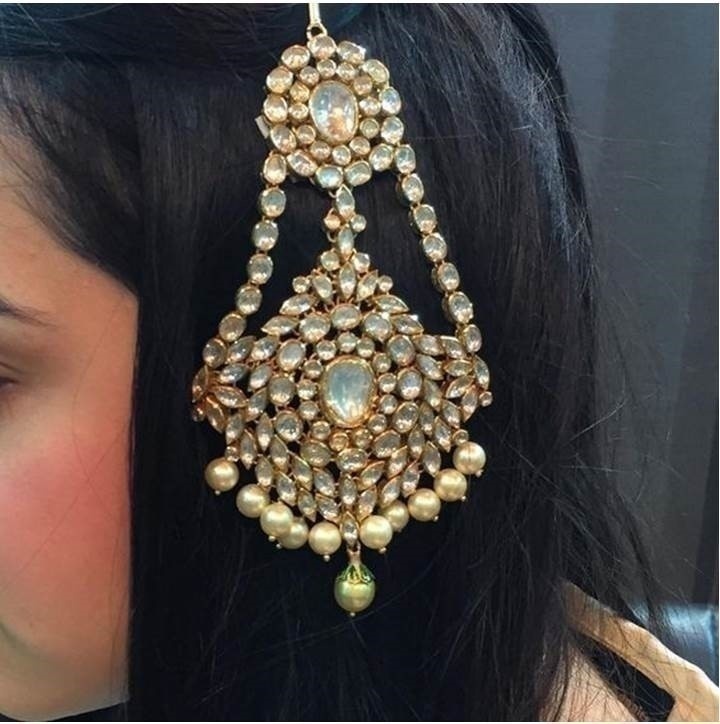 Polki Earrings
Polki Nath
Polki Necklace
Polki Bracelet
Polki Rings