This Breath-Taking Pre-Wedding Shoot Held In Austria Will Capture Your Heart.
We are always fascinated by love stories we read in books or watch in movies and conclude that they are just fantasy. But let's not forget that all the fantasy stories are inspired by the real world.
Neha and Sahil are also such couple. And their love story is worth a Bollywood movie. As cliché as it is, their story started with love at first sight. As soon as they saw each other they fell in love and as we say, Cupid struck an arrow and violins were out.
But drama doesn't take a backseat in any story worth telling! Neha comes from a Bengali family whereas Sahil is from a Sindhi family. And being Indian, of course their parents had to disapprove due to 'caste' issues. But finally after much drama, they got hurriedly got married. So after all the hurdles they managed to cross, they wanted to make their pre-wedding shoot special and celebrate their victory. Hence, they chose the beautiful country of Austria.
As they both are nature lovers, they wanted to have their pre-wedding shot at a location where they could feel themselves and express their emotions so they chose to be shot at Salzkammergut in Austria. Choosing the location was much easier than choosing the right photographer to capture their emotions into a memory of a lifetime. Hence, they chose Amit Gaur from ColorBlast Weddings to carve their dreams into reality. These breath-taking pictures depict not only their victory of love over the social and cultural boundaries but also the precision and creativity of Amit Gaur to tell their story.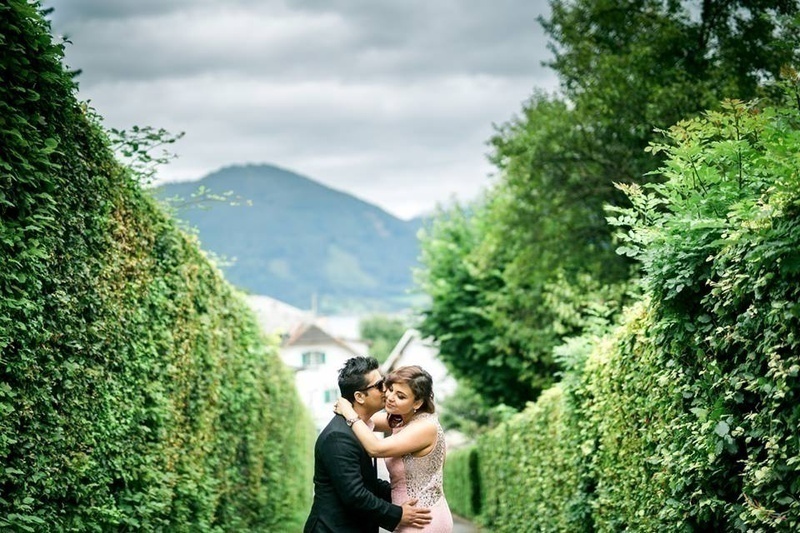 As Sahil Jurani is designer by profession, he designed his own clothes whereas Neha bought her clothes from local Designers in Germany.