Punjabi Wedding with an Old-World Charm held at India Habitat Centre, New Delhi
Meet Puneet and Rahul – a couple whose wedding has swept us off our feet. Everything about this Punjabi wedding held at India Habitat Centre, New Delhi had us completely sold. It wasn't filled with bright drapes or fancy table settings, rather, Puneet and Rahul's Punjabi wedding in New Delhi had an old world kind of charm. Homely, loving and warm. As suckers for everything unusually gorg, Puneet's bridal looks were our favourite. The bold maangtikkas, enchanting reception lehenga and the simplicity of her bridal make up – All of it was just simply mesmerizing!  Purushottam Deb – Photoworks, shot this stunning Punjabi Delhi wedding with flawlessness, and this is what the bride had to say.
"Finding a photographer for my wedding was one of the most difficult decisions in the entire wedding planning process. I contacted quite a few but nothing seemed to fit. Then one day, while on Facebook I came across Purushottam Deb Photography. I opened their page, saw a couple of photos and that was it! I had found what I was looking for and I have to say I made the right decision. My wedding functions and pre wedding were shot by Puru who is really good at his work. I'm really happy with the pictures! My family & friends had amazing compliments for his work."
Let's take a look from a few of our favorite elements from this gorg Punjabi Wedding held at India Habitat Centre, New Delhi.
Outdoorsy Pre-Wedding Shoot
Their pre-wedding photoshoot held in rustic wooden spaces and outdoorsy natural locations was two things – Simple and Stunning. Outfits were monochrome setting a perfect contrast to their picturesque pre-wedding shoot locations.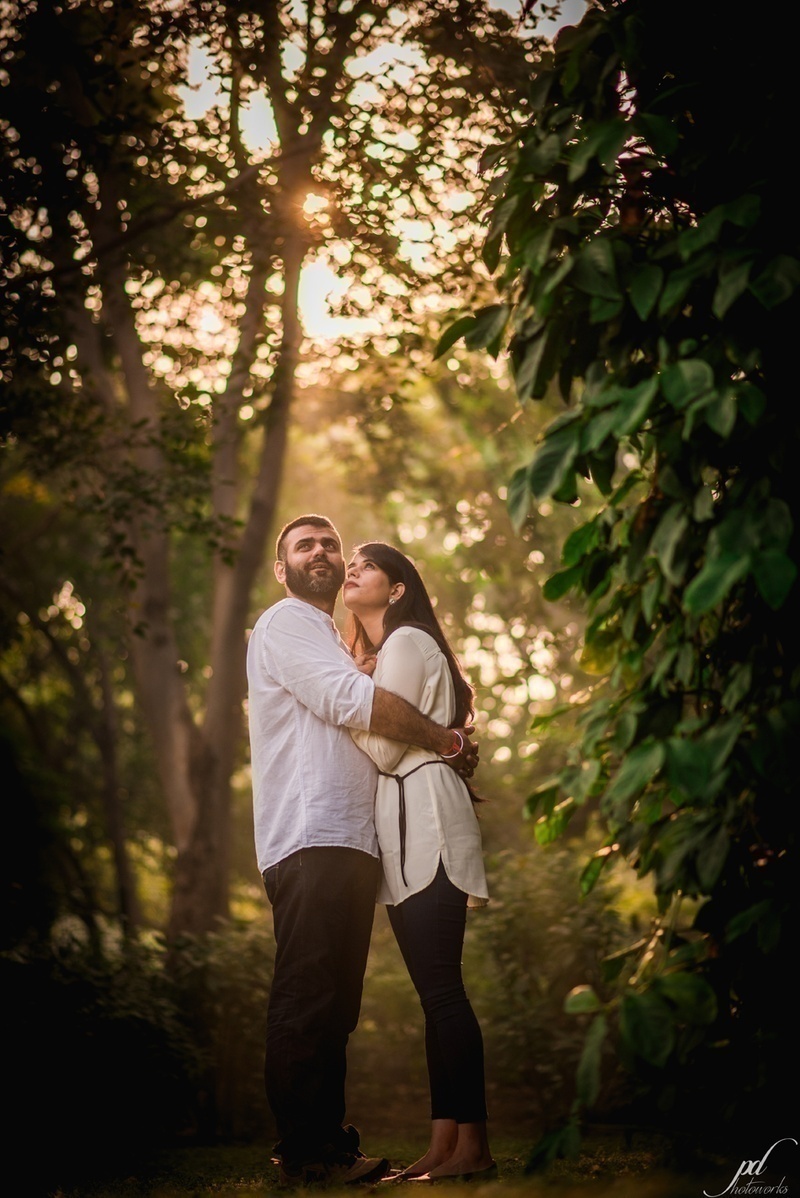 The Gurdwara Wedding
Puneet wore a stunning bridal updo with flowers and heirloom jewellery passed down from her mother. The bold maangtikka and nath paired with that minimal matching necklace and earrings – STUNNING. Her pretty pink bridal suit designed by Akshay Deep Singh had tiny silver details that adorned the outfit with maximum grace. The groom's unusual combination of jade blue and beige too perfectly complemented Puneet's entire bridal ensemble.
"A friend who is a designer – Akshay Deep Singh. I don't think I could have got such amazingly done wedding outfit from anyone else. I am in love with what I wore. After days of futile and frantic hunting in markets and various stores, we decided to opt for a customized Aligarhi Sherwani. Our designer (Akshay Deep Singh) helped in a perfect design as per our thoughts. He wore a beige sherwani with jade blue pyjama and odhni which blended perfectly with his bearded looks"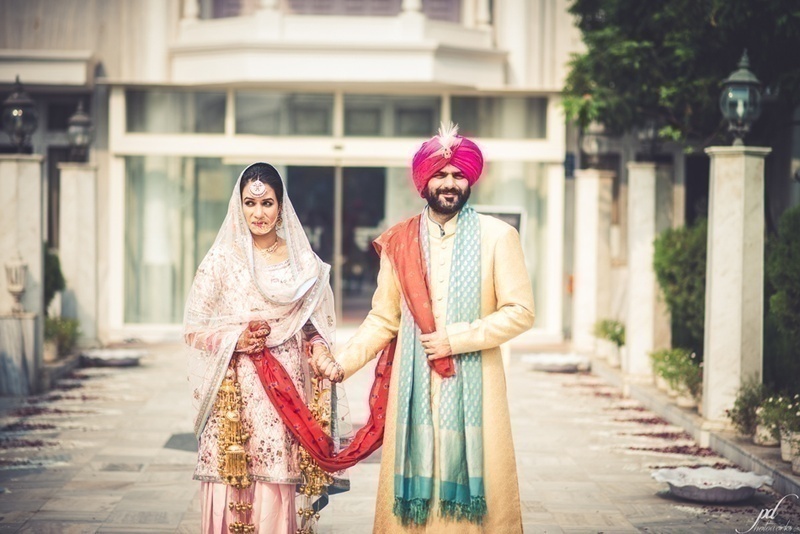 Classy Reception at India Habitat Centre
Emrald green brocade blouse paired with a gold-tinged zardozi lehenga? Yes, Please. Another Akshay Deep Singh creation that left us spellbound. A completely pulled back hairstyle with a mini chaandballi maangtikka and jewellery from Amrapali was perfect for the elegant look Puneet was going for. Leviwue and Team gave Puneet a natural and fresh look, without any overdose of cakey make-up – which is a bride's biggest fear. Her look for each event – beginning from the kind of makeup, hairdo down till her nailpaint was decided by her designer and brought to life by her makeup artists. The groom stunned in a dapper black Jodhpuri suit with a super stylish Hamiliton's watch embedded with his initials and the date of the wedding – how cool is that?!
A Word Of Advice From The Bride Herself :
"Enjoy each and every moment. It's YOUR day. Don't miss the fun by being busy planning and stressing yourself with every minute detail-Outsourced to friends & family. But most importantly, Hiring a good photographer/videographer and ensuring all the memorable moments are captured is a must because this is the only thing that's going to stay with you forever from your special day."
Wedding Venue – Pahari Wala Gurdwara
Reception Venue – India Habitat Center, New Delhi
Grooms Wedding Outfits – Akshay Deep Singh
Brides Wedding Outfits – Akshay Deep Singh
Jewellery – Heirloom & Amrapali
Mehndi Artist – Jayprakash Mehndi Artist
MakeUp Artist – Leviwue & Team
Bridal Shoes – Good Earth, Christian Louboutin