Real brides who beat the blues with their stunning blue lehengas!
If you ask a child about their favourite colour, their prompt reply will be 'blue'. That's because different shades of blue are the most eye pleasing and for someone like me who hates red, blue is one of the go-to colours for your wedding lehenga! The blue lehenga trend is slowly catching up and brides all over are ditching the red and the pinks to paint the town blue instead! If you are still not convinced, checkout these 12 brides who opted for the road not taken and bowled us over!
1. A minimalistic bride who opted for a light lehenga with minimum jewellery for her wedding day.
Image source: Fotowalle
2. This bride's powder blue lehenga and fuschia pink blouse make a great combination to wear to your mehendi ceremony!
Image source: Art Foto Studios
3. In love with this refreshing blue lehenga with roses!
Image source: Pinterest
4. Ice blue and blush pink, another favourite combination that a bride rocked on her wedding day!
Image source: Nitin Arora Photography
5. This bride looks beautiful in this detailed dark blue lehenga and nude makeup!
Image source: The Wedding Conteurs
6. Swooning over this bride who kept it subtle yet spoke volumes!
Image source: Cupcake Productions
7. This golden mirror work blouse paired with a navy and golden lehenga is the talk of the town!
Image source: House On The Clouds
8. Cobalt blue lehenga with golden flowers makes it look elegant!
Image source: Pinterest
9. Bridechilla slaying it in her blue lehenga!
Image source: Reynu Taandon
10. Royal blue lehenga with golden motifs seems to be a crowd favourite!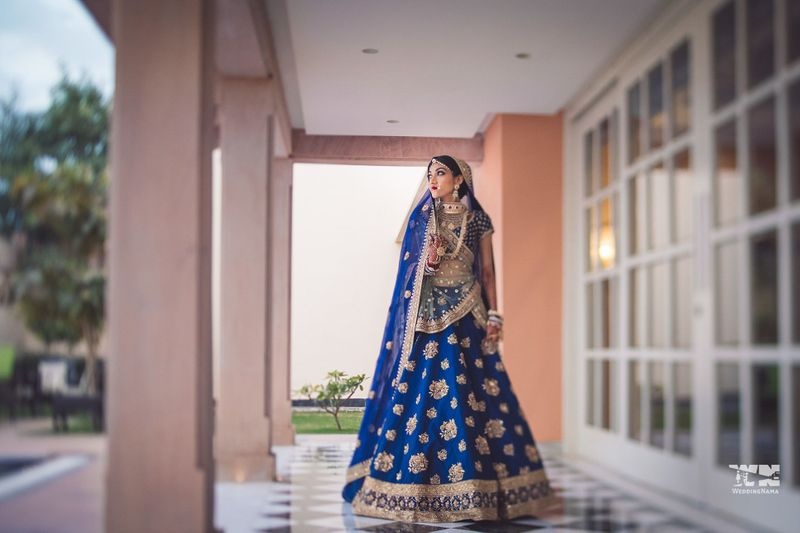 Image source: Wedding Nama
11. An off shoulder, cobalt blue lehenga with ruffles is ideal for sangeet/cocktail night.
Image source: Blacktie Project
12. This bride was aiming to buy something she can reuse later and settled on this light lehenga by Sabyasachi. She even got a red dupatta made for touch of the shagun colour.
Image source: Dreamcatchers Photography
So…are you considering your options?