#RubyVinitDaVyah – Nimrat Kaur's Sister, Rubina's Gorgeous Outdoor Delhi Wedding
Airlift actress Nimrat Kaur's sister Rubina got married at an Outdoor winter delhi wedding that had loads of love and little details that were just plain adorable. Held in the Air Force Auditorium Lawn held in Delhi, Vinit and Rubina's wedding was an intimate morning affair held in the presence of their closest family and loved ones.  The intimacy and closeness of this wedding made this celebration a hundred times more special – the closeness between Nimrat and Rubina, the sweetest family photos and the young couple lost in love! Scroll down and take a look yourself.
"It's your big day my baby girl…..to the best part of your life hereon." – Nimrat Kaur
Source : Instagram
#SwagMeraDesi – Rubina looking uber cool in those black tinted shades.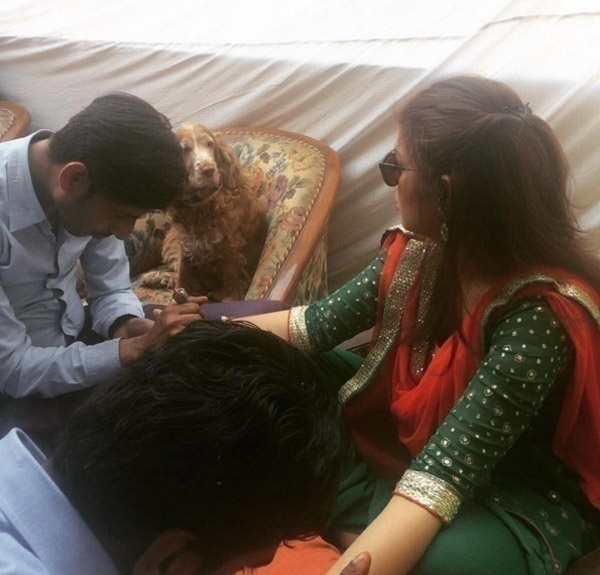 The canine companion watches on – Such an aww-worthy picture!
Showing off their thumkas at the sangeet!
Romantic pre-wedding photos are a must
Getting pampered with her besties before the big day
Rubina and Vinit Forever!
Nimrat Kaur dressed in a gorgeous green sharara and kurta intricately embellished with gold sequins and beads
Rubina opted to go candy pink and gold – a perfect color combonation for a young , fresh bride
Orange and Yellow Marigold strung standalones lined up in front of a peach hued enterance
White Frames, bicycles and birdcages – Wedding Photobooth Win!
Peach and White Drapes with fresh flowers and ferns set up outdoors for the newlyweds
You can never go wrong with fairylights!
Highlights from the #RubyVinitDaVyah
Holding on tight! Nimrat and her sister Rubina entering under a bridal chaddar adorned with dangling gold kaliras
Lifted high up, getting ready for the Varmala ceremony
Clearly he won at the Varmala ceremony (and her heart too) 😉
Marigolds and pinks everwhere, #RubinaVinitDaVyah was all things pretty and elegant
Bowing in front of the Holy Guru Granth Sahib
Vinit and Rubina taking their saat pheras at the Air Force Auditorium lawn, Delhi
Hashtag on point! #RubyVinitDaVyah
The dapper groom dressed in a classic white sherwani
Aww-worthy family photo!
Aww-worthy family photo part ii
Friends that came from far and wide to celebrate #RubyVinitDaVyah
Aww-worthy family photo part iii!
Pretty frames and Pretty Smiles with the brother and sister duo