Sabyasachi lehenga price and stores in Mumbai
If you are an Indian bride who is about to get married, it is impossible that you haven't considered wearing a Sabyasachi lehenga on your big day. But I am sure, you must've always wondered how much does a Sabyasachi lehenga really cost? To make your search easier, I have listed down Sabyasachi bridal lehenga price of some of his creations that real brides have worn on their D-day!
Scroll down and have a look at how much does a Sabyasachi bridal lehenga cost, and is it affordable enough for you to wear on your wedding. Also, if you are looking for your Sabyasachi bridal lehenga in Mumbai, I have listed some lehenga shops in Mumbai where you can find your dream Sabyasachi lehenga.
Sabyasachi Bridal Lehenga Price Range
A simple Sabyasachi lehenga that you can wear for your other wedding functions like mehndi or sangeet would cost you anything between 1 to 3 lakhs. These are the lighter lehengas, which are made specifically for pre-wedding functions.
Image Source: Carma
This ivory lehenga crafted in silk with sequin embroidery and contrast border is designed to be worn for a sangeet night, or perhaps a even a cocktail party. This Sabyasachi lehenga price is INR 2,95,000.
Image Source: Carma
This pink flared lehenga with floral print detailing and embellished border is another Sabyasachi lehenga, which is fit for an afternoon mehndi ceremony. This Sabyasachi lehenga price is INR 2,95,000.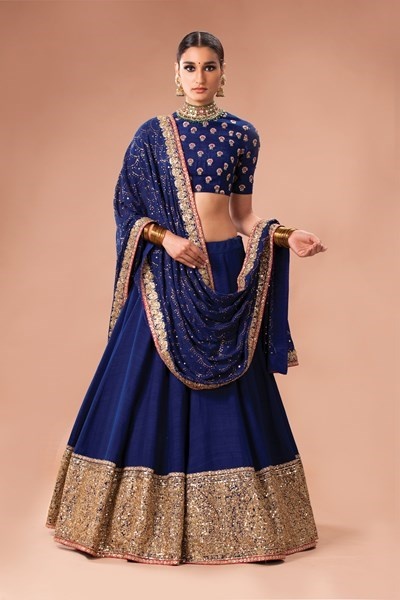 Image Source: Carma
This blue flared lehenga designed in silk with embellished detailing is ideal outfit for your cocktail evening. This Sabyasachi lehenga price is INR 1,82,500.
The more heavier Sabyasachi lehengas, which are meant to be worn on your wedding day usually cost anywhere between 3 to 7 lakhs. Sabyasachi also makes customised lehengas, however, they have to be requested way in advance as Sabyasachi himself approves the customisation. So, ladies that may take some time and also cost you a bomb. Approximately anything over 10 lakhs. This beautiful Sabyasachi lehenga that Anushka Sharma wore is said to be priced anywhere between 25 lakhs and above! *phew*
Sabyasachi Bridal Lehenga Stores in Mumbai
The flagship store of Sabyasachi is surely one of the best bridal lehenga stores for your wedding shopping in Mumbai. At this store, you will find the entire Sabyasachi bridal range, which won't be available at other places.
Address: Ador House,6-K Dubash Marg, Fort, Mumbai
Store Timings: Monday – Saturday 11 a.m. to 7 p.m.
You can also find Sabyasachi's bridal collection at the following stores:
(Not all his latest or heavy bridal collections are available here. Only a selected few designs available)
1. Aza Fashions
Address: 15-A, Shishir, Near Maneckji Cooper School, Juhu Tara Rd, Mumbai.
Store Timings: Monday – Sunday 10 a.m. to 8 p.m.
2. Ensemble
Address: 130/132, Great Western Building,, Shahid Bhagat Singh Road, Kala Ghoda, Fort, Mumbai
Store Timings: Store Timings: Monday – Saturday 11 a.m. to 7 p.m.
So here's hoping that if you're looking for your Sabyasachi wedding lehenga in Mumbai, then these lehenga shops in Mumbai should definitely help you find your dream wedding lehenga!