Sabyasachi's 'Charbagh – Winter 2019 Bridal Collection' is Breathtaking!
Every time that Sabyasachi Mukherjee announces the launch of a new collection, I wait with bated breath. Each design seems like a piece of art. Intricate work, fine craftsmanship and attention to details is what sets every collection of Sabyasachi's a class apart from the rest.
The Winter 2019 bridal collection has been titled 'Charbagh' – four blooming gardens of bloom nourished by one source. As the name suggests, the collection consists of four different branches that stem from the same set of roots – Devi, Nargis, Chowk and Isfahan – each one conveying a different tone and sensibility. Keeping that in mind, every wing within the collection have been paired with a new line of bridal jewellery, providing another layer of authenticity and charm to the Charbagh collection. 
Devi
Devi when translated means goddess and this term is generally associated with power and good vibes. Each bride exudes that kind of energy wearing his incredible creations. The Devi collection is for the quintessential Indian bride who dreams to don that 'Sabyasachi Red' lehenga on her special day. Devi is the divine female form i.e, Ma Durga. The Indian bride mirrors many faces of the Devi – docile, shy, powerful and elegant.
Nargis
The word 'Nargis' originates from the Persian language meaning flower. An element that is basically running the show for this particular wing within the Charbagh collection. Keeping in mind the colour palette that brides generally go for at destination and Indo-Western weddings, the Nargis line features more vibrant colours such as turquoise, yellow, pastels and with floral motifs resonating with Sabyasachi's memoirs of an overgrown garden lush with blooming flowers.
Chowk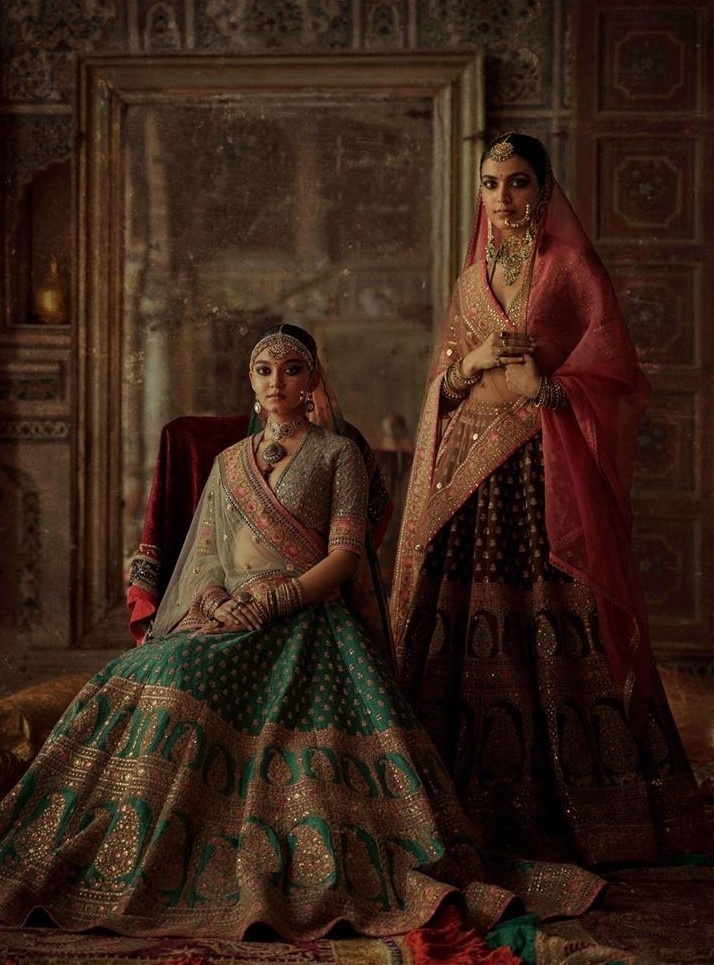 There is a lot to learn from the women of rural Indian. These women have tremendous knowledge about textiles and how to get creative with them. This collection is an ode to that rural heritage of Indian. Colour-blocking palettes, deeper hues and a touch of sexual appeal combined with the fine collection of rural textiles to cater to the urban Indian bride.
Isfahan
You see this collection and the immediate thought is 'royalty'. While most shy away from from using velvet, Sabyasachi Mukherjee has gone ahead and embraced the fabric to produce a line of outfits inspired from the Mughal era. Brides and grooms have something new (and with a royal flare) to try and bring back the velvet trend.
One more thing that has been really prominent in the Charbagh collection is the inclusion of a plus-size model. 'Every bride can be a Sabyasachi bride' – that has always been the basic idea behind every new collection. Agreed, there just that one model but such an inclusion does work towards  normalising the conversation surrounding desirable body types.
Which is your favourite collection from the four?
*Image Sources: Tarun Khiwal
Outfits by: Sabyasachi Mukherjee