Obviously there's something unique about getting hitched against a backdrop of mountains, radiant seashores or old castles. As stunning as these regions may be, remember that a ton of work is required to arrange such a destination wedding. All things considered, there are progressively down to earth contemplations to consider like the climate in your picked area, logistic challenges, and suitable accommodation among a host of different things. As wedding organizers in Bangalore can vouch for, a ton of their clientele come from different parts of the world to get hitched here. When asked by these outsiders, the reason for picking Bangalore over the traditional destination regions like Rajasthan and Goa, their response would be that Bangalore is one of those uncommon urban communities which gives all of you the solaces of a major city simultaneously including the remarkable appeal of a goal wedding. So, by now if you already wish to zero in on a function hall in Bangalore for a fabulous festivity then here's the listicle for you to review.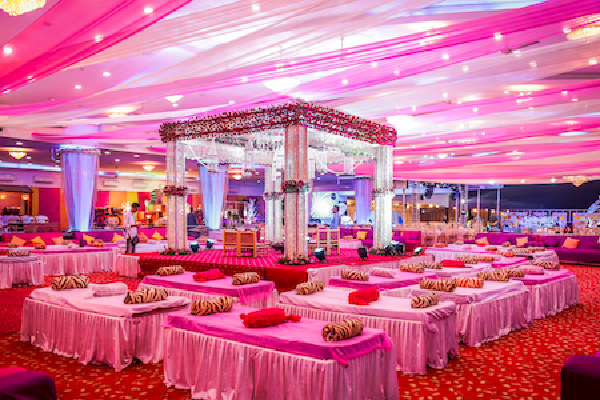 Gayatri Vihar in Palace Grounds qualifies as a largefunction hall in Bangalore, courtesy its colossal banquet halls and a sprawling lawn. With so many party areas, this venue is simply perfect to organize your dream wedding or a grand reception ceremony. The traditional decor over here is impeccable, and the ornate ceiling would simply steal the show. It offers lip-smacking vegetarian and non-vegetarian cuisines to satiate your guests' gastronomical requirements. It lies in the vicinity of the craze among kids- Fun World Amusement Park, a well-known place among the locals.
Gayatri Vihar, Palace Grounds, Bangalore
Address– Gayatri Vihar, Gate No.4, Palace Grounds, Near Mekhri Circle, Bengaluru, Karnataka 560080
Key Features
Colossal banquet halls and a sprawling lawn
Ample parking space with valet services
In-house catering and decor
Davanam Sarovar Portico in Koramangala akin to its position in this catalog is a top function hall in Bangalore. With a cluster of banquet halls, it is the perfect place to rejoice with your peers and friends during the festivity of your lifetime. The accomplished here would assist you in altering your extraordinary events and occasions according to your specifications. The settings here are bound to surpass your expectations in terms of administration, food assortments, decor, innovations, and exceptional service in this gem of a venue. State of the art amenities ensures that your guests always commend your choice of the venue. It has more than enough resplendent rooms to accommodate both your guests and you.
Davanam Sarovar Portico, Koramangala, Bangalore
Address– Davanam Sarovar Portico, Davanam Plaza, Hosur Main Road, Opposite Madiwala Police Station, Koramangala, Bengaluru, Karnataka 560068
Key Features
In-house catering and decor
A cluster of banquet halls
Luxe lodging rooms
JW Marriott Hotel in Ashok Nagar is rightly regarded as the best function hall in Bangalore by many industry experts. It is an ultra-luxurious 5-star wedding hotel to tie the knot with the love of your life. With top-class amenities, premium services, and beautiful interiors; to summarize, this hotel offers you the exceptional guest experience. The tastefully designed interiors, eclectic lighting fixtures, atrium, and the reception lobby of the hotel dispense a supreme show on your magical celebration. It has multiple party areas for you to conduct multiple functions simultaneously.  
JW Marriott Hotel, Ashok Nagar, Bangalore
Address– JW Marriott Hotel, 24/1, Vittal Mallya Road, KG Halli, Shanthala Nagar, Ashok Nagar, Bengaluru, Karnataka 560001
Key Features
A cluster of banquet halls plus a sprawling lawn
Ample parking space plus valet facility
Luxe lodging amenities
The Vintage Inn in Electronic City is a popular function hall in Bangalore. A luxurious boutique hotel, it is a sought-after venue for a range of events. It offers a spacious banquet hall that can accommodate a mid-sized gathering of guests and is ideal for hosting pre-wedding ceremonies, intimate weddings, and receptions. It has an in-house decor team that beautifully bedecks the hall to make it appear sumptuous on your special day. The expert chefs here will treat your guests to mouth-watering meals. The hotel is situated on New Hosa Road, located around half an hour away from Karmelaram Railway Station. 
The Vintage Inn, Electronic City, Bangalore
Address– The Vintage Inn, 81 and 82, New Hosa Road, Manjunatha Nagar, Naganathapura, Parappana Agrahara, Bengaluru, Karnataka – 560100
Key Features
Rooms available for accommodation
In-house catering and decor
Allows alcohol consumption
RG Royal Hotel in Yeshwanthpur is a budgetfunction hall in Bangalore. With multiple options to choose from in regards to banquet halls, you have the liberty to pick and choose the optimum venue for your requirements. It is an ideal location for pre-wedding functions, weddings, receptions. You are allowed to get your own pick of decorators to decorate the venue. The in-house catering service providers would serve food platters comprising of both vegetarian and non-vegetarian viands. The alcoholic beverages that you serve along with the food platters would win the hearts of your guests.
RG Royal Hotel, Yeshwanthpur, Bangalore
Address– RG Royal Hotel, No 19 Behind Ravindu Toyota, Yeshwantpur, Mahalakshmi Layout, Bengaluru, Karnataka 560086
Key Features
In-house catering and decor
A cluster of banquet halls
Ample parking space
Has this catalog delivered the function hall in Bangalore, fit for your wedding festivity? Please pour your thoughts into the comments section.