Sepia Events: For Dreamy and Larger-than-life Wedding Decor
Right from beautifully crafted signages at the entrance, to the little cute centrepieces sitting atop the tables, and from large drapes enveloping the mandap to the stunning ceiling decor, every element occupies an important place in wedding decor as a whole.
A couple of decades back, the decor wasn't experimented with as much as it is today. Decor meant bulky mandaps, drapes, florals and lights. However, the decor scene has undergone a commendable transformation and these days weddings are being defined by the decor witnessed in them. Every element, every corner is being brought to life.
If you are looking out for someone who can make every wedding function of yours shine- be it an intimate dinner, a jazzy party or an extravagant wedding, Sepia Events is the answer to all your queries! Sepia Events works towards making every function extra special and creating a world of your dreams! They are known for paying attention to one wedding at a time and for putting their heart and soul into every project.
Sepia Events has a team of highly creative and dedicated persons working for it. Manav Chopra (owner and founder), who has trained at the best schools in India and the US,  has a keen eye for detail along with a relentless approach. This team has a highly talented and well-known designer, Alpana Gujral, who is the daughter of the celebrated artist, Satish Gujral. She is a jewellery designer with 30 years of experience and heads the design team at Sepia.
What is the Brand's USP?
Along with the unmatched decor, Sepia Events also provides other services like music shows, dance performances, circus acts, stand-up acts, and just about anything which can lift the mood of the people! 🙂
Its strategy is to work organically with clients- try to understand the couple better, which includes their background, likes and dislikes, etc. Everything it uses adds to the decor has a certain meaning behind it.
Moreover, Sepia Events thinks of those aspects which the couple may not have even though of- space measurements, elements, and colour ideas. For more premium clients they offer sketches and  3D imagery.
Here are some gorgeous pictures you must take a look at for inspiration and if you are scouting for someone who can make your event more than superlative:
Moroccan lamps and fairy lights- an irresistible combination!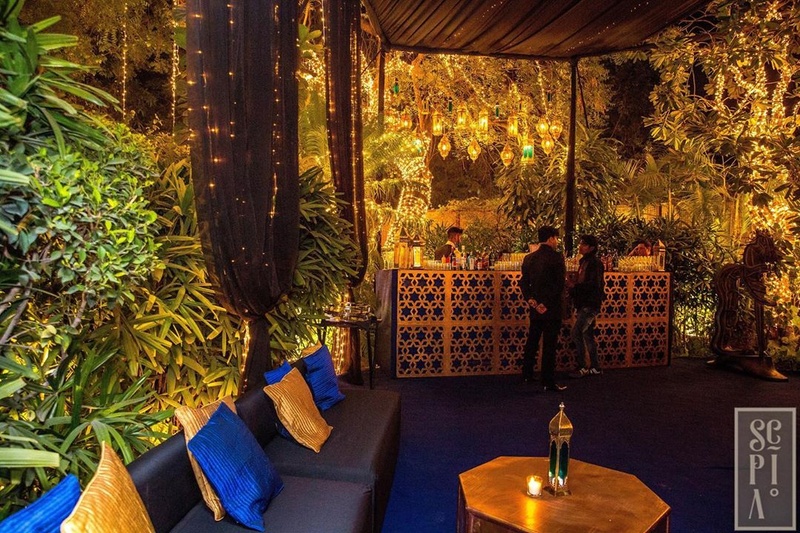 The ultimate code of seduction- Rajneegandhas.
Gorgeous drapes, beautiful floral chandelier and a fountain-like structure- perfect entrance arrangement for an evening fucntion.
If you want the feel of an outdoor lounge and something cosy, this setting is a perfect pick.
Adding a graceful touch to the decor with mogras and vintage utensils and vases.
A night bedecked with starry lights!
Want to feel a royal vibe?
Here is something Nawab-ish for you.
An entrance that looks more like it is straight out of a fairytale.
Pretty Pastels- Pink drapes, foliage chandeliers, floral centerpieces, and powder blue chairs.
Why do clients love Sepia?
"The wedding decor was something I could not wait to see and it looked absolutely beautiful. I got a number of compliments at the wedding and I am so glad we picked Sepia Events! Thanks again guys for making the entire event look spectacular and my most memorable one. Cheers!"
– Priti Sodhi
"I had a wonderful experience working with Sepia Events for my daughter's wedding. It was my first time working with them. They made me feel completely comfortable and they were very knowledgeable about decor, colours, setup, and had various options abound. I would definitely recommend working with Sepia for a personalised wedding."
– Rama Rajay Laxmi Rana
"Great ideas, excellent and flawless execution, and a superb eye for detail. Thank you, team Sepia for making our function a memorable experience for all our guests."
-Sonu Singh
"Thank you, Manav and Sepia Events for curating our functions so beautifully and seamlessly. You and your amazing team helped turn our visions into reality and we are so happy we choose you! It was a pleasure working with you and we will surely recommend you to our family and friends."
-Shalini Swaroop
If you are scouting for someone to make your wedding phenomenal, Sepia Events should be your pick!