Signature Bridal Makeup Looks that can NEVER Do You Wrong!
Indian bridal wear gives you the freedom to experiment freely with your makeup. As brides prefer reds, golds and maroons over most other colours, Indian bridal makeup can use an array of palettes ranging from subtle peaches and pink to bold reds and maroons. The more the choice, the harder it gets right? Fret not! With over 300 weddings featured in our real weddings section we spotted four sure shot ways you can ace your Indian bridal makeup. Real brides show us how it's done! Being dolled up by ace makeup artists like Elton J Fernandez, Nidhi Behl and Varsha Gidwani to name a few, these 4 signature looks are sure to give you that bridal glow without making your bridal makeup look cake-y, over the top or way too minimal.
Bold Lips
Whether you're wearing a lehenga, saree or a sharara bold bright lips can never do you wrong. Our real brides have picked tones of red and pink that suit their bridal attire perfectly – but do not be afraid to experiment with bright bold colours like candy pinks and shimmery glosses or even go all the way like Aishwarya Rai Bachchan at the Cannes Film Festival – purple lipstick for the win!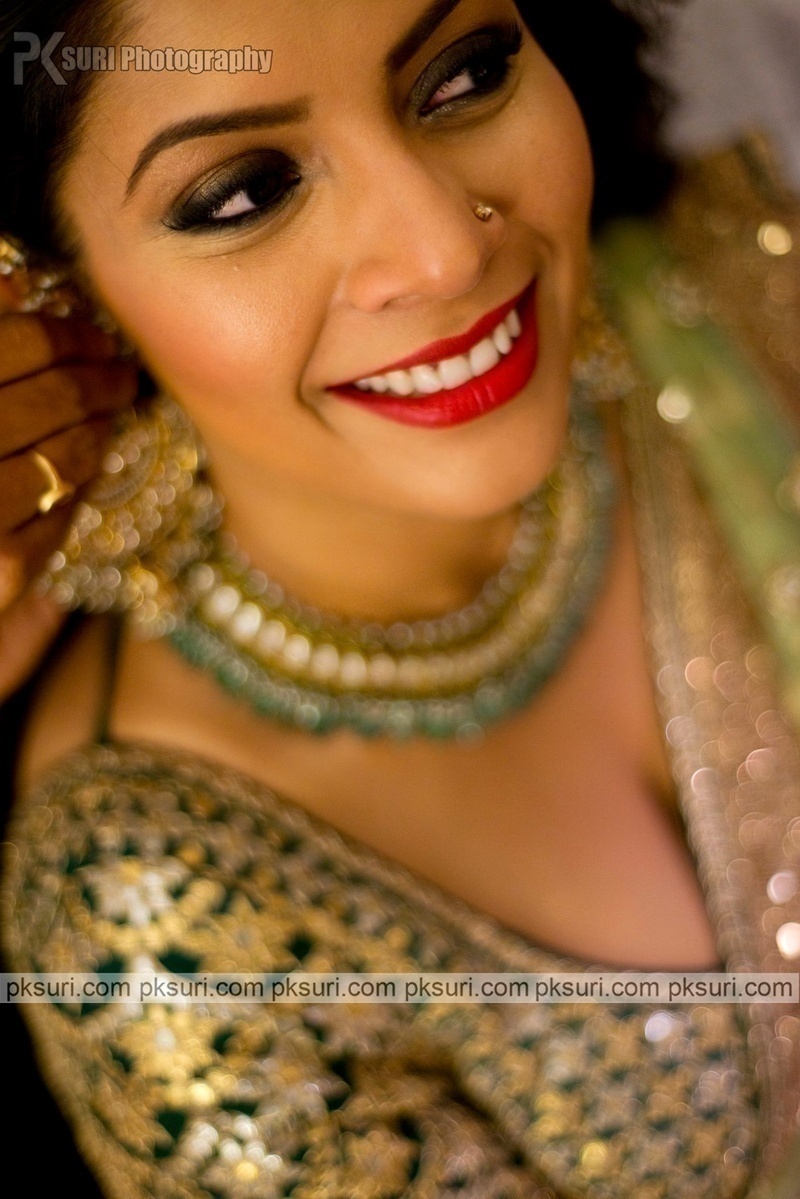 Au Naturale – Minimal MakeUp
A lot of times brides go for the minimal makeup look and end up looking like they have no makeup on at all! That is one path you do NOT want to tread. Talk to your makeup artist at each trial and make sure to see your makeup under a bright light or outdoors in the sun. This will give you the confidence that your makeup is perfectly blended, with a fresh, minimal glow to it. Our Real brides Rebecca, Neha, Anika and Debbie went for these looks and pulled them off beautifully!
Shimmer Eyes
Rocking that shimmery gold-grey-blue eye-shadow can bring your bridal look levels higher. Real brides Nidhi, Neetu and Nishita made a statement with gorgeous shimmery eye-makeup and a subtle overall look. They balanced out the lips with the eyes, accentuating only one feature as bold lips AND bold eyes might make your bridal makeup look a wee bit over the top. Hence, when you're going for a shimmer eye bridal look, make sure to balance it out with nude lips or subtle blush.
Winged Eyeliner
The newest trend in Indian bridal makeup that we LOVE! The winged eyeliner bride is the modern-chic-contemporary bride who knows how to do it right. The winged eyeliner not only lifts your face and your eyes but also brings in a modern look to your traditional bridal ensemble.