Sipping in style: 8 brides who have set the bar high!
With innumerable trends revolving around Indian 'shaadis', here's one more! This is a rather 'hattke' one, but it's totally worth it and we are going head over heels.
Brides are posing with a drink – a glass of wine, juice or just a cup of coffee and we can't get enough of their 'nakhrewaale' pictures.
We've handpicked the best for you:
1.Happy Appy
Image source: weddingwireindia
This gorgeous bride, flaunting a regal look with an appy tetra pack in her hand is making us go "Wow"!
P.S- It looks like she is really enjoying it.
2. Feeling pampered
Image source: gautamkhullarphotography
This to-be-bride is feeling pampered, while someone serves her champagne and she's busy with her mehendi.
3. Bring on the juice!
Image source: The_story_weavers
This bride is enjoying sipping on her juice, flaunting a pair of super cool shades. Stylish, chic and bold!
4. Coffee first
Image source: deep_joshi_gallery
We are happily assuming this bride doesn't want to be interrupted while she is having her coffee. Expressive, carefree and cute, this photograph steals the show.
5. Super swag
Image source: knottyaffair
Posing with a whisky bottle and of course her groom, this bride makes us go, "Goals"!
6. Oooooomph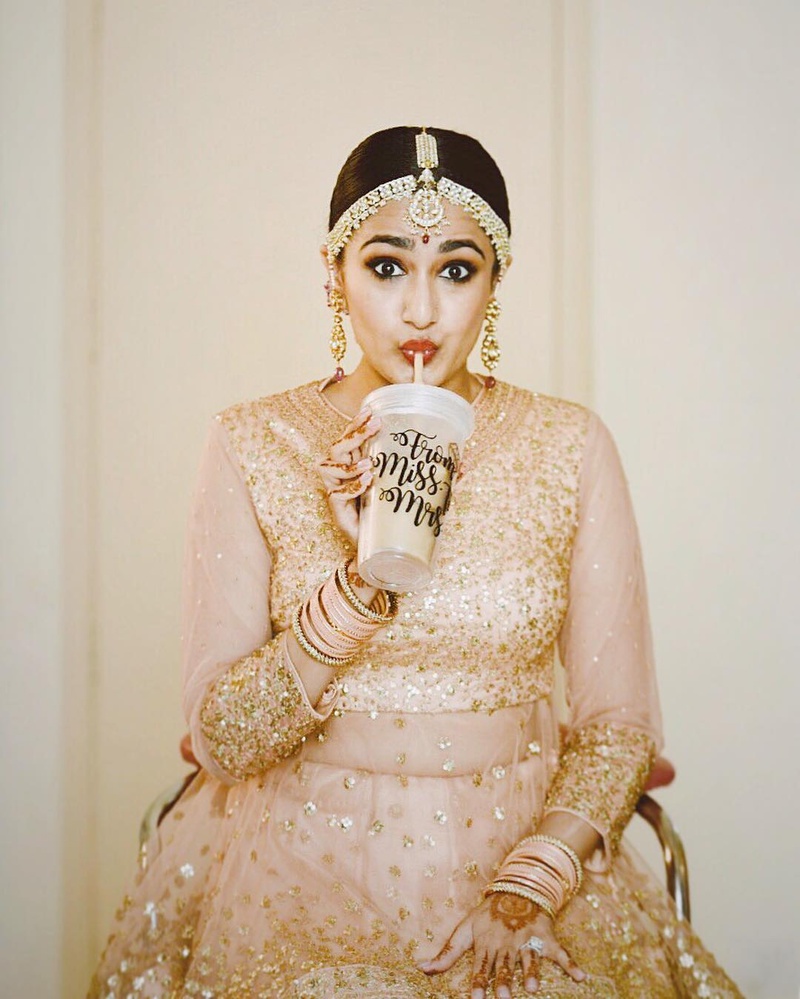 Image source: weddingcounteurs
Not only does she look gorgeous in this beautiful and subtle lehenga, this bride scores maximum marks for her cute and funny expression, not to miss the 'Miss to Mrs' on her sipper.
7. Pyjama party
Image source: snapsoulindia
Bindaas, bold and bubbly! This pre-wedding picture of the couple is to die for. The vibrant colours of the night suits add to the spunk in the picture and make it stand out.
8. Sipping away
Image source: snapsoulindia
Cuteness overloaded! This bride is busy sipping her mocktail, while her groom giver her a peck. Can we say, "Awwwwww"?
Have you decided your 'sipping' pose already?