Small Party Venues in Hyderabad for your Special Occasions
What is the first thing that comes to your mind when you hear about the city of Hyderabad?
No prizes for guessing, of course, it's the world famous biryani that keeps people drooling over when in Hyderabad. This city of Nizams has always had a history associated with it right from the Qutb Shahi dynasty. An amalgamation of both ancient and modern artwork has given this city a different charm. Celebrations here are grand and have always had a different air about them. So, if you're looking forward to hosting any of your special occasions, here is a list of some small party venues in Hyderabad that you can surely glance through.
The Majestic Hotel at Nampally in Hyderabad is tailor made to celebrate your special moments. If you are hosting any of the pre-wedding ceremonies like haldi, mehndi, marriage anniversaries, birthday parties look nowhere beyond The Majestic hotel, Nampally. It offers some of the best facilities when it comes to accommodation and food. Arrangements are made as per your requirements and the hospitality team makes sure that everything is taken care of. You can host your events depending upon the number of guests you have as there are two banquet halls both medium and small sized. The ambience speaks for itself and has a different charm, which makes it one of the best birthday party halls in Hyderabad. So book the Majestic Hotel at Nampally for a delightful experience.
Get ready to host your special day in grand style at the hotel Trishul Grand which is a well-known place to host small events such as birthday parties, pre-wedding ceremonies as well as post-wedding events. There are many party venues in Hyderabad but Hotel Trishul Grand has the best catering services when it comes to both veg and non-veg food. This is also one of the top cocktail party venues in Hyderabad. This place has a different aura as soon as you enter its premises giving you all happy vibes. Go ahead, get your bookings done at Hotel Trishul Grand.
Luxurious halls, comfortable stay and happy memories, that is what Hotel Grand Sandarshini Inn is renowned for. Your special moments surely need a special celebration and you'll witness nothing short of it here at the Hotel Grand Sandarshini Inn. The sleek interiors really go very well with the entire ambience of the hotel which looks appealing altogether. The hospitality team
always there to help you and they make sure that the arrangements are made as per your demand. To experience their excellent services, book Hotel Grand Sandarshini Inn.
Hyderabad is famous for its rich Mughlai food which has maintained its taste and quality for decades now. There are many such food joints and hotels which serve Mughlai food but here at the Taj Tristar in Secunderabad your taste buds will be taken care of in shahi style. Here at the Taj Tristar, they've got it all covered from your wedding ceremonies to parties. It is one of the best places among the private party places in Hyderabad which has a lawn and a terrace that can be booked as per your convenience. For an experience that lasts for years to come, book the Taj Tristar and create happy memories.
OYO Flagship 469, Kachiguda, Hyderabad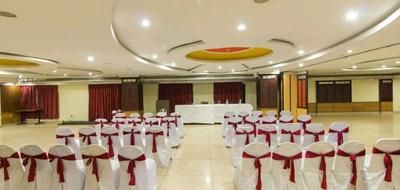 The OYO Flagship 469 is one of the best places if you're looking to host your small parties and other functions. An ideal place to host your wedding reception or your pre-wedding function and birthday events, this place has something in store for everyone. Both veg and non-veg dishes are served here and there is plenty on the menu that you can look up to. Out of all the pre-wedding venues in Hyderabad, this place surely stands out. Your special day will be all the more special so go ahead and get your bookings done.
The next time you're looking for small party venues in Hyderabad, make a note of the above-listed venues for an experience to cherish.