Some crazy, some cute: Haldi pictures you shouldn't miss!
Yellow! Yellow! Yellow!
If you are wondering what we are talking about, well this is the only colour you can see in a haldi ceremony. From the turmeric to the clothes to the yellow marigolds, everything is just yellow!
It doesn't stop here. A haldi ceremony can get quite crazy and entertaining, especially for the bride and groom. So all the to-be-dulhas and dulhans, brace yourselves for this yellow nightmare.
Here are photos that will prove haldi can be the most exciting yet maddening function, preceding your shaadi:
1. No haldi, please!
Image source: Thestoryweavers
We can literally hear the bride scream, "Nooooo!"
Hard luck! No one is listening to you on your haldi ceremony, uh-uh.
2. Chhalka Chhalka re kalse ka paani…!
Imagesource: lightbucketproductions
This is a beautiful shot of a water splash on the bride during the ceremony.
3. Can we get it over with?
Image source: wedon'tsaycheese
Bitter-sweet and of course yellow!
This bride seems to be waiting for this yellow ordeal to end for her.
4. Yellow beauty
Image source: thestoryweavers
This bride has turmeric applied on her entire face and more so in progress.
5. Flower shower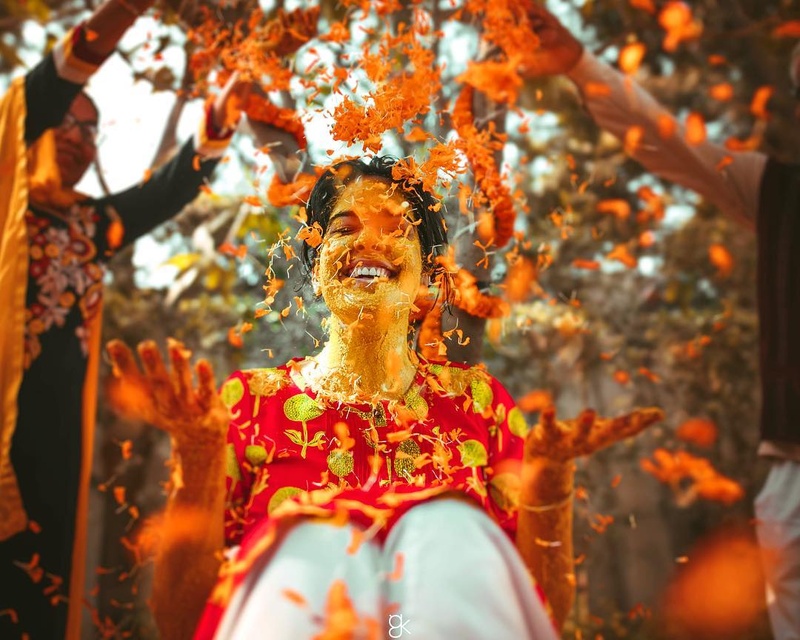 Image source: gautamkhullarphotography
Baharon phool barsao…
Because, afterall its haldi time!
6. Naughty and nice
Image source: gautamkhullarphotography
It's all about some haldi and some nakhraas!
7. Yellow everywhere!
Image source: priyamparikhpictures
So much yellow, fun and excitement-all in one capture!
8. Double trouble!
Image source: shutterdownphotography
The bride and groom a part of the haldi ceremony together, it can't get any better, can it?
9. Why should yellow have all the fun?
Image source: shutterdownphotography
Smoke bombs=double the fun! Must we say anything else?
10. Not-so-haldi fan
Imagesource: shutterdownphotography
Haldi is not only about the brides, this dulha proves it with his priceless expression.
Get all geared up to have some crazy, yellow pictures on your haldi!