20 South Indian brides who rocked the South Indian bridal look
A South Indian bride has a typical wedding trousseau, which comprises of South Indian bridal sarees, lots of gold jewellery and a hairstyle full of flowers or gajra!
For all you South Indian brides out there who are looking for some inspiration, check out these beauties who pulled off the South Indian bridal look like a total boss!
1. The quintessential South Indian bride
Image Source: Moments by Kajan
Image Source: Stories by Joseph Radhik
Image Source: Harishankar Photography
A beautiful kanjivaram saree, a gorgeous embroidered blouse, some traditional temple jewellery and a smile that could kill. What's not to love in this South Indian bride?
2. The South Indian bride that ditched gold for diamonds
Image Source: Tamanna Makeup Studio & Academy
While most South Indian brides opt for traditional South Indian bridal jewellery in gold, this gorgeous bride ditched the bling of gold and opted for the sparkle of diamonds instead. And did you notice the subtle South Indian bridal makeup that she is wearing? Stunning, right?
3. The minimalistic South Indian bride
Image Source: Azzhar Photography
For those of you who want to don the traditional South Indian bridal look but don't want to go overboard, then this bride's look is all the inspo you need. Her choice of minimal south Indian wedding jewellery along with a classic yellow and orange kanjivaram saree make this bride look absolutely radiant.
4. Malayalam actress Bhavana looking like a total goddess in her South Indian bride look
Image Source: Sainu Whiteline
How gorgeous does Bhavana look in this traditional South Indian bridal attire replete with gold embellished Kanjivaram saree, temple jewellery and gajra filled hair?!
5. This bride is giving some major South Indian wedding jewellery goals
You could totally learn a thing or two from this traditional south Indian bride on how to wear multiple necklaces and ornaments without looking like a Christmas tree. Take a cue from the way she has paired varying lengths of gold, temple and diamond necklaces together to create a unique bridal look.
6. Bling it like you mean it
Image Source: Vijayeesam
Totally loving how both these south Indian brides are showing off their love for diamonds by replacing all the temple and gold jewellery for diamonds. The shiny kamarbandh and mathapatti along with the long necklace steal the show!
7. South Indian bride that gave the temple jewellery a miss
Skipping the classic temple jewellery, this south Indian bride option for designer gold jewellery while choosing to wear the traditional kempu matha patti.
8. Slaying the classic temple jewellery look
Image Source: Buzzing Beez
This South Indian bride right here has slayed her temple jewellery look like a complete goddess. Right from her bajubandh to mathapatti everything gives her the quintessential South Indian bridal look! And that emerald green kanjivaram saree, my my!
9. A simple South Indian bridal look that has all my heart
Let this south Indian bride look be on the top of your inspiration list if you are aiming to achieve a simple yet beautiful look on your wedding. The elegant cream and red pattu saree paired with gold jewellery and muted south Indian bridal makeup make this bride look so radiant.  
10. Lovely bride wearing Kempu south Indian bridal jewellery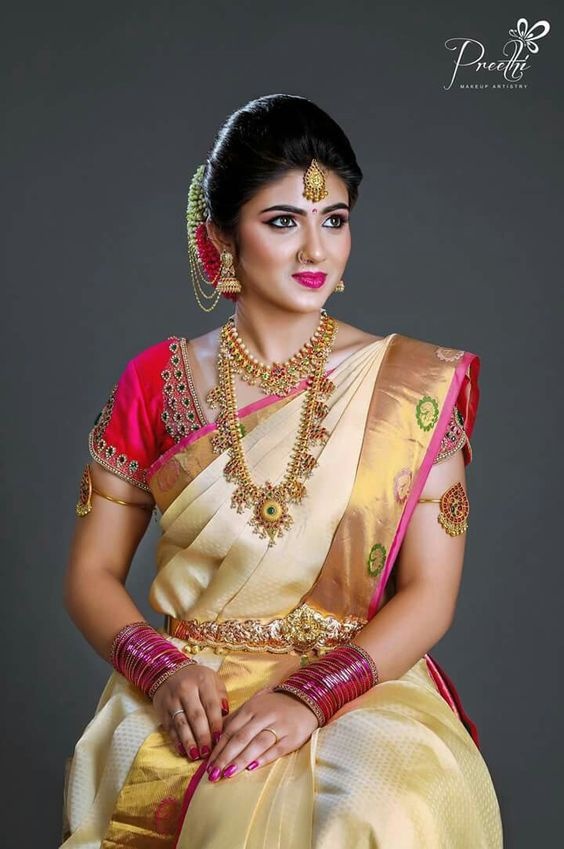 Image Source: Preethi Makeup Artistry
If you are planning to wear traditional Kempu jewellery, then this south Indian bridal look is great to take inspiration from. The cream and gold saree with a contrasting blouse and the traditional south Indian bridal hairstyle with gajra complete this bridal look!
11. South Indian bride slaying a statement kempu necklace
Image Source: Vijayeesam
Take a clue from this South Indian bride on how to carry a huge statement necklace with such grace and beauty! Also, did you notice the bridal nath? It has a thin gold string that goes all the way up to her hair, unlike other South Indian nose pins.
12. A gorgeous South Indian bridal makeup that matches the bridal look
Bold eyes, big lashes, thick brows and a classic red lip! What's not to love in this South Indian bridal makeup that complements seamlessly with the bride's off-white silk saree and gold jewellery.
13. Lovely bride giving major South Indian bridal jewellery goals
Image Source: Wedding Bells
Just look at this radiant South Indian bride wearing six gold necklaces of different styles and rocking them all like a true diva! If you too want to wear multiple necklaces on your wedding day, then pick all of them in varying styles. Tip: Choose one temple necklace, one mango mala, one coin necklace and other styles and pair them in graduating lengths for a heavy bridal look!
14. South Indian bridal makeup inspiration for your big day
Image Source: Makeup by Vejetha Anand
Did you see the bold eye makeup done beautifully on a flawless base? Doesn't it make the brides look surreal? Totally loving that they chose a pink or nude lip colour to offset the bold eyes!
15. The hatke South Indian bride who chose Jadau jewellery over temple jewellery
This stunning bride right here tells us that you don't have to follow any rules when it comes to your bridal look. Who says you can't rock a pattu saree traditional jadau jewellery? A fine example of blending the beauty of north and south!
16. The South Indian bride rocking the traditional septum nose ring
Image Source: Studio 31
Keeping the Tamilian tradition of wearing a septum nose ring alive, this beautiful South Indian bride chose something minimal but made sure to make it the centre of attention!
17. If these brides aren't South Indian bridal hairstyle goals, then I don't know what is!
Image Source: HaHa Photography
A voluminous french braid with temple hair accessories is perfect for the bride who wants to give the classic bun a miss.
This one's for the brides who wish to have a simple South Indian hairstyle with basic bun covered in flowers.
The extravagant bun + braid South Indian hairstyle with gold hair accessories for the bride who wants to go all out
The simple braided South Indian hairstyle with gold coin braid chain that's the perfect mix of traditional yet minimal.
18. South Indian bridal makeup with muted eyes and bold lips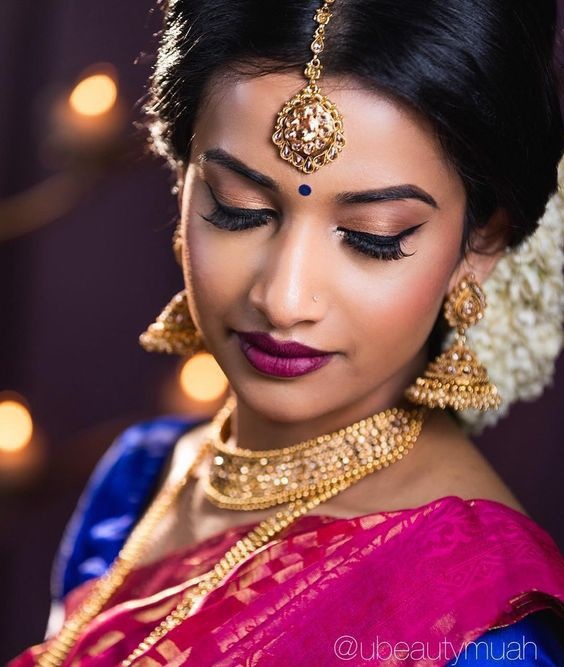 Image Source: UBeautyMuah
If you want to go easy on the eye makeup by skipping the smokey eye look, then these South Indian bridal pictures are all the inspiration you need for your bridal makeup. By keeping the eyes simple and minimal, these South Indian brides have worn a bold and striking lip colour that stands out beautifully. Tip: Such makeup looks go perfectly well with dusky skin brides who want to bring out their best features.
19. Heavy blouse design with silk sarees that are to die for!
Image Source: Makeup by Vejetha Anand
Image Source: Sunil Emmar
If you are going to opt for a simple kanjivaram saree for your wedding day, you can take a cue from these South Indian brides and amp up your ensemble by wearing a heavily embellished blouse to balance the simple look of the saree.
20. South Indian bride in traditional Guttapusalu jewellery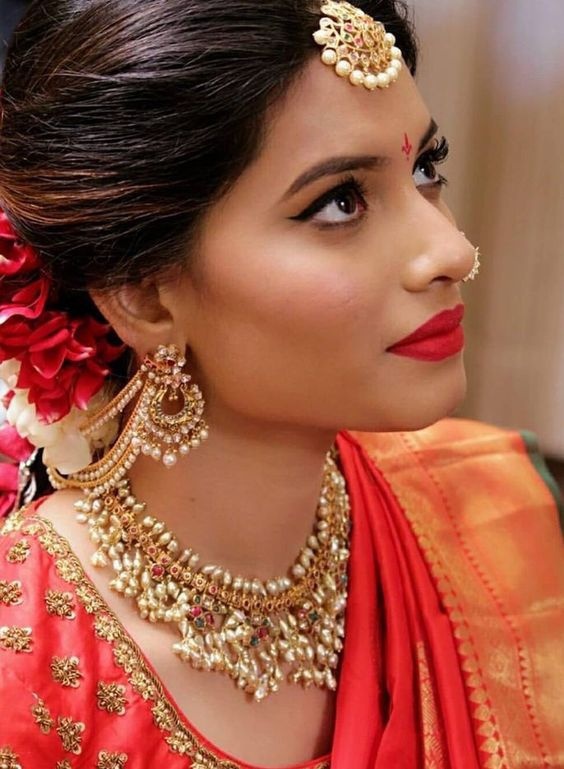 This lovely South Indian bride chose a traditional guttapusalu necklace and earrings, which are made of beautiful gold rice pearls bunches that is perfect for brides who have a penchant for pearl jewellery.
Did any of these South Indian brides give you #weddingweargoals or what?
Image Source: Pinterest unless specified.