Stunning Venues for a Dream Destination Wedding in Mussoorie
In case you are still contemplating whether or not to opt for a destination wedding in Mussoorie, here are a few lines to make you decisive. Verdant tree-shrouded slopes looking down the Doon valley, the unique picturesque Himalayas at dusk, and clear skies giving you a splendid showcase of twinkling stars would ensure the perfect backdrop for your D-Day. Long Pines, Canals, Beautiful Orchids, Waterfalls, and beauty all around make it a paradise for pre-wedding pictures. The magnificent Shivalik slopes give you an all-encompassing view of the valley below and this hill station is simply an awe-inspiring place to plan your destination wedding.
WelcomHotel The Savoy is an ideal place for a dream destination wedding in Mussoorie. Akin to its name, it literally welcomes you to host your D-Day. It graces in Gandhi Chowk in the proximity of the renowned Mussoorie Library. This vibrant venue is in possession of lawns and banquet halls for you to celebrate your special occasions. It can thus accommodate a large number of guests comfortably. Be it a wedding, pre-wedding function, your big fat reception, or an engagement ceremony, this place can cater to it all. Surrounded by trees and green covers, the venue offers an amazing vista as a backdrop to make your pictures timeless.

WelcomHotel The Savoy, Mussoorie
Address- WelcomHotel The Savoy, Library Bazar, Gandhi Chowk, Mussoorie, Uttarakhand 248179
Key Features
Multiple lawns and banquet halls
Gorgeous ambiance
Premier hospitality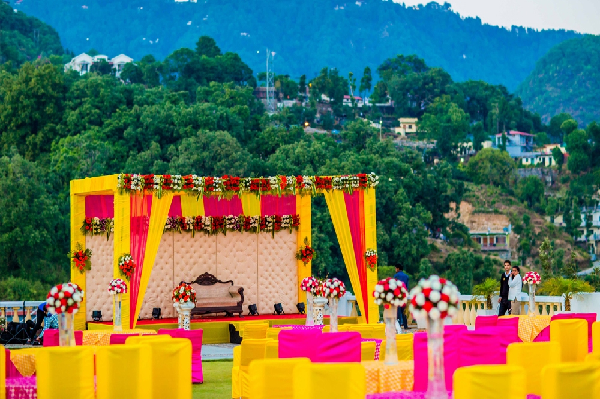 Jaypee Residency Manor is the place you should proceed for a perfect destination wedding in Mussoorie. Perched on the hill-top, surrounded by the majestic Himalayas, it is spread over acres of green landscape. The venue has an inviting ambiance which makes everyone feel welcomed. The elegant décor of the venue gives a special touch to your big day. It is located on the Jharipani Road which makes it easily accessible for all to reach there. It serves palatable delicacies in both vegetarian and non-vegetarian food to their guests. It allows you to get your own decorator from outside to decorate the venue as per your requirements. It has luxurious rooms for your invitees which gives them a comfortable stay.

Jaypee Residency Manor, Mussoorie
Address- Jharipani Road, Barlow Ganj, Mussoorie, Uttarakhand 248122
Key Features
Stunning terrace and lawn plus multiple banquet halls
Ample parking space
Luxe lodging
Dunsvirk Court, Mussoorie, a fantastic wedding venue lies on the slopes of the majestic Himalayas. This spot makes for a completely flawless scene that your visitors will be in love with for a very long time. It has numerous party venues, including lawns, banquet halls plus a terrace to oblige you for a huge social event. The staff here is very much prepared, amazingly considerate, and ensures that you take a back seat and can simply appreciate the occasion with your visitors. The in-house caterers serve delectable vegan and non-vegetarian food platters with a wide scope of alcoholic beverages. If you have a particular stylistic layout at the forefront of your thoughts for your festivities, here you do have the freedom to procure a decorator from outside.

Dunsvirk Court, Mussoorie, Mussoorie
Address- Dunsvirk Court, Vinscent Hill, Baroda Estate Near Library Chowk, Mussoorie, Uttarakhand 248179
Key Features
Lawns and banquet halls plus a terrace
Ample parking space plus valet facility
Lodging amenities
Royal Orchid Fort Resort is a perfect fit for a beautiful destination wedding in Mussoorie. It nestles amidst the quaint valleys and is surrounded by lakes. It houses several banquet halls, a stunning terrace plus a lovely lawn with modern facilities to ensure hassle-free weddings, receptions, and engagements. It features a dining outlet, 'Pinxx', which is a multi-cuisine restaurant, and thus would treat your guests with fabulous food platters. It also features fantastic rooms and sumptuous suites to comfort your guests and you. The hotel is situated near major tourist attractions such as the gorgeous Gun Hill Point, the majestic Mossy Falls, and the pristine Mussoorie Lake.

Royal Orchid Fort Resort, Mussoorie
Address– Royal Orchid Fort Resort, Tara Hall Estate, Picture Palace Road, Mussoorie, Uttarakhand 248179
Key Features
Several banquet halls and a stunning terrace plus a lovely lawn
Fantastic rooms and sumptuous suites
In-house multi-cuisine restaurant
The Golden Palms is the foremost of the luxury venues for a destination wedding in Mussoorie. Gracing The Mall Road in Kulri and located near Radhe Krishna Mandir this venue is home to a banquet hall and a lovely lawn. Be it a pre-wedding function, a resplendent reception or a gala wedding celebration, this elegant place can efficiently cater to it all. The heart-warming ambiance, stunning location, and charming vibes are sure to attract your attention right at the onset! The banquet hall is tastefully done up in wooden furnishings, sophisticated decor, and subtle lights. Apart from its beautiful setting, this luxe resort also offers a range of in-house services for your comfort.

The Golden Palms, Mussoorie
Address- The Golden Palms, The Mall, Kulari, Picture Palace, Mussoorie, Uttarakhand 248179
Key Features
Sprawling lawn plus spacious banquet hall
Rooms for accommodation
Premier hospitality
Do you agree with this list of venues for a destination wedding in Mussoorie? Speak your mind and scribe the venue of your choice for your wedding festivities in the comment section.