Summer Essentials for Your 2018 Honeymoon That Your Trousseau Cannot Miss!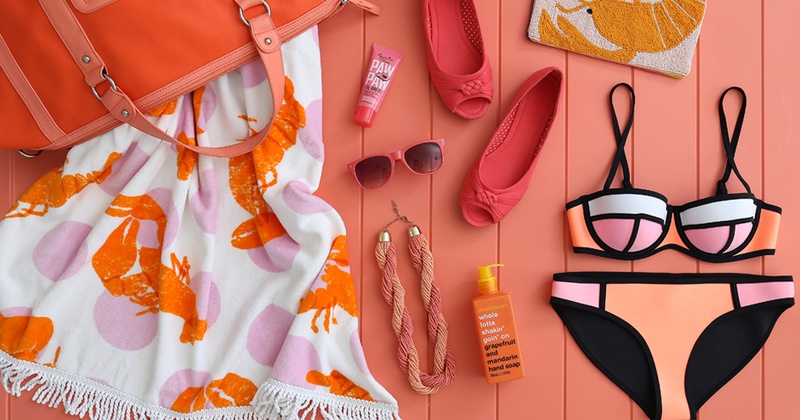 Summer is almost here and so is your honeymoon. Whether it is your first, second or seventeenth honeymoon some essentials never change! You've gotta be careful out there, considering the harsh sun. Don't let the fire ball ruin your honeymoon, sweety! We have jotted down a few summer essentials that need to be there in your honeymoon trousseau!
1. Beachwear
Summer honeymoons usually include a beach trip and you don't want to be overdressed or underdressed once there. Carry a bikini/swimsuit/one piece, whatever suits your mood. You can pair it with a sarong to look ultra chic!
You can checkout some really awesome beachwear here.
2. Portable Towel
What? Portable towels?! Sounds crazy, right! But they exit and they are awesome. You can easily fit this pouch in your bag/sling. You will appreciate it for its utility and cute looks!
You can buy portable towels here.
3. Lingerie Bags
Wish to keep your undies in an organised manner and don't want to mix them with your other clothes? Put them in lingerie bags! A set of three bags for your bras, underwear and dirty lingerie should suffice you.
You can buy lingerie bags here.
4. Passport Covers
If you're so fancy, why should your passport cover be boring? Get your hands on some really funky, sparkly or personalised passport cover. Travel in style!
You can get cool passport covers here.
5. SPF Lip Balm
It's a common misconception that lip balms are only meant for winters. Your lips will need the protection from the harsh sun rays. We recommend you to use a balm which has SPF 15. Also..your lips might get pretty chapped during the honeymoon, you know..Just kidding!
You can purchase the best SPF lip balm here.
6. Summer Dresses
Ditch those jeans and opt for some breezy summer dresses. Floral patterns, pastel shades and cotton. Be in sync with the weather!
You can buy some summer dresses  here.
7. Easy Footwear
Shoes can make your feet really sticky and heels might be uncomfortable. Opt for flip flops or slip ons for ultra comfort.
You can purchase slip ons here and flip flops here.
8. Cotton Breezies
Wear cotton tank tops and shorts in order to save yourself from excessive sweating. Synthetic and nylons are a no-no! Go easy on yourself, babe.
Check out some cool tank tops  and shorts here.
9. A Tote Bag
You require a tote bag to carry all necessary things while roaming about. A tote bag will give you 'totes' vacay feels!
You can purchase tote bags  here.
10. Jumpsuits
Jumpsuits are a summer favourite. Strap them on and pair them with some easy slip ons and sunglasses. Perfect!
Checkout some amazzeee jumpsuits here.
11. Sunblock
We can't emphasise on this enough! Please apply sunblock thrice a day at least. Reapplication should be after every 3 hours. It is super important to protect your skin from the not so kind sun!
You can purchase sunblock here.
12. Sunnies
Stepping out in the sun, ladies? What's the next most important thing after sunblock? Sunnies, of course! Sunnies or sunglasses make for quote a fashion statement too!
You can purchase some sunnies here.
13. Straw Hats
You may not go to Hawaii but you can bring the Hawaiian culture to life anywhere you go! Sport a straw hat or any hat you want and you're good to go!
You can purchase hats here.
14. Scarves
Scarves are a must this summer. Wrap it around your shoulders, neck or your head, your choice! It doubles up for a good bandana.
You can purchase scarves from here.
15. Wet Wipes
Trust us, you'll need wet wipes within half an hour of stepping out. They smell good and refresh you so why not pack them off?
You can buy wet wipes from here.
16. Eyebrow Pluckers
These babies come in handy whenever needed. Last minute eyebrow disasters can be easily fixed!
You can purchase eyebrow pluckers here.
17. Razors and Wax Strips
Razors and wax strips are essential in every weather! They will save you from embarrassment (if any).
You can purchase razors and wax strips here.
Relax, hon! Your honeymoon will be fantastic and your perfect trousseau is going to act like a cherry on the top!