Sushma Swaraj-Swaraj Kaushal: A Love Story for All Ages
This is a love story that bloomed in the most trying times, aka during the years of Emergency and culminated into a 'happily ever after' of 44 years. Yes, we are talking about Sushma Swaraj and her husband, Swaraj Kaushal. They met during their college days while both were studying law and subsequently, the fiery politician braved all odds to tie the knot with her fellow lawyer.
Surprisingly, even though both of them believed in diametrically opposite ideologies- Sushma Swaraj was a follower of the RSS while her husband had a socialist belief system, they chose to build a life together. Their opposing political beliefs did not affect their love for another, but it helped bit tolerance and respect in the relationship.
 Their families opposed their marriage, but they did not relent. They knew they were meant to be and therefore, overcoming all odds,
They tied the knot on 13th July 1975. Their daughter, Bansuri, who has followed her parents' footsteps and is a lawyer.
Image source: Sushma Swaraj
Image source: Sushma Swaraj
Swaraj Kaushal has time and again supported his wife, even on social media sites like Twitter. Whether it was mocking people over the internet who asked Sushma Swaraj to do things for them which were beyond her control like non-working cars or standing up for her when netizens accused her for appeasing Muslims, he was always there. With his humorous rebuttals and coming out in support of his wife, Swaraj Kaushal proved that he too proved he was an active participant on Twitter.
When took to Twitter to declare that she would no longer be a part of politics owing to her failing health, her husband was by her side like, a pillar of strength, support her in her personal and professional ups and downs. He quoted:
"This marathon has been on since 1977 – that is 41 years. You have contested 11 direct elections. In fact, you contested all elections held since 1977, except twice when the party did not allow you to contest in 1991 and 2004. You have been four terms in Lok Sabha, three terms in Rajya Sabha and thrice elected to state Assembly. You are contesting elections since you were 25 – and fighting elections for 41 years is quite a marathon."
When someone asked Swaraj Kaushal his opinion on his wife not following him Twitter, this is what he had to say:
Image source: India TV News
While most people don't know this, the couple was credited with the 'Most Distinguished Couple' by Limca Book of Records for their achievements and distinction at a young age.
Their strong relationship, their respect for one another and their undying support paved the way for the two of them to achieve their goals and make an indelible mark while becoming an inspiration for many. While Sushma became the first woman External Affairs Minister, Swaraj Kaushal also became the youngest Governor at the age of 37.
Their relationship was based on mutual admiration, pure love, unshakeable faith and respect for each other.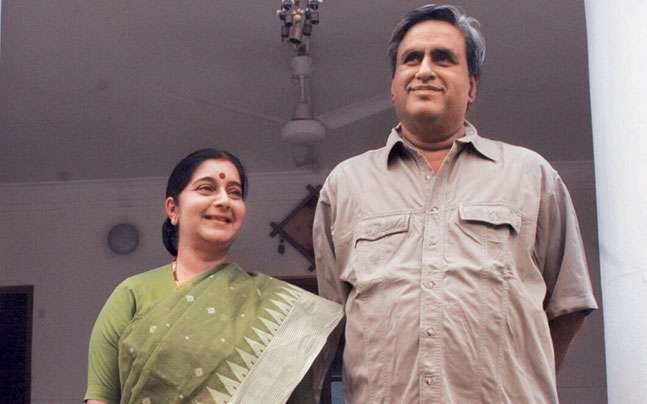 Image source: Jagran.com
On August 6th, 2019, India and the world lost a fiery politician, an excellent orator, a great leader and most importantly an independent woman who defied all odds to achieve her goals.
However, her work, her vision and her acts of kindness will continue to inspire the youth of the nation…