Take a Look at the Bridal Makeup Trends of 2015
Hello, all the lovely future brides! Last week, we took a glimpse at our favourite lehenga trends for this season – we couldn't cram in everything. So, today we thought of treating you with the biggest bridal makeup trends of 2015 after carefully scouting the modelling ramps and world of fashionistas. Let us warn you – some of them are not for the faint-hearted (ahem, the no makeup look!) while others are absolutely usable for the real life brides.
From soft rouge to chic metallic eyes, let's take a look at the year that was – everything dreamy, vampy and bang on trend.
Oh-So-Sexy: Berry-Stained Lips
Photo By: Wedding Shades
Indian brides couldn't be happier. We love all things intense, and the berry trend looks gorgeous on the brown skin. A hit with women, it leaves a stain that creates a dramatic effect. Skip the lip liner if you want to create lips that look like you overdosed on juicy berries. Berry lips are fun and add a hint of traditional air to the face. Brides often stick to a soft eye makeup with these lips for a look that's less harsh. As we move deeper into winter the months, we can expect more brides to opt for this rich lip colour.
The Mischievous Cat Eyes
Photo By: Wedding Shades
Isn't this one of the prettiest, most accessible makeup trends of 2015? The fashionista brides have been just-bitten with this bug. Winged eyeliner is now officially the favourite look for brides. Gone are the days when it was considered to be too dramatic and bold for daytime bridal looks. However, makeup artists are modifying the original look and have come up with subtle versions. If you want to pick this trend for your wedding and keep it simple, opt for thinner, less dramatic lines with delicate flicks. Alternatively, you can smudge the liner to make it less harsh and use a matte eye shadow.
Where's the Makeup?
Photo By: Rohan Mishra Photography
Say cheers to the minimalist makeup trend. Yeah, obviously there's makeup involved, but you just can't tell that it is. For this, you need to bid adieu to heavy foundations and cakey compacts, replacing it with tinted sunscreens or BB/CC creams. 2015 saw brides opting for an understated makeup look that is natural and showcases the best features. This effortlessly ladylike and fuss-free appearance is created with a few coats of mascara, glossy lip balm and your favourite face powder.
Contouring for Definition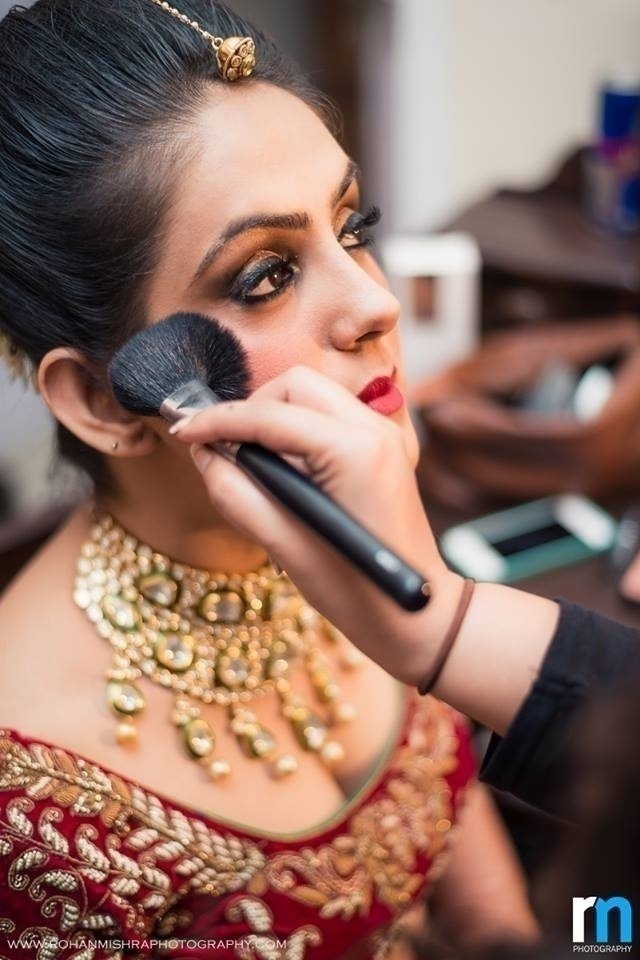 Photo By: Rohan Mishra Photography
If you thought contouring was the 'in' thing only in the West, think again. You cannot miss the contouring phenomenon if you've been active on social media or follow makeup blogs. This powerful trend is the new buzz for the Indian brides and was a runaway hit in 2015. It instantly sculpts your face, enhances your cheekbones, defines your nose and adds an overall defined structure. Makeup artists are using different shades of foundations or selected contouring powders. You could use the combination of bronzer, blush and a highlighting powder for adding more dimensions to your face.
Smoky Eye Glamour
Photo By: Dilli Wale Weddings
Photo By: PK Suri
The bridezillas are still to get over the heavily done smoky eyes. Brides in 2015 asked for smoky eyes to add drama and sophistication to their wedding day style. You don't have to stick to the typical black and could opt for silvers, greys, golds and bronzes to have well-defined eyes. Throw in subtle hints of colour and metallic to amp up your bridal look. Smudge the shadow into the lash line and use multiple quotes of mascara to create depth.
Photo By: Dot Dusk
The good news – 2015 has introduced an exciting mix of vibrant colours, romantic styles and brought back the emphasis on natural beauty. Whether you go bold and dramatic or soft and delicate, incorporate bridal makeup trends that are both adaptable and super fashionable.