Tales of Palatial Times – Ancient Hyderabad Inspired Bridal Wear by Shilpa Reddy
Q : Gorgeous clothes, even better people, jewellery that speaks of royalty and a mastermind designer Shilpa Reddy. Put these together and what have you got?
A : An explosion of silks, regal vibes in grooms and bridal wear that inspires!
Held within the palace walls of Taj Faluknuma, Hyderabad – the city of pearls and nawabs, Shilpa Reddy showcased her new collection named "Tales of Palatial Heirloom" drawing inspiration from the rich cultural heritage of Hyderabad, which is her home. Her collection was an ode to the tasteful lifestyle of the Royals and Nawabs, she celebrated their way of living through each lehenga, saree and sherwani. With classic drapes, regal hues and dupattas draped like the Begums of old, she has brought to us a set of bridal and grooms wear that surely transcends to the 17th century, still with a chic and contemporary feel. 
Using a color palette of delicate dusty pinks, placid blues, lavenders, nudes and peaches too – bringing a never seen before set of colors to bridal and grooms wear. Teal achkans and grey sherwanis, peach lehengas and off-white sarees with jackets – Tales of Palatial Heirloom is a perfect translation of age-old royal style filled with magnificence.
It's a collection that takes us on a journey that takes us to an era of Indian history that was larger than life – scroll down right here to see the pictures from the night.
Grey and pastels – silk weaved sherwani with a dhoop-chhaon churidaar
Orange and Peach – Peach Jacket Blouse with an orange tinted lehenga
Pink and Blue – Candy pink and sky blue have never looked so good together. Full sleeved blouse with a net and silk saree.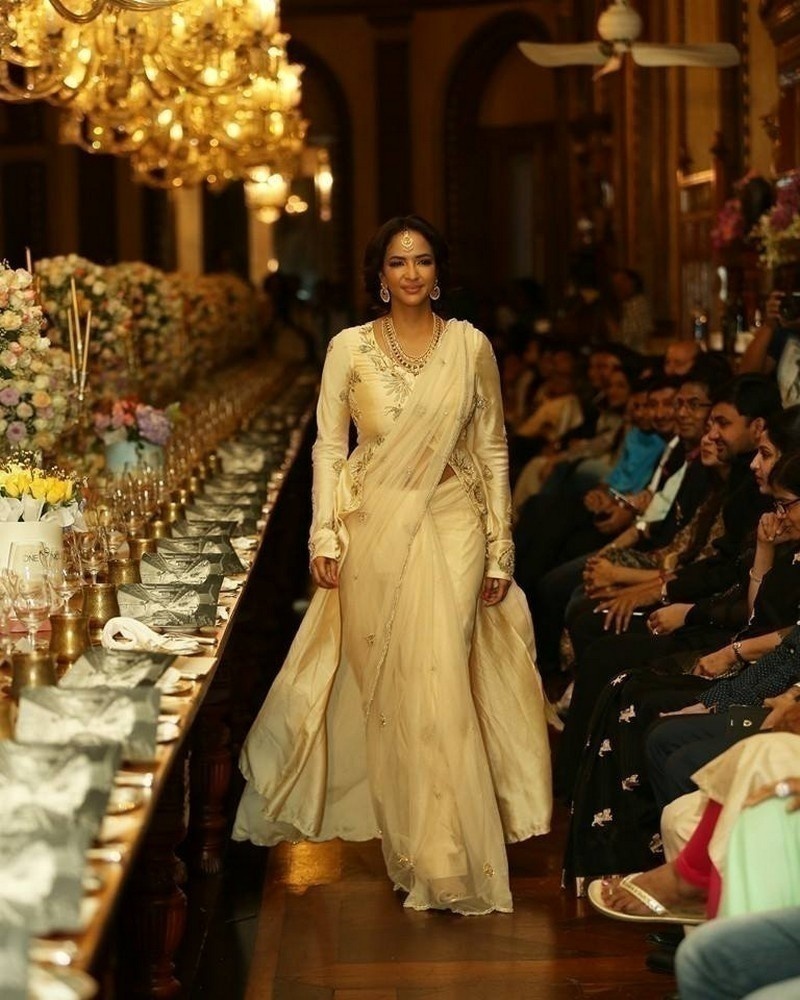 Anything can be a saree blouse! We lovelove this creative touch to the traditional saree. Simply draped off-white net saree with an embroidered jacket for a blouse
The Coral Bride – Beautifully flared coral kalidar lehenga with stunning gold and silver beadwork
Silky Peaches – Straight pants, wrapped skirt and full sleeved blouse made in silk with gorgeous gold beadwork
A Regal Purple achkan to match the mauve cocktail gown
Turquoise for Boys – Shift from white to this turquoise and silver weaved sherwani and churidaar along with an off-white dushala
Golden Girl – Gold hued mermaid cut skirt with a beautiful asymmetrical flare paired with a stiff jacket blouse
Mauve for mystery – Stunning solid colored gown with gold beadwork detailin
Go regal with this off-white and gold bride worthy wedding lehenga
Solid teal lehenga with a gorgeous shimmer border paired with a fully gold embroidered half-sleeved kurta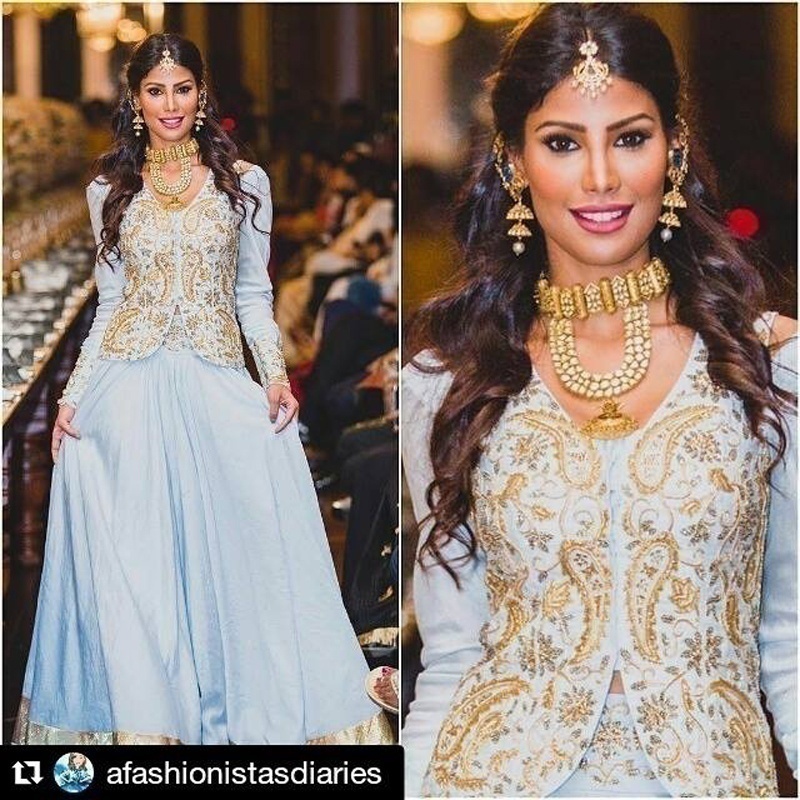 Ice blue lehenga paired with a jacket styled blouse with gorgeous gold embroidery