The Bling and Bridal of Wedding footwear – Trendspotting!
"Give a girl the right shoes and she can conquer the world."
We couldn't agree more with the sassy lady Marilynn Monroe on this. There is a special, strong connection girls tend to have with footwear that is somewhat unexplainable. No matter how many pairs of shoes we have, we always need more. Does Sarah Jessica Parker's stunning shoe collection in the movie Sex and the City ring a bell?
On a blue day, present a girl with a lovely pair of sandals and watch her mood switch in seconds. We all relate to the grave concern of how the right pair of shoes can not only make or break your mood, but transform your look as well. 
Similarly, when it comes to wedding shoes, a bride will definitely not settle for anything less dazzling. Minutely checking everything from the fit to fabric, style to comfort level, a bride's hunt for the right pair of wedding shoes can make you go dizzy.  
Gone are the days when bridal footwear was hidden under the bridal lehenga. With photographers keen on taking complete wedding attire shots, including close captures of wedding shoes, brides are now are more conscious of how glittering their wedding heels look.
To ease your find on what's the next big thing in wedding shoes and footwear design for brides, we showcase these blingy beauties for some shoespiration! Gucci, Manalos, Valentinos, Loubatins, we've got em all on showcase, right here, right now! Even if marriage is not on the cards, what girl will refrain from taking that plunge when this footwear is part of the deal? WE ARE COMPLETE SHOE SELL OUTS! These make for great wedding trousseau treasures too! Check them out!
Silvery white kitten heels with a touch of bling, perfect for a light colored lehenga
Delicate pearly satin heels with stone detailing. Match it with summery pastel wedding wear.
Nude, gold, blingy boldness for the bride who's not afraid to show her sexy through her shoes.
Nothing speaks stylish like a pair of em silver strappys. Pair them with pastels or a lehenga with silver embroidery or gota work.
Lasercut lacy ivory white high heels, perfect for a white dress church wedding, And Otherwise:)
These sparkly Jimmy Choos are so versatile, they will last you generations and then some
More from where the ones above came from! This is what we call the perfect lehenga match. Sculptural, blingy, strappy, classic and oh so stunning!
When it's a wedding, why shy away from the bling. Swaroski, crystal, stone work – let the shoe be the shining glory. Perfect for pastels and and summery hued lehengas.
Now, these are not just shoes. This is a shoe story. We love the sheerness, the 3-D floral motifs, the pastel sequin detailing and most of all the lovely babys breath pink. A thing of beauty!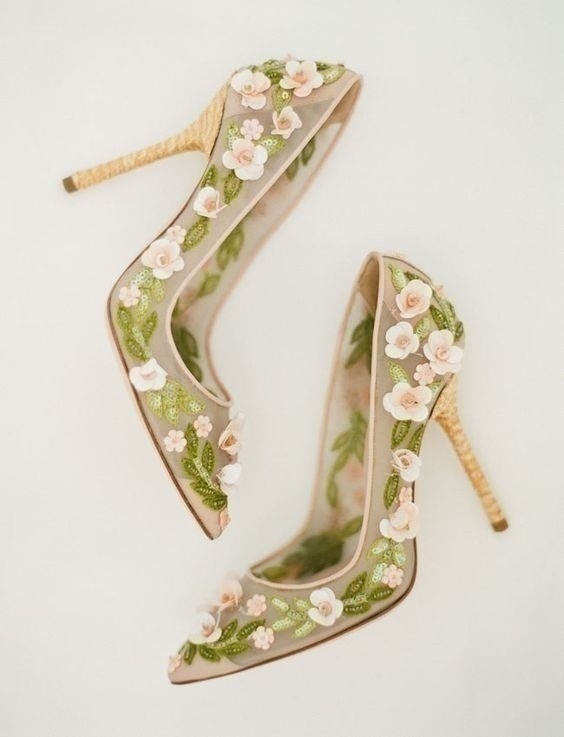 Gold, strappy sandels. Whats not to love? Perfect for lehengas of all colors. This one will be used well, used often, before the wedding, after the wedding:)
What can we say about these? Carved out of gold, wear these for your wedding, and you won't need more jewellery to make a statement. Filligreed gold, this one is the perfect pair for a heavy bridal lehenga.
This sequined, bronzy, rose gold pair will be just the right fit for lehengas in tones of reds to pinks, while also making the cut for anything light colored and pastel.
We love these liquid gold stilettos so much. A pair you can never go wrong with. If you think closed, pointy toes are not the right match for a lehenga, think again!
Another laser cut beauty in gold we cannot stop ogling at. Brides, if you can get your hands on something like this, please don't think twice. Tis the shoe! And its a showstopper!
This one's hit it so right, it's thrown us out of the ballpart. If a trendy mirrorwork lehenga is what you're planning on wearing, this show is a match made in heaven.
Speechless, in a good way! Find this shoe, buy this shoe, wear this shoe! FOR YOUR WEDDING!
Heels, bows and bling! Valentino is our shoe god. This perfect little pair is so tiffanys and so Audery Hepburn, We are ready to go have breakfast!
How can anyone go wrong with diamonds on shoes, diamonds on anything? Bridal footwear cannot get better than this.
Heels encrusted with stones. These shoes definitely make for a happily ever afer!
Gold peep toes with a bow! Was Valentino thinking of an Indian shaadi while designing these ones?
And we saved the best for last of course. For a bold, sassy bride, who is willing to create her very own bridal cult. This one is not for the faint hearted. If you like goth, folklore, dark colors and avante gaurde. This one is tailor made for you.
There you have it. Our curation of blingy, bridal, stillettos that'll rock your bridal ensemble. Look out for more footwear blogs. Next week, we'll have something for those of you who are heel averse. Check this space for lots and lots of inspiring flat bridal footwear options. Until then, say Hi Heels!!