The Couple who Proved- Our Love, Our Way!
'Love recognizes no barriers. It jumps hurdles, leaps fences, penetrates walls to arrive at its destination full of hope.'
– Maya Angelou 
Love- a feeling which is so difficult to define, you can hardly sum it up in a sentence, a paragraph or even a book. Some say it is friendship, some say it is a sacrifice, some say it is selflessness, and some say it is pure trust. While for every individual, the definition may vary, what remains is that love is eternal. It is a feeling you can't let go off easily. It makes you stronger, even fearless at times. It makes you do things you couldn't have even dreamt off. It makes you change for the better.
When you love someone, you see the world through rose-tinted glasses. At that time, nothing is wrong, no one is wrong. There is no viciousness, no malice, and no mistrust. When you love someone, you want to be their strength and weakness. Love is messy, but love is beautiful! If you are wondering why I am being all mushy and talking about love, it's because I recently came across a couple who have re-instilled my faith in the concept of love.
It is not every day that you hear about or get the privilege to get in touch with a couple like this one. Breaking the most terrifying stereotypes that have engulfed our society – a massive age gap and different religions, they proved how strong love can be. Robin and Uzma are Hindu and Muslim, respectively. Also, the fact that Uzma is a decade older to Robin only added troubles in their paradise. But it wasn't for long. Their respective families saw the undying and unconditional love they had for each other. They gradually began to realize that if not together, they wouldn't be happy at all! This paved the way for their wedding and ever since it has been a blissful journey.
If life's a dish, then love is like salt. It is irreplaceable, and no dish is complete sans it. I believe I am lucky to stumble upon their pre-wedding shoot and I am happy to share it with y' all:
*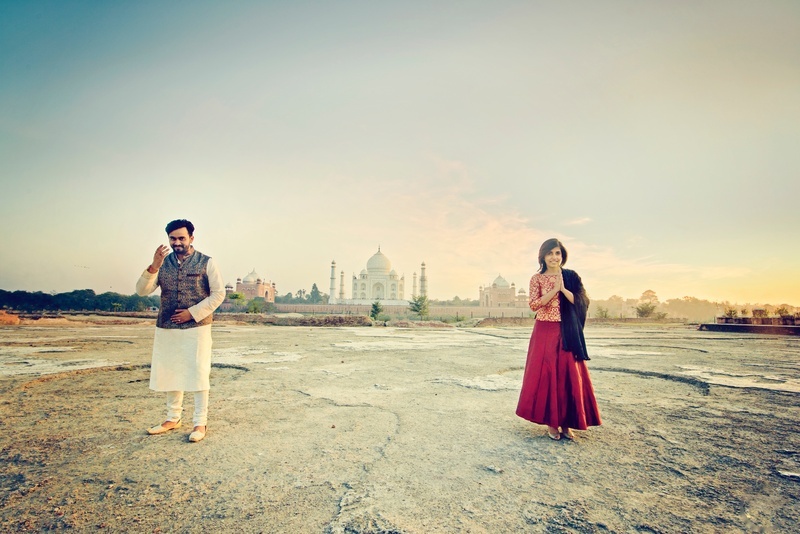 "Uzma and I have forever been fans of romance and History. What's a better way than to express our love for each other, than the symbol of love- Taj Mahal?" says Robin.
 
Uzma says and I quote, "The proposal itself was special…Robin took me to the Taj stating that it's just a regular visit since I'm an admirer of the white Marvel… Little did I know that this visit would be the best one of my life…on the central porch, in front of thousands of people, Robin went down on his knees and popped the question (Proposed me) and to add to the shock and excitement,
the group of tourists present started applauding to this spectacle. I said 'Yes' instantly, and rest is like they say History." 
The one thing that this couple has for everyone reading this blog right now is that love has no religion, no caste, no age and no colour. Love should be free of conditions and boundaries.
 
Images source: Shot with Meraki