The most gorgeous, dreamy, fun and classy destination wedding we have ever come across!
Time and again I come across destination weddings that not only stun me, but has by jaw literally on the floor. And one such dreamy destination wedding is that of – Mira Uttam and Ravine Mahtani which took place in Bangkok. It's classy, fairytale-like and completely Drop-Dead-Gorgeous!  
Believe me when I tell you, everything about this wedding is #WeddingGoals – right from the outfits to the decor & props, this is one modern destination wedding like no other. Scroll down and have a look at the pictures and be prepared to be ah-mazed:

 
P.S., by the end of it, you'll run out of adjectives to describe how good, better, best all of it is. Check out all the beautiful pictures captured by Dotdusk –
The Engagement:
For her engagement ceremony, the bride wore a maroon off-shoulder Manish Malhotra custom made gown looking her stunning self.  Totally digging those satin sleeves detailing of the outfit!
Her better-half completed her look in a maroon tux paired with statement shoes, totally complementing her look!
The mehndi:
Her mehendi will give you totally fairy-tale vibes. It had a butterfly ceiling. Yes you read that right, a butterfly ceiling! Check it out:
Gives some serious 'Alice entering the wonderland' feels right?
How cool is her butterfly umbrella? Totally in love with how she paid attention to the smallest of the details! #WeddingDecorGoals
…and look at the groom's mehndi entry! On a scooter decorated with flowers! *So cute*
Also, how stunning is her intricate mehndi design?
P.S. – that engagement ring is one stunner!
Okay, this is taking things a step ahead! Loving her dance crew –
Look at that twirl –
The sangeet:
Their sangeet party saw a dance floor like no-other, and you have got to check out their dancing shoes! It's fab!
And here comes the gorgeous couple –
Loving the out-of-the-box ceiling decor here –
They changed into the most relaxed outfits later – totally dance ready! Check out the bride's cool sneakers though –
Then this happened:
It's a sindhi tradition in which they tear of the groom's clothes before the night of the wedding.
Also, the groom doesn't seem to mind a bit. 😛
The wedding:
Her bridal finery:
Getting ready:
I totally admire how she's ditched all the reds and maroons and opted for an ivory Sabyasachi lehenga with multi-coloured embroidery on it. She's paired the lehenga with emerald choker, minimal jewellry, day makeup look and a single dupatta!
Love how effortless the whole look is! The groom on the other hand is twinning with the bride, opting for a ivory based sherwani with zari thread work on it.
The groom's entry:
This by far is the most exciting part of the whole wedding. The groom entered on a Batmobile. Yeah you read it right, a Batmobile!
That too a customised Batmobile with the words 'Rav's Baraat' printed on both sides of it!
The baraat:
Check out his groomsmen's customised T-shirts! Such a cool idea, don't you think?
The mandap:
The bridal entry: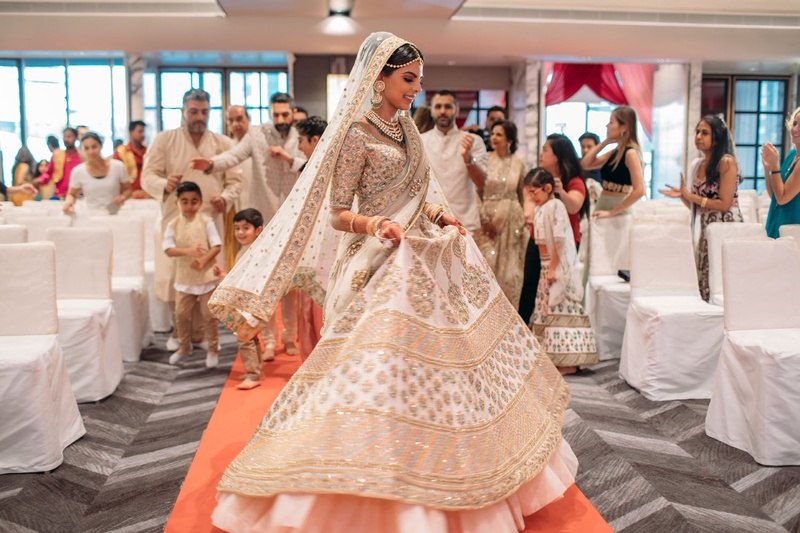 Taking the vows: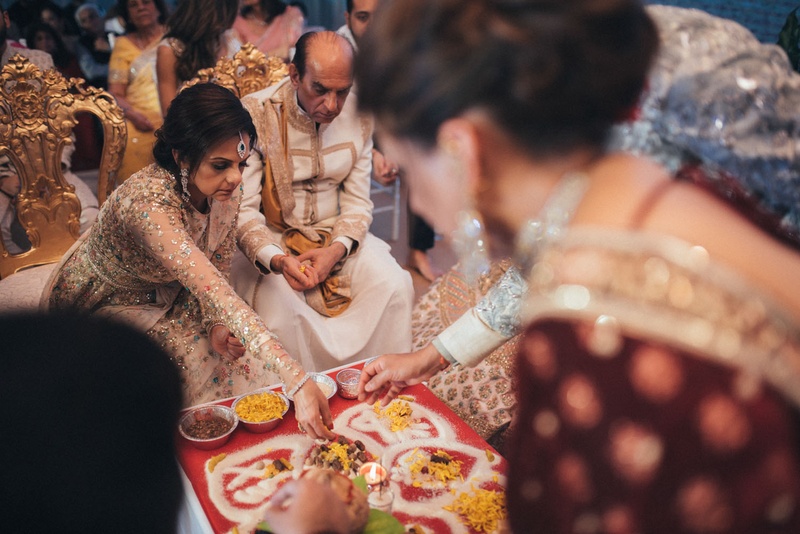 Happily married:
The reception:
The gigantic cake:
The reception party:
Kudos to all the Vendors associated with this wedding –
Photography & Filming: DOTDUSK
Wedding Planners: Pink Palki
Executed by Design by PeeraPach
Wedding designed by SARASA by Mashu
MUA: Natasha Moor
Location: Bangkok Marriott Marquis Queen's Park
Outfits: Manish Malhotra, Sabyasachi & Tarun Tahiliani