The Most Stunning Bridal Entries Of 2017 – #Weddingz2017Rewind!
A bride's entry is the most anticipated moment at a wedding. Everyone is just waiting to catch a glimpse of the bride in all her finery – her wedding attire, hair and makeup and her complete bridal look!
With the entry being one of the most sought-after parts of a wedding, it's only natural for brides to get more and more creative. 2017 as you know has seen some of the most elaborate weddings and the bridal entries were more stunning than ever too!
After our best wedding lehengas, bridal makeup, cocktail outfits , best mehendi outfits, bridal hairstyles and  maang tikka articles of 2017, we are now doing a roundup of best bridal entries by real brides in 2017:
1. Anushka Sharma:
Walking on 'Din Shagna Da' towards Virat Kohli to take her wedding vows, Anushka Sharma (literally) broke the internet with her bridal entry.
2. Under an umbrella:
Image Source – The Cheesecake Project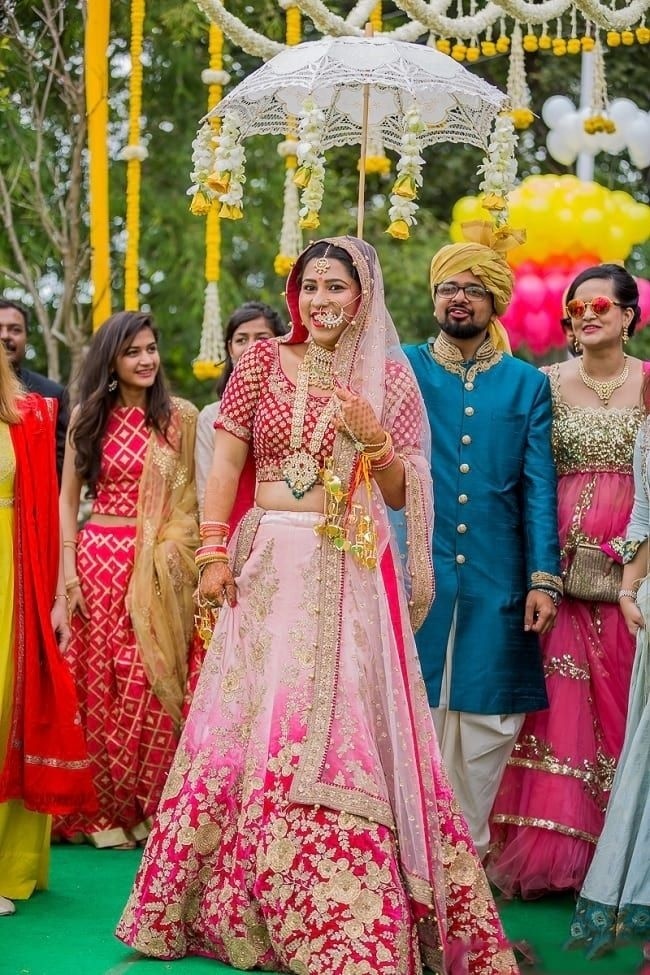 Image Source – Wedding by Knotty Days
How about getting a tad more creative and asking your bhai to hold a beautifully decorated umbrella? We are loving how these brides have swapped the phoolon ki chaadar for the phoolon ka umbrella turning heads all the way!
3. A Game Of Thrones inspired bridal entry:
Image Source – Reels and Frames
Game of Thrones has certainly taught its fans to be wary of weddings, but seems like this couple loved the show a bit too much! Inspired by this popular series, this bride created a whimsical, non-bloody Game of Thrones themed décor for her bridal entry and it was stunning! #WeddingDecorGoals!
4. On a cycle rickshaw:
Image Source – Shades
We think it's about time we replaced the favourite mehendi photo prop and started using it for the wedding instead! For a hatke bridal entry, get on top of that rickshaw and have your brother or bestie ride you towards the mandap. *so filmy and fun*
5. A sparkling affair on a chariot:
Image Source – Dream Diaries
Now that's a dramatic entry for a queen! For a stunning bridal entry such as this, all you need is a chariot and some sparklers attached to it!
6. With your bridesmaids showering flowers:
Image Source – Wedding Nama
If phoolon ki chaadar is not your style then you can enter your wedding with your bridesmaids showering flower petals on you while you walk towards your mandap!
7. A Bajirao Mastani Touch:
Image Source – The Wedding Story
We say spend a little time looking at this picture till you get what we are saying. This bride entered her mandap surrounded with mastanis all around her. *WoW*
8. On a motorcycle:
Image Source – Dream Diaries
Ride in with your brother  on a motorcycle decorated to fit your Big Fat Indian Shaadi.
9. With your pet:
Image Source – Wedding Nama
Now that's an entrance like no other! Ride in on your favourite bike/scooty with your dog BFF turning heads all the way! Want to shoot up the cuteness factor? We suggest twinning outfits!
10. With your parents by your side:
Image Source – The Wedding Salad
There ain't no entry can match the emotional factor of your parents walking beside you! Best part – it'll be etched in your memory forever!
11. With colour bombs:
Image Source – The Wedding Planning Company
This sure is one of the quirkiest bridal entries we have ever spotted. Works well mostly if you're having an outdoor day wedding, but it looks so damn cool!
12. Phoolon Ki Chaadar:
This one's a classic and will never go out of style. The chadar though, seems to have gotten more advanced with every passing year and we are loving the variations here. We suggest have a word with your florist and let your imaginations run wild.
Under an elegant phoolon ki chaadar:
Image Source – Gautam Khullar Photography
Under an elaborate phoolon ki chaadar:
Under a delicate phoolon ki chaadar:
Image Source – Shades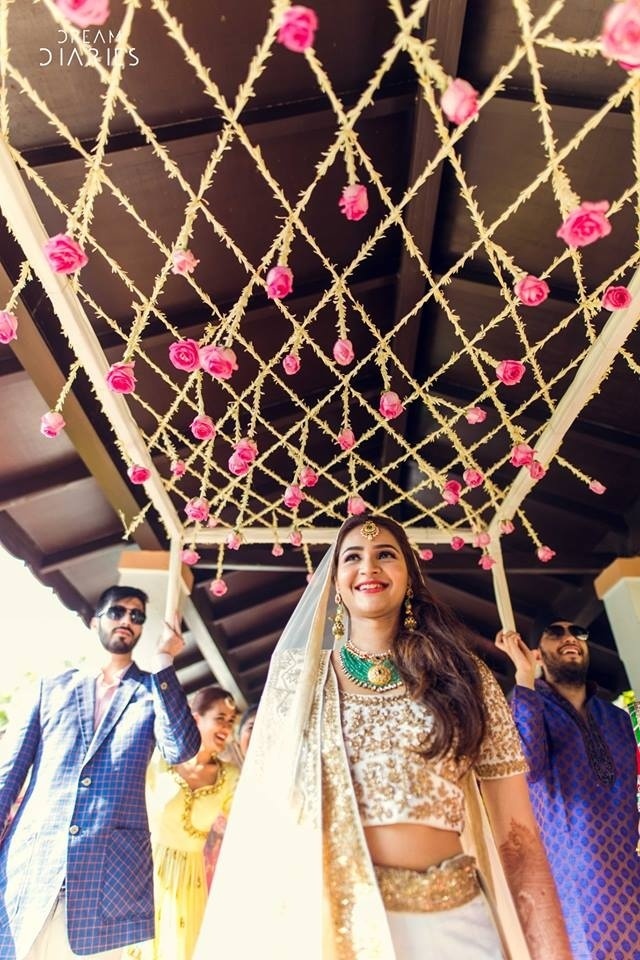 Image Source – Dream Diaries
13. On a segway:
Image Source – Jodi Clickers
No she was not entering the mandap like that, but her makeup room. We just, couldn't help ourselves from including this bride's entry to this list *guilty as charged*.
With our list of 13 best bridal entries coming to an end, we hope you too must have found enough inspiration to make a stellar bridal entry for your wedding!