The most trending bridal jewellery combination- Mix n' Match is the way to go!
A bride's look gets its elegance and grace only with the perfect set of wedding jewellery. With millions of options to choose from and the everyday changing trends, its difficult to select the perfect jewellery set for your special day. So here's me helping you out with a few ways in which you can mix n match your bridal jewellery –
1. Contrasting coloured jewellery-
Wearing a combination of contrasting coloured Lehenga and jewellery is probably the best option to go for. Not only are they different from the mainstream trends but also make your beautiful bridal outfit and jewellery stand separately.
Image Source: Mohit Bhardwaj Photography
The kundan jewellery along with beautiful contrasting beads of this bridal duo gives a clear idea of how to play with colours in a classy way.
Image Source: The wedding story
Yet another example of a Kundan jewellery embedded with emerald green beads. Loved the combination over this beautiful red lehenga of the bride.
Image Source: The wedding story
Beautiful traditional choker necklace with green beads is the bridal jewellery this beautiful bride opted for. Picture perfect!
2. Offbeat brides who went for the non- cliche jewellery-
The regular trends are good, but doing something Hattke is what that creates a buzz. Take a look.
Image Source: Vogue India
Remember the much talked about headgear that Sonam Kapoor wore for her grand day? Well it's perfect if you can carry it off.
Image Source: Stories by Joseph Radhik
Shriya Bhupal who recently got married in a grand wedding in Hyderabad,  wore a beautiful emerald embedded necklace as a head gear and invited lot of attention –
Image Source: Mahesh Shantaram
This bride's unique combination of Multi-coloured lehenga paired with temple jewellery is how she abandoned the mainstream way –
Image Source: The Wedding Story
This breathtakingly beautiful bride chose a heavy necklace for her big night, and it definitely stands out –
3. Mix n match-
Stand a step ahead in the trend line with the option of mix n' match.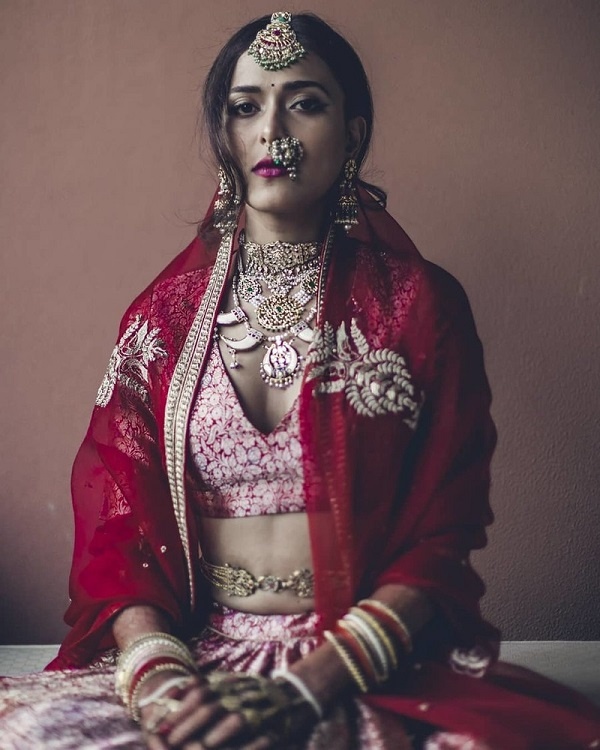 Image Source: Photo Diary
We spotted the most unique combination of traditional jewellery paired with tribal jewellery in this wedding.
Image Source: Art Karat Jewellery
Let your hands do all the talking! Statement kangans paired with traditional hath-phool is something to go for a Hattke option.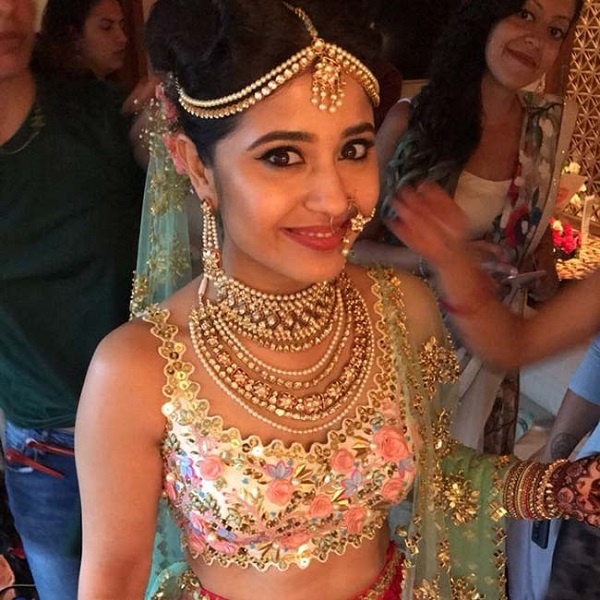 Image Source: Stories by Joseph Radhik
Actress, Shweta Tripathi who recently got hitched to her boyfriend in a beautiful monsoon wedding in Goa, layered her jewellery with a choker and chain –
4. Own the stage in the minimalistic way-
Sometimes, it's best to not overdo it and keep things simple! Check out the most minimalistic yet gorgeous wedding jewellery we spotted on real brides.
Image Source: Dipak Studios
This Kenya bride decided to pair her Red lehenga with a light combination of jewellery. Simple sober and classy isn't it? –
Image Source: Dream Diaries
Just the perfect touch of diamonds with a golden coloured lehenga. Minimalistic with a classy touch –
Image Source: Movieing Moments
This unique sabyasachi bride went for a unique pair of orange lehenga with diamond jewellery –
5. Heavy jewellery extravaganza-
Well, if you are not someone who wants to go the minimalistic way, then here are the perfect jewellery combinations for your wedding. The Royal look of these picture perfect brides would definitely be the right way to go.
Image Source: Infinite Memories
How beautifully is this bride captured carrying the royal look –
Image Source: Shades Photography India
This utterly beautiful bride brought the best of Punjabi & South Indian styles in her bridal look. She wore a heavy jewellery set with a silk saree and we just can't take our eyes off her.
Image Source: Hitched and Clicked
Mesmerized with the way she smiles, covered under this contrasting pair of royal jewellery.
Image Source: Shutter Down Photography
Covered in heavy jewellery paired with the pastel shade of pink, this pretty bride owned the day flawlessly –
So, have you made up your mind on your bridal jewellery?