Hyderabad's abundance of history, a culture of brotherhood, legacy cuisines, and economic pricing settles the debate on why it is an awesome location for a fat Indian wedding. Still, for the skeptics', a major point would be the accommodating climate. Aside from two months of summer heat followed by the downpours, the Hyderabadi climate is ambient from June till March. The winter months particularly are fresh, blustery and clear making it the perfect area for an alfresco wedding whether you opt to have it during the day or night. Think about these plus points as a clear canvas for your stylistic layout to work wonders with your creative mind down to each and every detail. For the venue, however, you do not have to brainstorm much as this list probably contains the banquet hall in Hyderabad that would tick all the boxes for you.
S.N.R Gardens in Kompally is a top banquet hall in Hyderabad. It is a perfect destination to host awesome weddings, resplendent receptions, and various other functions. At this venue, one can hire your own choice of caterers and decorators according to your personal preferences. The wine which you serve along with the food platters would win the hearts of your guests. In case you run out of it, you may fetch it from outside to keep the wine flowing to the cheers of the attendees. Their friendly and courteous staff ensures your guests enjoy impeccable service and hospitality.  
S.N.R Gardens, Kompally, Hyderabad
Address– S.N.R Gardens, NH 44, Sai Nagar, Kompally, Hyderabad, Telangana 500100
Key Features
Ample parking space plus valet facility
Outside food and decor
Colossal banquet hall
Hotel SVM Grand in Uppal is one of the best banquet halls in Hyderabad. It is a beautiful destination to host your lavish affairs – amazing weddings and grand receptions. It is home to multiple banquet spaces namely Shubhamasthu and Sri Rasthu with varying capacities. Creative decorators to beautify your banquet are provided by the venue to make your events opulent. The in-house chefs at this hotel would curate delicious vegetarian and non-vegetarian delicacies to satiate your guests. Being located in the center of the city, this hotel enjoys proximity to the shopping hubs in Hyderabad.
Hotel SVM Grand, Uppal, Hyderabad
Address– Hotel SVM Grand, NH163, 6-74/2, Medipally, Canara Nagar, Peerzadiguda, Kamala Nagar Colony, Boduppal Hyderabad, Telangana 500098
Key Features
Multiple banquet halls
Cocktail privileges
Lodging amenities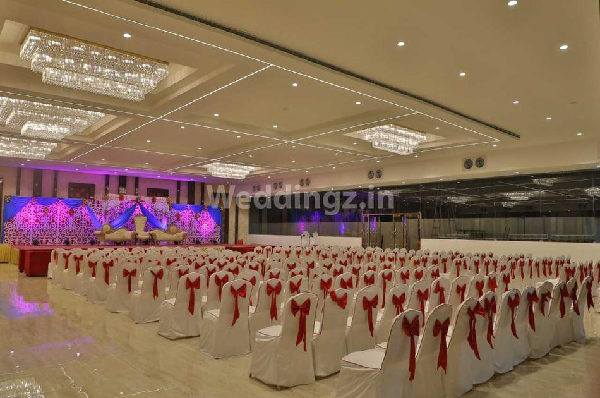 SNR Garden Function Hall in Attapur is a budget banquet hall in Hyderabad. It has a sprawling lawn plus enormous banquet halls to let you welcome your guests. At this enormous venue, you can avail of the in-house decor services or hire an outside decorator to work on the aesthetics. It serves awesome food in both vegetarian and non-vegetarian cuisines. This luxurious and spacious venue has an inviting and welcoming vibe to make your guests comfortable. The attendees attending your functions would receive impeccable services by the staff present at the premises. It also boasts of ample parking space to host the vehicles of your guests.
SNR Convention, Attapur, Hyderabad
Address– SNR Convention, Near Pillar No. 122, Somi Reddy Nagar, Attapur, Hyderabad, Telangana 500048
Key Features
Sprawling lawn plus enormous banquet halls
Colorful and traditional decor
Ample parking space
Hotel Shubham Palace in Karmanghat is amongst the large banquet halls in Hyderabad and thus one of the most sought after event venues in the 'City of Nizams' – Hyderabad. One can avail here gorgeously curated and carefully customized theme based decorations which will be provided by the in-house decor professionals. The special décor will add a magical touch and cheerful aura. The venue has a very inviting and pleasing ambiance which makes everyone feel welcomed. Apart from the enormous space, one can also enjoy the lip-smacking Indian cuisines in both vegetarian and non-vegetarian food variants. It offers comfortable seating arrangements for all and it has decorated lights that give the venue a rich look.
Hotel Shubham Palace, Hyderabad
Address– Hotel Shubham Palace, Block-1, 2/3, Bairamal Guda Road, Nirmalanagar Colony, Srinidhi Colony, Karmanghat, Hyderabad, Telangana 500079
Key Features
Rooms for accommodation
A cluster of banquet halls
Ample parking space
Hotel Kinara Grand in Habsiguda is a popular banquet hall in Hyderabad. It has a spacious banquet hall that can accommodate a large gathering for your function. The venue has a great ambiance which makes everyone feel welcomed. A stunning venue to host your wedding and reception ceremony, it is located at a close distance from Habsiguda Metro Station which makes it easily accessible for all to reach there. The in-house caterers here serve multi-cuisine delicacies in both vegetarian and non-vegetarian viands to the guests. It has lavish rooms for your invitees which gives them a comfortable stay. 
Hotel Kinara Grand, Habsiguda, Hyderabad
Address– Hotel Kinara Grand, Habsiguda Main Road, Opp CCMB, Habsiguda, Hyderabad, Telangana 500007
Key Features
A cluster of banquet halls
Allows alcoholic beverages
Lodging amenities
 Have you finally managed to find a banquet hall in Hyderabad for your upcoming wedding festivity? If yes, then please mention it in the comments below.