This bride's completely personalized wedding outfits and the story behind is right out of a fairytale!
This is one of those love stories where the couple dreamt of their happy together forever and their wedding was just the beginning of that fairytale. Renu and Rajiv tied their knot in the most beautiful way ever and their wedding is full of all sorts of wedding inspiration! Scroll on to find out –
Mehendi:
Renu says "Thank you (Anita Dongre) for inspiring us to wear something that truly represents the romanticism & fairytale-like experience that we have had in our journey to be married. As two up and coming artists, it was important for us to wear something that is progressive, celebrates sustainable fashion, and represents not just the free-spirited style we both share, but something that inspires a sense of growth, light, and blooming."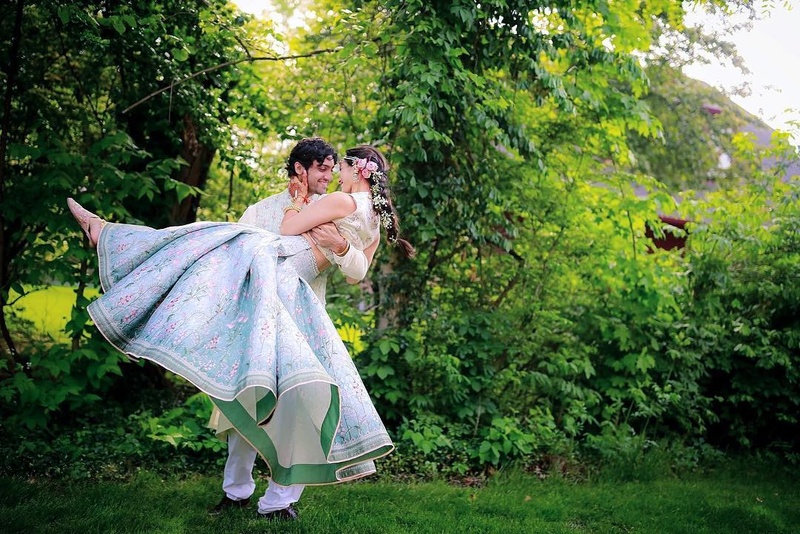 I have an entire forest living inside me and you have carved your initials into every tree. ~Pavana
Renu chose to wear an ice blue pleated lehenga skirt paired with a high-collar, V-neck choli. Rajiv on the other hand complimented her look by wearing a jacket which was totally twinning with her skirt.
Totally in love with this floral hairdo!
The Wedding:
This much-in-love couple tied the knot at Cox Hall Park, a gift left by the Cox family to the north side of Indianapolis.
And this is what the bride has to say about her bridal look – "Omg is that a red thread pierced inside your ear?!" This was the number one question I got during & after my wedding . So let's do Story time!
I'm a Kashmiri Pandit, part of an endangered & diminishing tribe from Northern India. I wanted to honor my heritage, but not without true understanding. The mark of a Kashmiri Indian bride is a traditional 'dejhor', a hexagram shaped jewel, which symbolizes the union of Gods Shiv and Shakti in Hindu Mythology. They embody unparalleled strength, justice, & love. The Dejhor represents their union on a mortal plane, symbolizing how powerful love in any form can be. The dot in the center represents fixity of purpose together.
My dhejor was passed down to me by my grandmother who I grew up watching wear it everyday. This gold token with it's tiny ruby center is more than 100 years old, but it's significance has been buried through the years. Though many would consider it a painful inconvenience, embracing this heritage filled ornament gave me a stronger identity. In today's world of superhero comics & Amazonian Wonder Women, I celebrate that the world we live in has a few relics of it's own. We just have to find them & give them life 🙂 The red thread pierced in the ear cartilage represents the new bride to be. After the wedding ceremony, the red thread is replaced with a gold chain that comes from the Groom's family. How beautiful is it that the chain & Dejhor literally represent two families tying the knot unifying two separate pieces of jewelry into one?
The lehenga:
This is a bride who is not bothered by what's trending, but was searching for a timeless piece of clothing and that she found in this lehenga. She says, "These days there is so much pressure in the wedding industry to "get it right". But I think it's so important to remember who you are.
As Rajiv & I are both storytellers by passion, I knew "the dress" had to do justice to the songs & narratives that symbolize our heritage, inspirations, and future. We wanted something traditional while also contemporary and yet still timeless. When we met Sulakshana ji, her designs & craft had exactly what we were looking for. We are grateful for her striking art.
She chose to wear a blush pink lehenga because that's her bae's favourite colour on her. But the lehenga is way more personalized that you can say from the first glance. She explains, "Our love for Hindu mythology & the stories we heard growing up about Krishna, are represented by the peacocks. The small embroidered lotus flowers on the customized veil were personal to us because Rajiv's name translates to lotus, which in itself is a symbol of purity. And lastly, the meticulously beaded bed of water the birds are on was magic, because not only were we married next to water bodies, it rained a lot on our wedding day. We certainly took peacocks dancing in the rain to a whole new level :)".
Isn't that the sweetest thing you heard?  
With her #BrideSquad:
Dreamy isin't it?
The fabulous team that brought it together:
Wedding Photography – Sohal Photography
Outfits:
Mehendi – Anita Dongre
Wedding – Sulakshana Monga