This Pre-Wedding Shoot at a Mela will Bring Back some Cherished Memories
Seldom do I come across a pre-wedding shoot that makes me truly happy. Couples who shy away from cliches and do something hatke. One such pre-wedding shoot is of Sonali Sharma and Swapnal Jha. Two journalists who decided to get clicked at one of the most unusual places- mela! Yes, you read that right. Their friend and photographer Ishan Saxena suggested they opt for the road not taken and conduct a mela pre-wedding shoot. The couple readily agreed and the result is-Woah! Sonali has always loved melas as a kid and this idea just seemed perfect to her.
Oh, I almost forgot to tell you how these two cuties met. Sonali worked with a leading newspaper at the time and she attended a workshop for Sariska journalists. "Little did I know that small decision was going to change my life forever. We reached in the evening and the sky was submerged in the orange hue left behind by the sun. I was feeling a bit chilly and spotted a group of other journalists huddled around the bonfire outside. So I went and joined them. That's where I saw Swapnal, a chiselled man in a white shirt sitting near the fire. He looked at me and our eyes caught each other's attention. He came over to talk and we immediately hit it off. I felt connected to him and was drawn to his charismatic personality. I offered to make some coffee for him, and you should know that I never do that, ever. But at that time, I just wanted to do something nice for him and my very creative brain offered to do this. He smiled and said yes. And the rest is history!" says the bride.
Once you scroll down, you'll wish to go to a mela and relive your childhood, just like Sonal and Swapnal did!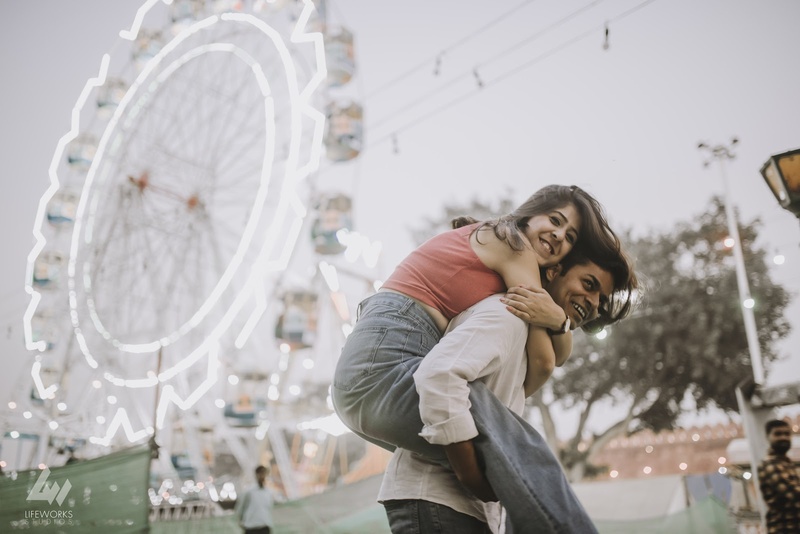 Image source: Lifework Studios
Sonali recalls her experience to be authentic and entertaining- just like her relationship with Swapnal. As soon as they entered the gates of the mela, Sonal and Swapnal were both transported back to being children.