Top 10 Wedding Trends for the Year 2016
Can you believe it's almost 2016? The year 2015 saw the rise of unconventional weddings, throwing the conservative and classic out in favour of the rustic, bohemian, maybe downright eccentric. We love the emergence of imperfect bouquets, mothers of the bride wearing white kanjeevarams, brides sporting sunglasses with lehenga and minimalist cakes.
Whoa! We really don't know where the last year has gone, but we are super excited for all of the wedding trends we expect to see next year. Here are the top 10 wedding trends you can expect in 2016!
The Selfie Stick
Umm, it may be a notorious choice, but this trend has bit the wedding brigade quite incurably. It's not a secret anymore that the general public is obsessed with this tech tool and will continue to be in 2016. We just have one advice for wedding selfie takers – don't be that person who leads to accidents on the dance floor.
Music Options
Photo By: Manan Photography
Gone are the days when the couple had to decide between a DJ and a band. Now, it's going to be more about exploring various aspects of entertainment options. We can expect a retro orchestra to spruce up the ambiance at dinner and karaoke sessions for the sangeet parties. An empty dance floor at a wedding is a complete no, and this trend will get people on the floor immediately.
Non-Traditional Cakes
Photo By: Alif Studio
These days, couples are opting for cakes that express their love story. Whether it is nude cakes with minimum frosting or cakes with your favourite romantic quotes or pictures, these non-traditional cakes are more than just towers of yummy buttercream.
Lavish Venues
Photo By: PhotoTantra
It means farewell to small halls for all functions, and hello to wide open spaces! Couples want to make it as bold as possible and seek outdoor places that are lavish. Right from gardens to vineyards, expect plenty of fresh air ceremonies and receptions.
Intimate Guest List
Photo By: Rohan Mishra Photography
No longer is cousin Vicky from Canada invited to the winery wedding in Nashik because the couple hasn't seen him in years. We are a huge fan of this trend because aren't weddings supposed to be celebrated with those closest to you? Today, couples want a high-quality event for a more select group of friends and family than a large-scale party.
Creative Seating Plans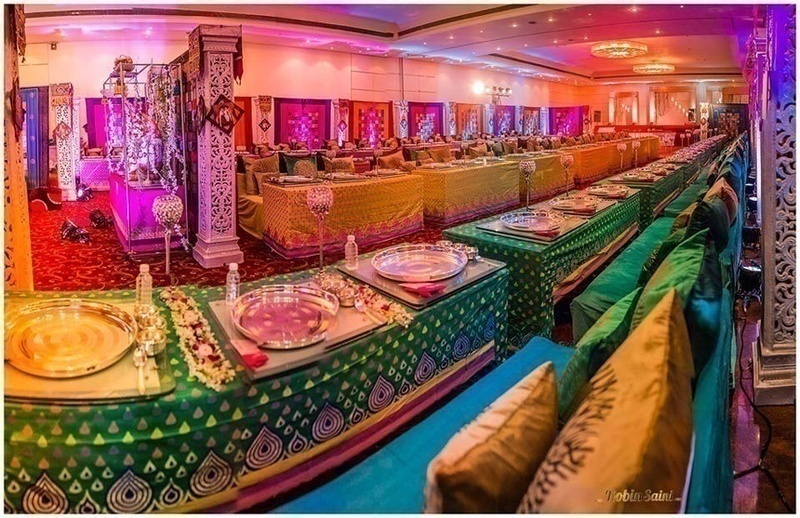 Photo By: Robin Saini
Tossing the formalities aside, couples are moving away from round tables, which look like a conference event. Instead, they are opting for long, rectangular tables or a mix of long tables surrounded by smaller square and round tables. Of course, the comfortable seating options remain a crucial part of the cocktail and after-party hours.
Larger-Than-Life Lighting
Photo By: Navdeep Soni
Elaborate lighting creates a romantic environment and adds to the visual appeal. Lighting is the simplest way to establish a personality in the wedding and couples are experimenting with everything under the sun. Edison bulbs, vintage chandeliers and candelabras are all expected to make a huge statement this season.
Royal Colour Themes
Photo By: PhotoTantra
Just because you are going for that "I picked these flowers from la la land and the only product I use in my hair is sunshine", don't fall into the fluffy light colour trap. There are hundreds of options. Couples are now swinging the pendulum to the darker, deeper jewel tones. Hot hues of dahlias and peonies are all welcomed this year.
Diverse Menus
Photo By: Navdeep Soni
It's no more the age of vanilla ice-cream with chocolate sauce, paan or thandai. 2016 will continue to offer a wide selection of food at weddings. People are looking beyond the average plates of chicken or fish. Instead, couples are picking food they love and reflect who they are. From flavoured raita to antipasto plates that will remind you of a trip to Italy, it's time to experiment.
Cocktail Bars
Photo By: Navdeep Soni
Wedding functions are no more about serving just a glass of wine or champagne. A fun cocktail bar ensures that the guests enjoy every bit of the wedding celebrations. Whether it's lemonade, long island iced tea or margaritas, personalised cocktail bars add an extra touch of 'fun'.