5 Bridal Wear Stores in Chandni Chowk Every Bride Must Walk Into For That Perfect Lehenga. #delhidiaries
Every bride is aware of all that wonders that Chandni Chowk, Delhi has in store for her. But how do you know which one to pick? Here's a list of the top 5 bridal wear stores in Chandni Chowk to help you find your dream lehenga a little more easily:
 
SHRANGAR
Bridal wear store Shrangar started out in 1986 and have come a long way since with a buzzing clientele of industrialists and fashion stalwarts. It was born out of a love for heritage, colour and craftsmanship and has been developing itself brilliantly in them.
What we love about Shrangar's clothing is the attention to detail, the intricate embroideries and the quality of craftsmanship that each and every garment has. All this plus exceptional style and comfort! What more do you need, right?
Address: Shrangar, 1220, Maliwara, Chandni Chowk, Delhi-110006
Tel: 011- 23260216, 23243739, 23253739
DALMIA FASHIONS
This store by designer duo Aditya and Mohit makes some of the most gorgeous bridal wear with creatively gorgeous silhouettes and a penchant for beautiful colour palettes. They cater to luxury bridal wear sarees, lehengas, dresses and more. They also make celebrity fashion replicas.
Address: 5743, Nai Sarak, Jogiwara, Chandni Chowk, New Delhi, Delhi 110006
Tel: 011 4356 4848
ASIANA COUTURE
Asiana Couture focuses on intricate detailing and modern silhouettes. They inculcate the revival of traditional crafts with Indian fabrics, promoting eco-friendly fabrics and artisans. They draw inspiration from the textile heritage of India to provide the best of the best to its clientele. I bet wedding shopping in Chandni Chowk was never this easy as Asiana Couture is a go-to place for the avid shoppers. Be it custom-designed outfits, budget-friendly lehngas, or a unique piece of art, you are sure to fall in love with their creativity.
Address: 652, 655, Katra Hardayal, Nai Sarak, Chandni Chowk, New Delhi, Delhi 110006
Tel: 011 2326 9452
OM PRAKASH JAWAHARLAL
This bridal store in Chandni Chowk, Delhi lacks no touch of designer luxury, class and quality. They have a wide range of bridal lehengas, sarees and ethnic wear that cater to a vast number of preferences. Ranging from pastel, delicate anarkalis to rich, heavily embroidered bridal lehengas, they have it all.
Address: 354, Naya Katra, 1st Floor, Chandni Chowk, New Delhi, Delhi 110006
Tel: 011 2327 3312
SUNEHREE
Another bespoke bridal wear store in Chandni Chowk, Delhi, Sunehree is one that does justice to its name: each of their stunning collections truly happen to be sunehra.
Their garments focus on intricately royal embroideries that bring it to life beautifully.
Address: Main Road, Outside Katra Naya, V-397, Chandni Chowk, New Delhi, Delhi 110006
Tel: 011 2327 5488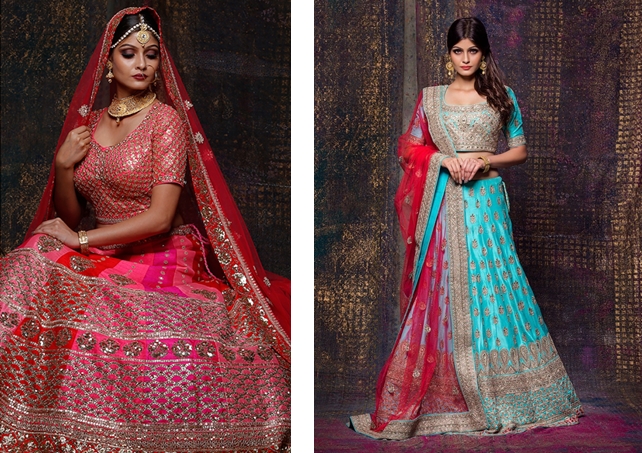 Image credits: shrangar; dalmia fashions; asiana couture, om prakash jawaharlal; sunehree