Top 5 Heritage Wedding Venues in Hyderabad for a Fairytale Wedding
When you want to look like a princess on your special day, why not choose a venue that resembles the same theme? We know how much you would love a grand wedding, dear brides, and we are here to help you with that. Our list of top heritage wedding venues in Hyderabad is perfect for those royal destination-like weddings which are deemed worthy of Nawabs! Apart from being absolutely stunning, these wedding venues are also extremely accessible – making them a great choice for all social events.
Check out top 5 heritage wedding venues in Hyderabad to know more about these venues which offer so much for your special day!
With exquisite wedding decor and flawless service, every wedding held at the Taj Krishna is made memorable. It has multiple venues – both indoor and outdoor – making it a great choice for both pre-wedding and wedding ceremonies. High-ceiling ballrooms, naturally-lit ballrooms, and halls overlooking lawns are some of the many options you have when you host an event at Taj Krishna. It is a modern and royal venue to host your wedding. With such a palatial venue just a click away; are you still considering a traditional wedding venue for your wedding? We hope not! Make a wise choice and wear the crown for hosting the best wedding among your peers and family.
Approx Capacity of this venue: 3000 (Floating), For booking, click here.
Luxury and comfort come together in this gorgeous ITC Kakatiya, which has the best of both traditional and contemporary architecture. The high-ceiling banquet halls are fitted with modern day amenities and are sure to impress your guests. The impeccable decor and a delectable feast add to the memorable experience of a wedding at the ITC. Book this heritage function hall in Hyderabad to add style to your big day and make a status statement that will make everyone envy you.
Approx Capacity of this venue: 600 (Floating), For more information click here.
With gorgeous decor and stunning architecture, Taj Deccan is one of the best heritage wedding venues in Hyderabad. The spacious venue is perfect for lavish weddings, which span over a few days and include both pre-wedding and wedding ceremonies. From lawns to poolside party areas – this venue has it all!  
Approx Capacity of this venue: 1500 (Floating) Click to find more about the venue

Located amidst the lush green countryside, the Fort Grand – Shamshabad is a dream wedding venue for all brides-to-be. This enchanting fort is spread over vast stretches of land and is nothing short of royal. The banquet halls have all modern amenities and yet an old world charm that will make your event every bit mesmerizing. When you host your wedding at the Fort Grand, you create a lifetime of memories. Indulge your guests in the grandeur of this one of the most royal wedding lawns in Hyderabad.
Tentative Capacity: 30000 (Floating), Reach us for booking, click here.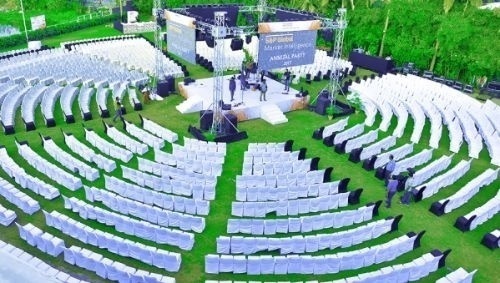 Are you looking for a picture perfect wedding? Well, N Convention hall is a great option for you. This convention hall is equipped with modern amenities. With the help of in-house decorator, every inch of it is ready to serve as a perfect backdrop for your wedding photos. And this brings it on top of the list of convention halls in Hyderabad. This venue is located just off the Hitech mair road – and the road is named on this convention hall making it easy and quick commute. Delight your guests with this most amazing and one-of-a-kind convention halls in Hyderabad.
This venue Capacity is around  3000 guests (Floating). For booking, click here.
One bonus venue – just for you!
Sprawling lawns, high-ceiling dining rooms, and chandelier-lit ballrooms welcome you when you walk into the Taj Falaknuma. Encompassing a vast stretch of picturesque land, the Taj Falaknuma Palace is ideal for a wedding in royal style. The majestic views, impeccable service, and visually stunning surroundings will take your breath away and make your wedding a memorable affair. Our words will fall short to describe the palatial beauty of this venue. So, just imagine how amazing your wedding is going to be at this heritage palace function hall in Hyderabad.Book this palace venue right away and make your dreams come true.
This venue Capacity is around  2250 guests (Floating). For booking, click here.
Just a glimpse of these venues gave you a royal feel, right? How about actually hosting your dream wedding at one of these top 5 heritage wedding venues in Hyderabad