Top 5 Mehendi Artists in Delhi Who Can Do Wonders with Bridal Mehendi
Well, you couldn't possibly complete your bridal look without a stunning mehendi design, could you now? Bridal mehendi is an intricate art and you definitely need a specialist for your big day. We have created a list of the top mehendi artists in Delhi who can adorn your hands and feet with gorgeous henna designs and complete your bridal look!
Scroll on to know more about these artists who can create magic for your D-day!
Jaipuri Mehendi Art
Jaipuri Mehendi Art is a team of experienced mehendi artists in Delhi who believe that the bridal mehendi design is as important as the bridal attire and helps complete the look. This team believes in intricate designs and works hard on every bit that is applied on your hands. With their expertise and creative designs your wedding day mehendi should be a piece of art!
Package Starts at: Rs. 5100
For booking, click here.
JP Mehendi Art
If an innovative mehendi artist is what you have in mind, Jay Prakash is the right guy for you. He has over eight years of experience and creates some of the best bridal mehendi designs. Jay Prakash uses all natural products and developed his own style of design where he creates the beautiful art with toothpicks, knitting needles, his signature plastic craft bottle with a metal tip and other such articles.
Package Starts at: Rs. 2100
For booking, click here.
Ram Kumar Mehendi Art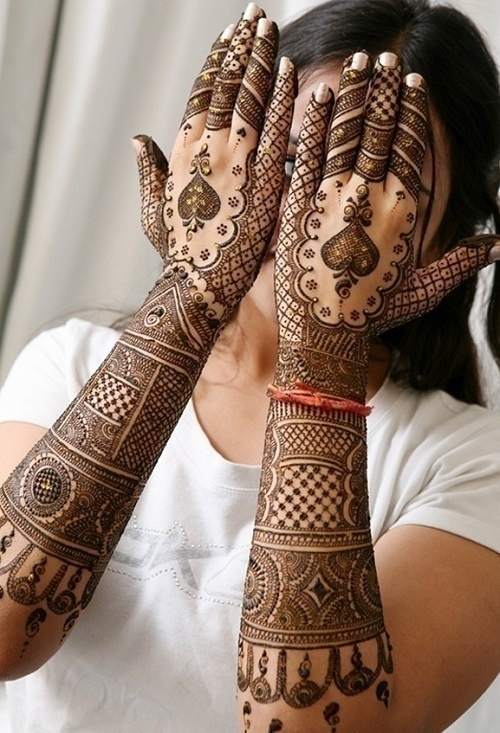 Ram Kumar has been in the business since 1991 and has a team of 30 expert mehendi artists who have different specializations. Whatever you wish for, they can create for you! They create a unique design for each bride which speaks volumes about her and is truly personalized to complement her style, personality and bridal attire.
Package Starts at: Rs. 11, 000
For booking, click here.
Alankritaa
The team at Alankritaa believes that mehendi design is an expression of your beauty and thus creates unique designs or every bride. True to their name, which means one who is adorned, they will adorn you with exquisite bridal henna designs which will complement your bridal outfit and make your wedding look a gorgeous one!
Package Starts at: Rs. 15,000
For booking, click here.
Raju Mehendi Arts
Having been in the field since 1998, Raju Mehendi Art is one of the most sought after mehendi artists in Delhi. He learnt the art from Asha Salva and has now developed his own unique style which draws inspiration from traditional designs. The team also focuses on every detail and makes sure that your ideas are also weaved into the design so as to make it truly personalized and unique!
Package Starts at: Rs. 5000
For booking, click here.