Top 5 Pre-Wedding Shoot Locations in Delhi by Happy Flashbacks!
Pre-wedding shoots go a way back, ever since wedding photography came into existence. Due to a conservative approach to matrimony where most marriages were arranged by the family and couples did not really meet publicly before the wedding, pre-wedding shoots never really took off Today, with love birds wanting to capture every silly to special moments together, pre-wedding shoots seem to have become quite the wedding photography trend and are now a must-do for every bridal couple. In fact, if you've met your fiancé through your family, this is the best way to break the ice.
When we sat down with the founders of Happy Flashbacks, Noopur and Anish – one of the most sought-after wedding photographers in Delhi – what they had to tell us about pre-wedding shoots was quite a revelation. "Pre-wedding shoots, is one of our favourite parts of shooting a wedding." For them, it is like weaving a story for any couple who comes to them. The shoot is all about capturing the individual personalities of the bride and groom and how they have now come together to tie the knot.
"Surprisingly, the location for Happy Flashbacks is never a concern. Whatever best reflects the essence of the individuals and their relationship, the pre-wedding shoot location and styling is then decided accordingly."
A Happy Flashback Memory
One of the recent pre-wedding shoots done by Happy Flashbacks was for a couple who were bibliophiles.  For a pre-wedding shoot location, the first, rather boring idea to would be to shoot in a classroom or a library or among a pile of books. Upon further inquiry, they also learnt that the couple shared a crazy love for mangoes. Passionate about books and mangoes! How about a shoot with books as props around mango trees. This was some fun out of the box thinking by the Happy Flashbacks duo.
Top 5 Pre-Wedding Shoot Location Ideas in Delhi
Although both Noopur and Anish believe that shoot locations should be determined by what the couple's really like, they tell us about the top 5 pre-wedding locations in Delhi to get that perfect click! So, here goes the list:
Barakhamba
For couples who want to add an old world, historic quality to their pre wedding shoot, Barakhambha, also known as Barakhamba Monument is a 14th century tomb building located in New Delhi. The ruins and earthy structure of the monument and the perfect lighting around this area make it one of the most ideal locations for a pre-wedding shoots. A red sandstone monument, the Lalmahal and Nila Gumbad an impressive blue tiled tomb in the neighbourhood, makes this place all the more favourable.
Humayun Tomb
Delhi is filled with heritage sites; therefore don't be disappointed if you don't manage to find a perfect spot around Barakhumba. Humayun's Tomb is another excellent location you can have your pre-wedding shoot at. The Turkish and Moghul rule presented India with this royal heritage site that is B.E.A.utiful from all corners. From decorative corbel brackets , balconies, pendentive decorations and kiosks, the site is filled with beautiful spaces, perfect to capture you and your spouse-to-be in never seen before shades.
Connaught Place (CP) Market – Inner and Outer Circle
If you're a couple who doesn't shy away from the crowds and camera and a contemporary pre-wedding shoot is on your mind, Connaught Place with its inner and outer circle creates the perfect ambiance to have a pre-wedding shoot of a lifetime. Since it is one of the busiest of all places in Delhi, early morning shoots around this place is a wise thing to do.
Lodhi Garden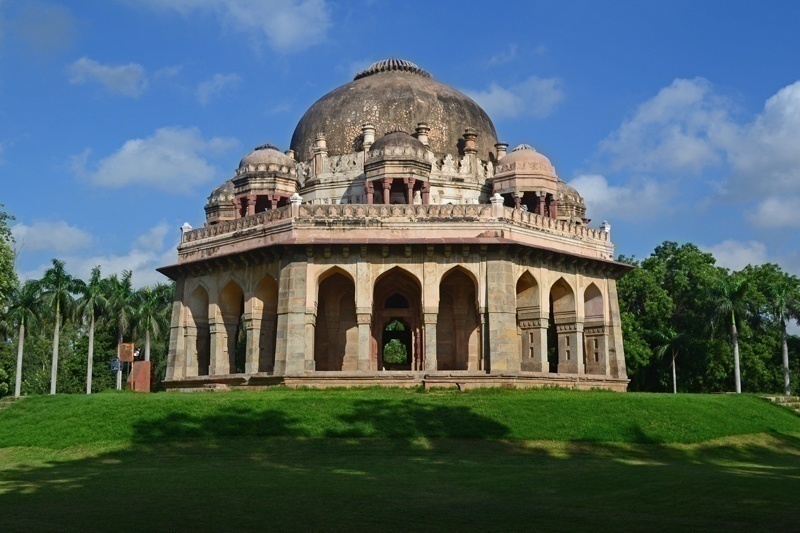 Spread over 90 acres, Lodhi Gardens is a hotspot for morning walks for Delhiites. This scenic place provides a widespread paradise to explore and get the best clicks of your special pre-wedding moments. From Bara Gumbad, Shisha Gumbad to Athpula Bridge, this place is filled with spots, each better than the other, open to capturing timeless photos.
Hauz Khas Complex
A gem of a location representing Delhi's history, Hauz Khas Complex is perfect for couples looking to capture offbeat photos of their most intimate emotional moments before the wedding day. The rustic backgrounds of this area create the perfect setting, making your photos look completely serene and unusual, the way you would never imagine it to be. Housing a water tank, an Islamic seminary, a mosque, a tomband pavilions built around an urbanized village, Hauz Khas Complex is filled with spots you would want to tirelessly cover so not to miss a perfect picture.
A Little More About Happy Flashbacks
Since when has Happy Flashbacks been in business?
Happy Flashbacks started their wedding photography journey in 2014, with their first couple being Tushi and Vaibhav, who we've featured in our real wedding. 😉
They also operate under the brand Lemonz Studios that has been creating corporate films, branding, travelogues for Thailand Tourism, TV shows etc. since 2010.
Film making has been their forte for over 7 years.
What styles of photography do they specialize in?
Artistic photography and photojournalism, with special focus on cinematic.
What is the price range of their packages?
Starts from 70,000 and can go up to 2 lakhs per day – depending on specific requirements
To know more about Happy Flashbacks and for booking enquiries, click here.