Top 5 Wedding Decorators in Goa Who Can Set Up A Stunning Venue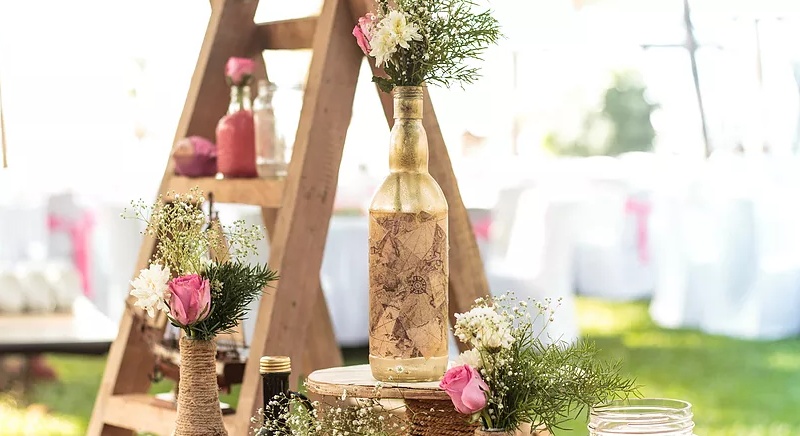 If you are getting married in Goa, we will take you one step closer to having that dream wedding. Whether you want a wedding at sunset or an exchange of vows under the winter sun, one thing that can take your wedding to the next level is the wedding decor. Today, we have a list of the best wedding decorators in Goa, who can help you make your dream wedding come true.
From beach weddings to resort ones, these decorators have every trick up their sleeve to make every venue a stunning one. From floral arrangement to quirky decor accessories – these decorators have everything to impress you. Scroll on to find out more about these wedding decorators in Goa!
KV Decor
Image Source: KV Decor
These talented decorators can lend that stylish and chic touch to your wedding decor with their out-of-the-box ideas. From bicycle decor to exotic dinner settings on the beach – these decorators can do it all. KV Decor offers an exhaustive range of wedding decor ideas that you can choose from for your big day!
Where: Dandewaddo – Chinchinim, Salcete – Goa, 403 715
Purple Tree Event Solutions
Image Source: Purple Tree Event Solutions
Purple Tree Event Solutions, Goa are one of the best in town and create stunning wedding day decorations. They specialize in every type of wedding decor and can set up that perfect wedding venue – both indoors and outdoors. WIth their expertise, your wedding pictures will be stunning to say the least!
Where: Panaji, Goa
Steve's Wedding Decor
Image Source: Steve's Wedding Decor
From gorgeous aisle decor to breathtakingly beautiful entrances – Steve's Wedding Decor surely knows how to make a statement when it comes to wedding decor. They also have stunning lighting decorations in their range which will make your wedding reception come alive.
Where: Cottage 440, Almeida Waddo, Parra Bardez, Goa, India
Dias Decorators
Image Source: Pinterest
(Note: Image is for representative purposes only)
Dias Decorators, Goa can make your wedding day extra stunning with their gorgeous decoration. They have some amazing decor ideas and themes which can complement your occasion and make it picture perfect.
Where: Merces, Bona Vaddy, Dias Decorators building, After Shantabhan Complex, Before tiles factory, Ilhas – Goa, 403005
Menino Decorators
Image Source: Menino Decorators
Menino Decorators, Goa are well known in the area for their gorgeous wedding decorations. Their talented team of decorators can implement any theme or decor idea that you may have in mind. They specialize in entrance decor, backdrops and other necessities for a wedding.  
Where: St cruz, Panaji, Goa
*Cover Image Credit: KV Decor