Top Banquet Halls in Indore for Events you Wish to Cherish Forever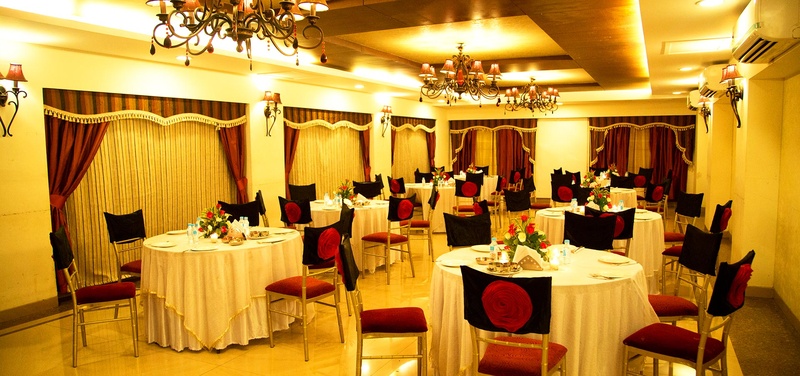 Indore, awarded as the cleanest city of India, has many nicknames, but the most popular one is Mini Bombay. Whether it's education, cleanliness, tourism, or trade, the commercial capital of Madhya Pradesh has left many Indian cities behind on every front. One can't help but wonder the way this city struck an equilibrium between preserving the old-world charm and pursuing modernism while every fabric of its being is purely and truly Indian. On one hand, you have Patalpani waterfalls, Ralamandal Wildlife Sanctuary, and Janapav – to take your mind and soul on nature's retreat, on the other, manmade marvels – Lalbagh Palace, Kanch Mandir, and Rajwada – staring back at you. If you have decided to tie the knot in Indore, we are thrilled to help you find a venue for your dreams. Not a big fan of extravagant open-air event areas? We understand you! If you are up for indoor banquets, we have many surprises waiting for you. Scroll down, and you will find the best of banquet halls in Indore, which can be your destination to host the most happening events. So, what are you waiting for? Let's get started!
Radisson Blu Hotel, Vijay Nagar, Indore
Radisson Blu is one of the obvious choices and also the most sought-after party halls in Indore. It is peacefully tucked amidst the serene environment, which enhances the charm of your event hosted here. This banquet hall in Indore offers multiple event spaces to choose from as per the size of your invitee list. This venue not only offers plush halls but also has a lawn for you – so, you can take celebrations outdoors, under the blanket of stars. This venue stands out to be one of the best in terms of hospitality and also the services rendered in-house are top-class. So, if you have a lavish party on your mind, you should knock on this door.
Where: Radisson Blu Hotel, 12, Ring Road, Scheme No 94 Sector EB, Indore, Madhya Pradesh 452010
Ashokraj Resort And Farms, Khandwa Road, Indore
If you are in search of a venue that not only has a large space but also caters to all the event requirements to make it grandiose, then Ashokraj Farms and Resorts is an ideal venue in Indore. It boasts of a large party hall with a capacity to host over thousands of guests. It also has a majestic lawn that will work perfectly if you want to take some of your wedding celebrations outdoors. The venue provides decor and catering services but still lets you bring your service provider on board. It has a magnificent architecture that will perfectly complement a sumptuous bash. So, if you are all set to rock it, then go ahead and book this beautiful party place in Indore.
Where: Ashokraj Resort and Farms, 144, Khandwa Road, Asrawad Fata, Anuradha Nagar, Asrawad Khurd, Madhya Pradesh 452020
The Red Maple Mashal, Rau, Indore
If you are looking for a mini party hall in Indore for an intimate gathering, then we have a beautiful venue that will surely mesmerize you with its charm. The Red Maple Mashal has the best ambiance as compared to any other venue in Indore. It has a mini lake and a wooden bridge over it, making it look phenomenal. It can work as a wonderful backdrop for all your events. The multiple halls on offer here are perfect for your close-knit gatherings. If you are up for the ambiance, vibe, and A-one services, then this venue in Indore will be the perfect one for you.
Where: The Red Maple Mashal, Jhoomer Ghat, Rasalpura, Rau, Indore, Madhya Pradesh 453446
Indore Marriott Hotel, Vijay Nagar, Indore
Our list of best banquet halls in Indore wouldn't be complete if we skip Indore Marriott, a popular hotel in Indore. A 5-star hotel in Indore offering you luxury amenities to cater to your event is the one to look out for. The top-notch hospitality is truly one of the perks of choosing this venue over any other party spot in Indore. Picturesque indoor and outdoor banqueting facilities are available at this venue with varying capacity that you can pick as per the size of your guest list. It can customize the buffet menu for different events if you opt for this party venue in Indore. So, choose this one and enjoy your day to the fullest.
Where: Indore Marriott Hotel, H-2, Scheme No 54, Maguda Nagar, Meghdoot Garden, Vijay Nagar, Indore, Madhya Pradesh 452010 India
Shrida Greens Lawns And Resort, Rajendra Nagar, Indore
Ending our list with the finest resort in Indore – Shrida Greens Lawns And Resort. If you talk about services and facilities, then this venue deserves to be on top. It offers a stunning view with splendid gardens and charming decor that enhances the beauty of your event, making it look fabulous and enchanting. It boasts of a banquet hall with an occupancy of around 300 guests. The ambiance, the exquisiteness, and luxury are indeed commendable. Apart from this, the decor team works hard to dazzle up the halls to make it visually amazing. Even the chefs here serve sumptuous dishes, which you will surely relish on. So, get your bookings done before you miss out on this venue.
Where: Shrida Greens Lawns and Resort, CAT Road, RRCAT, Indore, Madhya Pradesh 452012
These were the top banquet halls in Indore, which are ideal for an indoorsy event. If you are yet to make a decision or want to check out more options, grab a look at our website too.
Weddingz.in brings hassle-free event planning and venue booking at your fingertips! Book with us and bag 'Guaranteed Best Prices' on all the wedding venues or event areas listed on our website. If you have any queries about a venue or want to learn more about our services, visit Weddingz.in or give us a call at +91- 76-66-77-88-99.