Top 5 Bridal Wear Stores in Karol Bagh That Have the Prettiest Lehengas! #DelhiDiaries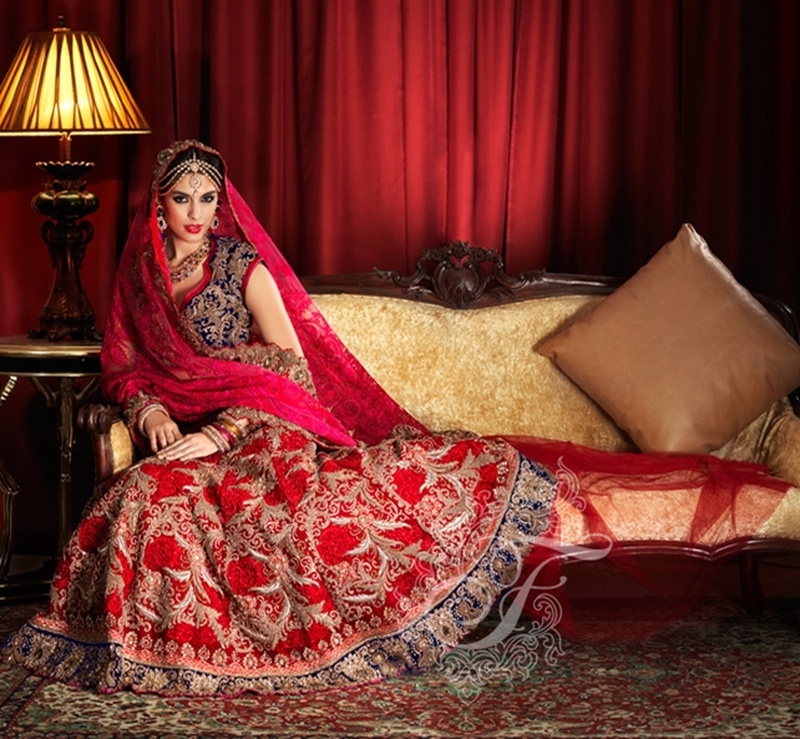 FRONTIER BAZAR
Every bridal wear ensemble at Frontier Bazar comprises of unique fabrics, finest handcrafted intricacy, detailed finishing and most importantly designed to compliment the individuality of the wearer. Specializing in Bridal Couture, Frontier Bazar successfully blends the thread of traditionalism and modernity with the perfect combination of style, intricacy and opulence. As timeless elegance on the wedding day is the secret desire of every bride, Frontier Bazar has crafted a unique and unparalleled signature style of their own which is a fusion of Indian karigari such as zardozi, bandhani and dabka work. Embellished by modern Swarovski and semi-precious stone detailing, combined with contemporary flair, European structuring and drapes to create spectacular ensembles that brings to life every woman's most coveted dreams.
Tel: 011 4536 9999
Address: WEA 5/71, Padam Singh Road, Karol Bagh, New Delhi, Delhi 110005
MEENA BAZAAR
Meena Bazaar is a Delhi-based Indian ethnic wear retail brand that was established in 1970 by Mr. Suresh Manglani and Mr. Vishnu Manglani. Originally starting out with a small store selling printed sarees, it has evolved into a leading retail name today recognized by Indians globally. They are known for our exclusive and exquisite range of bridal lehengas, sarees, suits, kurtis, gowns, anarkalis and other wedding wear. They offer finely crafted and designed Indian ethnic wear at the best quality and prices.
Tel:  09999913499
Address: 5/54, WEA, Ajmal Khan Road, Karol Bagh, New Delhi, Delhi 110005
FRONTIER RAAS
Another bridal wear store in Karol bagh, Frontier Raas has some of the most gorgeous collections of lehengas, gowns and sarees that are a wonderful blend of indian heritage as well as western elements. Each ensemble is created with intricate detailing, expert craftsmanship and the utmost care. They have multiple stores across the city, so go ahead and choose the one closest to you. You can get lehengas from 30,000 and can shoot up to 5 lacs!!
Tel: 011 4527 9900
Address: 6/86, W.E.A Padam Singh Road, Karol Bagh, New Delhi, Delhi 110005
ANARKALI
This bridal wear store in Karol Bagh, Delhi has an exclusive range of bridal lehengas, sarees, suits and of course anarkalis suiting everyone from the bride to the bridesmaid to the mother of the bride. Anarkali makes sure that their collections have something for all brides – with their differences in choices and preferences. They specialize in bridal wear, so go ahead and buyyour deam lehenga now!
Tel: 011 6545 8845
Address: 2393, Hardhian Singh Road, Gurudwara Side, Karol Bagh, New Delhi, Delhi 110005
KALA SHREE
Kala Shree is another bridal gem in Karol Bagh where you can find stunning bridal lehengas, sarees and other ethnic wear. Being a wholesaler cum retailer, they do have a price advantage over other stores. You can be sure to find beautiful designs with great quality as well as value for money.
Tel: 011 4155 7390
Address: 101-102, 1st Floor, Partap Chambers, Gurudwara Rd, Ghaffar Market, Block 24N, Beadonpura, Karol Bagh, New Delhi, Delhi 110005
*All images belong the respective vendors