Top-Notch Wedding Venues in Gandhinagar to Host a High-end Celebration
We all know that a wedding is a lot more than just tying the knot. A whole lot goes into planning for a grand wedding! Apart from your long to-do list, to plan out all the rituals and live up to everyone's expectations is also a part of the wedding preparation. However, out of these, one of the most important things is to pick an apt venue where you can plan out your most awaited day. So, if you are heading to Gandhinagar for your d-day, then we have something special lined up for you. We have shortlisted top-notch wedding venues in Gandhinagar, where you can plan a high-end wedding celebration. Dive in, and you might get a venue of your dreams. Good luck!
Thaker's Farm, Sargaasan, Gandhinagar
If you don't want to miss the charm of a traditional wedding, then you should have a look at Thaker's Farm, which offers a large party plot in Gandhinagar for around 4000 guests. If you are looking for a venue that offers a rustic setting with a touch of contemporary, then this is where your search ends. Along with the top-class interiors and the ambiance, they render decor services in-house while you choose your favorite caterer. So, experience their royal treatment and the best-in-industry services by booking this lawn in Gandhinagar right away.
Keshvam Party Plot, Randheja, Gandhinagar
One of the top outdoor wedding venues in Gandhinagar is Keshvam Party Plot. This charming venue lets you host all your wedding-related events along with your grand wedding day and should be on your shortlist. The spectacular interiors of the venue speak for itself! It can be decked up further with the help of world-class decorators. With their team always on the toes, you don't have to worry about anything. It serves the tastiest delights and ensures all your arrangement is A-one. It is, indeed, one of the best wedding venues in Gandhinagar.
Kansar Garden Restaurant, Kudasan, Gandhinagar
Weddings in Gandhinagar have always been exceptional, and a place as grand as Kansar Garden Restaurant elevates the festive vibe of your wedding day to the next level. One of the most sought-after wedding hotels in Gandhinagar, it has always been a renowned name when it comes to hosting a lavish wedding, and of course, hospitality. The food served here is pure vegetarian and will be the highlight of your ceremony. To experience their royal treatment, plan your wedding at Kansar Garden Restaurant.
Fortune Inn Haveli, Sector 11, Gandhinagar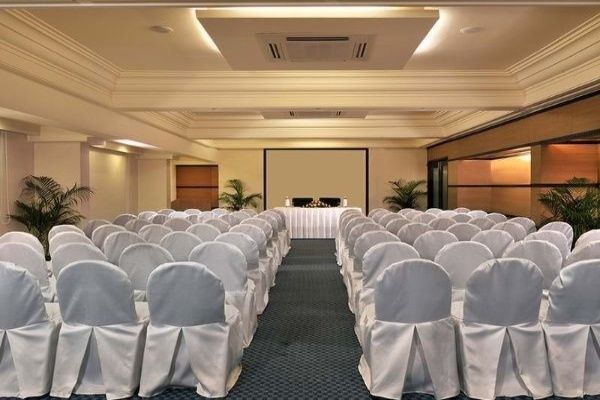 Are you on the hunt for a cozy and luxurious banquet? Well, Fortune Inn Haveli is an ideal wedding venue in Gandhinagar to host a grandiose wedding ceremony. With its exceptional hospitality and world-class amenities, you are sure to make memories for a lifetime. The venue is perfect for an intimate gathering of around 100 guests. It also renders decor and food services in-house, and they let you hire your decorator as well. So, if you want to host a small-sized wedding ceremony, then book this venue right away.
Prominent Corporate Residency, Kudasan, Gandhinagar
Prominent Corporate Residency, as the name suggests, it has no match when it comes to hosting a lavish wedding. The astonishing architecture of this wedding hall in Gandhinagar is sure to attract you and your guests. As the venue is just a few minutes away from the airport, it offers convenience to all your outstation guests. The decor and interiors are ultra-classy and apt for hosting a chic wedding. The in-house team ensures the setting is on-point to make your event nothing but beautiful. So, this venue has it all to bag a spot on our special list of wedding venues in Gandhinagar.
We hope that you found a venue of your dreams from our list of the top-notch wedding venues in Gandhinagar. We are glad if you did so, and if you didn't, then keep looking for more wedding venues.
Weddingz.in brings hassle-free wedding planning and venue booking at your fingertips! Book with us and bag 'Guaranteed Best Prices' on all the wedding venues or event areas listed on our website. If you have any queries about a venue or want to learn more about our services, visit: Weddingz.in or give us a call at +91- 76-66-77-88-99.