6 Romantic Restaurants In Mumbai That You Must Visit Before The Wedding Day! #DateNights #MumbaiDiaries
Gallops
Gallops is a lovely, quaint restaurant that's known for its old-world charm. You walk in and feel like you've entered some fairy-tale, vintage world. The food here is simply the best on this list as well as other ones. That, along with its serene ambience would give you the perfect date night.
Cuisine: North Indian, Continental, Seafood
Average Price: Rs. 2500 for 2
Where: Mahalaxmi Racecourse
Highlight: Best food
Dome
Dome can be found on the top-most floor of Hotel InterContinental. The roof-top restaurant offers you a breath-taking view of Marine Drive and the sea beyond. The candle-lit ambience is beautifully romantic and ideal for a date night! They also serve sheesha which is priced at Rs. 3000. The food and drinks are also expensive, but the ambience and the view make up for it. The down-side is that they only serve starters (mainly non-veg), sushi and drinks (no main course).
Cuisine: Finger food, Sushi
Average Price: Rs. 4000 for 2
Where: Marine Drive, Churchgate
Highlight: Candle-lit ambience + view
Boardwalk by Flamboyante
Situated just by the beach and away from the busy city-life of Mumbai, Boardwalk in Alibaug is the perfect place to visit for a quiet getaway. Downside – The food is average and the prices are not. But it's the perfect place to spend a relaxing Sunday afternoon.
Best way to reach there – 20-30 min ferry from Gateway of India.
Cuisine: Asian, Indian, Italian
Average Price: Rs. 2000 for 2
Where: Alibaug
Highlight: Quiet, relaxing getaway
The Sassy Spoon
One of Mumbai's prettiest restaurants, for sure. The romantic French-inspired décor and its fusion of modern and vintage interiors make it the perfect place for a date. Love the fuchsia theme. To match its super-pretty décor, the food presentation is rather attractive as well! You MUST try their spaghetti. Oh, and they have two outlets!
Cuisine: European, Asian, Mediterranean, Modern Indian, Desserts
Average Price: Rs. 2500 for 2
Where: Nariman Point; Bandra
Highlight: Décor, Desserts
Koyla
This roof-top restaurant has low tables, shamiana style decor, and a traditional ambience. It also has a stunning view of the ocean. Sheesha is also available!
Cuisine: North Indian, Mughlai
Average Price: Rs.1500 for 2
Where: Colaba
Highlight: Table settings + view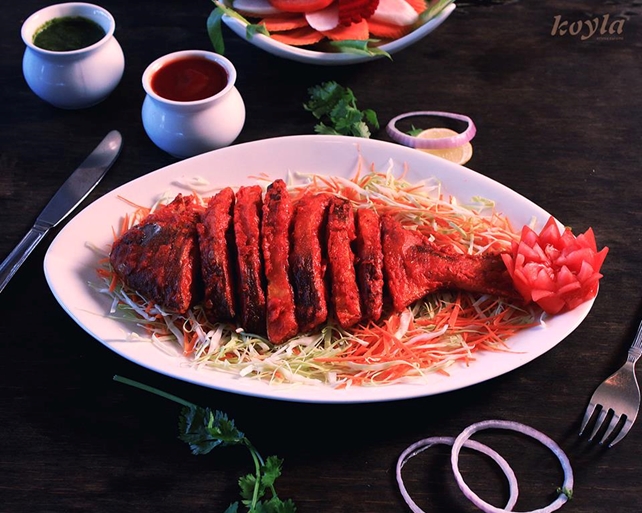 Aer
Situated on the roof of Four Seasons Hotel, Worli, Aer gives you a magnificent view of the Mumbai skyline. Get here just as evening arrives to watch a wonderful sunset over good food and drinks. Though, it is very steeply priced!
Cuisine: Italian, European, Spanish, Lebanese
Average Price: Rs. 5000 for 2
Where: Worli
Highlight: The sea-view
All images belong to their repective owners.