10 Most Unique Bridal Nose Rings We Saw On Instagram This Wedding Season
Bridal jewellery is probably the second most important thing, after the lehenga. So of course, from the mathapatti to the payal, every bride wants to make sure that each and every piece is on point! But how important is getting that perfect bridal nath? We'd say pretty important because the right kind of nose ring can make or break your bridal look! And as always, we are here to help you with all the Indian wedding inspiration you need. Check out some of the most unique and gorgeous nose rings we found on instagram this wedding season:
This Kundan nath adds just the right kind of drama. This bride wore a high neck blouse and lay off the neckpieces. So the heavy nose ring balances it out!
This single string nath paired with a matching maang-tikka has its own unique shape!
Don't shy away from really big bridal nose rings. This bride proves that it can look gorgeous!
This spunky brides statement silver piece goes perfectly with her pale pink outfit.
Such a refreshing change from what we usually see on brides. A smaller but thicker diamond circle with focus on that crescent-shaped kundan piece.
This beautiful bride goes easy on all other jewellery and maintains emphasis on the heavy nose ring.
A simple yet stunning bridal nose ring with no strings attached to it.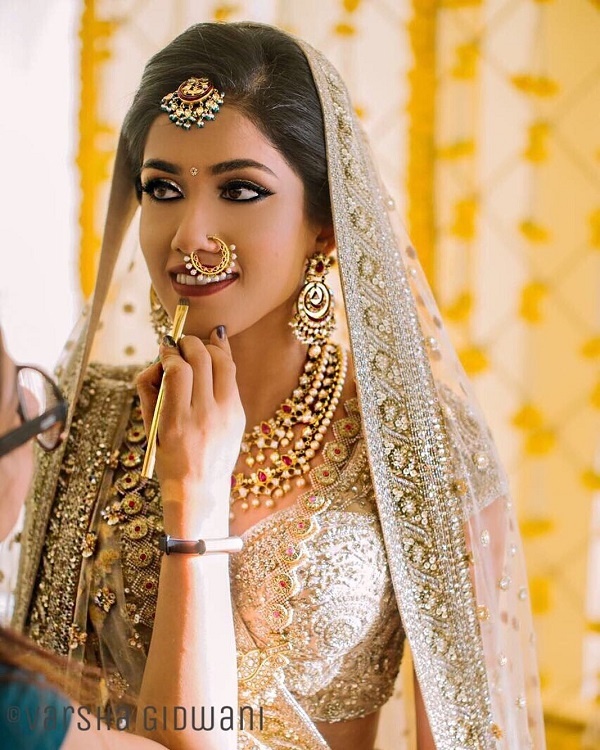 Really wish this was a clearer picture but you can still see how lovely this heavy nose ring looks with all the other jewellery pieces. 
This triple-strand nose ring has quite a unique shape and design.
This bridal nath maintains a simple ring but comes alive with a cluster of diamonds all in one place.
Personal favourite! Love this simple ring with dainty floral designs in pearl and kundan.
Hope you liked those Check out some cool maang-tikka and matha-patti styles here:
10 Gorgeous Brides Show Us Why A Maang-Tikka Is A Must For Every Indian Bridal Outfit