As mere mortals, the urge is to stand out from the crowd. Ask any fan of Hollywood movies, a church wedding is a sight to behold. Though some belonging to the affluent strata nowadays plans for destination weddings, traditional church weddings still hold its charm. The white wedding astounding attire itself provides sufficient inspiration to search for a stupendous wedding palace. Add to it the stairs, wedding bells, the flowers, well-dressed guests, and the priest waiting at the altar, all add to the allure on your big day! Yeah, the icing on the cake would be a little bit of public display of affection in the form of the 'wedding dance,' which is a symbol of you being getting together forever! Seems too good to be true, isn't it? If you have already started to dream about it then, hold on to your horses, first you need to check out the venues to plan your nuptial ceremonies!
Maharaja Banquets is one of the regal banquet halls in Delhi for a Christian wedding among the Christian community in the Capital. This multi-storeyed venue has multiple opulent banquet spaces to let you play host to your guests. It has recessed and cove lighting to enchant the attendees of your function. The decorated ceiling and the stunning architecture, however, are the real plus points of this wedding venue. Prime hospitality along with top-notch catering and decor service are guaranteed over here as the in-house professionals shoulder the responsibilities.
Maharaja Banquets, Paschim Vihar, Delhi
Address: Maharaja Banquets, A-1/20A, Main New Rohtak Road, Opposite Metro Pillar No. 256, A1 Block Paschim Vihar, Block A, Delhi, 110063
Key Features:
Multi-storeyed venue with multiple opulent banquet spaces
In-house decor and catering facilities
Recessed and cove lighting
Grand Hyatt Goa, Bambolim, Goa
Grand Hyatt Goa easily wears the tag of the best venues for a Christian wedding courtesy of its 5-star status and popularity among international travelers. Yeah, many of these love-birds who flock from across the borders and seas not only choose to stay over here but also to wed at this luxurious venue. Gracing the stunning beach of Bambolim Bay, it redefines luxury. It sprawls over in acres with its landscapes literally playing peek-a-boo with the pristine water of the Arabian Sea. The banquet space over here spreads over in hundreds of square feet and is simply perfect for your dreamy big fat Goan wedding! 
Grand Hyatt Goa, Bambolim, Goa
Address: Grand Hyatt Goa, P.O Goa University, Road, Bambolim, Goa 403206
Key Features:
Sprawls over in acres with hundreds of square feet for banquet space
Graces the stunning beach of Bambolim Bay
Availability of plenty of rooms
Cidade De Goa, Dona Paula, Goa
There are reasons aplenty why Cidade De Goa is regarded as a top Christian wedding venue. Starting from the foundation itself, it was envisioned and subsequently designed by the renowned architect – Charles Correa as a Portuguese hamlet with a tinge of Mediterranean influence. Blending luxury, warm ambience, and elegance, this 5-star beach hotel signifies the virtues of susegad and leisureliness of languor. It would spoil the gourmands among your invitees with its wide arrays of multi-cuisine servings. The signature cocktails served as complementary with the food platters would enliven the atmosphere. Last, but not the least, is its locale – Vainguinim beach, the heart of the Goa. What better place to sync in your hearts, and to recite your wedding vows!
Cidade De Goa, Dona Paula, Goa
Address: Cidade de Goa, Opp Manipal Hospitals, Vainguinim Beach, Panaji, Goa 403004
Key Features:
Epitomises the true spirit of Goa
Amazing architecture
Upscale venue
JW Marriott, Tangra, Kolkata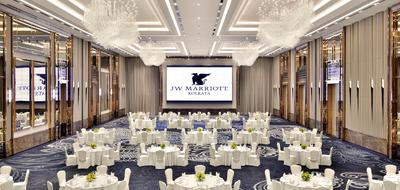 If marriages are made in heaven, then JW Marriott is the place to plan your wedding celebrations! This is perhaps the most popular Christian wedding venue among the affluent Anglo Indians and Catholics of Kolkata. Nearly equidistant from the Netaji Subhash Chandra Bose Airport and Bara Bazar, the city's old business district, it is well-connected in every sense to ease the commute of your guests. Prime amenities and renowned services amalgamate together to provide a memorable experience to the attendees of your functions. Akin to that well-appointed rooms and luxurious suites ensure that your guests stay relaxed and rejuvenated in order to break into a dance during the commencement of your marriage celebrations. As the cherry on the top, it boasts of possessing the largest ballrooms in the entire metropolitan, so you would be better off starting to practice your moves for the impending 'first dance.'
JW Marriott, Tangra, Kolkata
Address: JW Marriott, 4A, JBS Haldane Avenue, Tangra, Kolkata, West Bengal 700105
Key Features:
One of the largest ballrooms in the city
Epitome of affluence
Prime locale
Airlink Castle, Kochi, Kochi
Airlink Castle is a great place for a Christian wedding in Kochi. This 5-star hotel has a state of the art amenities and linking it with commendable services, it would ensure that your guests always feel at home here. This lavish place would charm your guests with its coconut gardens, wooden furnishings, and gleaming illumination. The well-stocked premium bar would cheer up the alcohol enthusiasts in your guest list with Sctoches and French wines. It goes without saying that your guests would enjoy gourmet meals too. It has around fifty rooms to accommodate your guests. It is situated in the vicinity of Cochin International Airport and thus can be accessed with ease by your foreign friends. 
Airlink Castle, Kochi, Kochi
Address: Airlink Castle, NH-47, Near Cochin International Airport, Athani, Nedumbassery, Ernakulam, Kerala 683585
Key Features:
Opulent banquet hall plus stunning terrace
Ample parking space plus valet parking
Lodging facilities available
So, which of the above described top Christian wedding venues do you think you would be approaching to ring in your nuptial ceremonies? If you are in a dilemma due to the problem of plenty, call up the executives at weddingz.in to aid you in dissection and take the final decision. Marriages are made in heaven, and with weddingz.in providing wedding plus services aplenty, you can rest assured that your big day would certainly be made heavenly, the moments being reminiscing!