#Trendalert – Masaba Gupta's fresh new take on this age-old tradition is bride goals!
Correctly known as the 'Print Queen' of Indian fashion, Masaba Gupta's latest collection is making a lot of noise and for all the right reasons! It's totally worth falling in love with. This collection of hers is inspired from vermillion (colour) and you've got to check it out for some major #bridalinspo –
Keeping her signature style of quirky prints and out-of-the-box styling constant, her new line – Burning Garden, puts a contemporary, playful, and vibrant twist to all the traditional looks.
The collection:
How cool is this canary yellow chanderi saree with highlights of a gold foil Kalash print, polished off with a knockout pink border & of course Pink Sindoor? Also, I can't take my eyes off the sneakers the saree is paired with! *Ah-maze*
Also, we spotted this saree on Kareena Kapoor and it's beyond doubt she looked her most stylish self!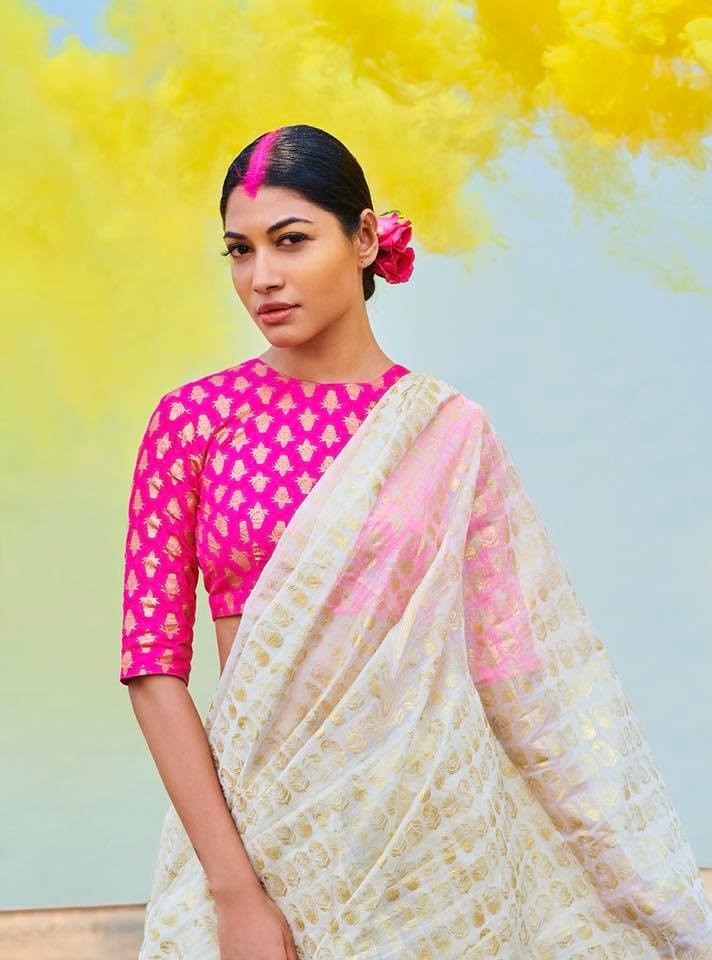 Totally digging this Ivory chanderi saree again paired with her signature knockout pink blouse with the 'Kalash' motifs! I love the pop-of-colour on this ivory saree which the sindoor and roses in the bun matching the blouse bring out!  *Go Masaba*
Next up is this stunning cold-shoulder ivory maxi-dress with the 'matsya' motifs on it! The pink sindoor is what caught my attention here again. It's not something we come across everyday and here's wondering why?
She says, "For some women the sindoor signifies tradition and it's a celebration of womanhood. For others, it's an outdated statement women make about their marital status. It's is one of the strongest symbols of Indian married women in Hindu communities. Meant to represent the color and brightness in a married woman, the application of sindoor in the parting of the forehead, is a ritual that has been carried forward from the olden days to now. Today the use of sindoor has become more of a choice, and we at House of Masaba are happy to celebrate this."
Finally, this knock out pink lehenga-choli with a touch of bluish-grey is pure love. Seriously digging those grey and yellow latkans on the lehenga skirt too!
I can totally imagine wearing this offbeat lehenga for the summer shaadi season and having all eyes on me! 😀
Girls are you taking notes?
Image Source – Masaba Gupta
A word from the designer, "Many a times, I've come across women who have been perceived as too traditional or not modern enough, for wearing sindoor heavily. Our version of sindoor, seen in a knockout pink and chalk white is a take on this feminine symbol. This is a celebration of the new-age woman, a celebration of personal choice, or even a religious one; whether to wear sindoor as a minimal dot, or heavily in the parting of her hair…or to choose not to wear it at all."
Well, I feel you Masaba and this modern and contemporary take on sindoor is just amaze! For all you girls looking to make an offbeat statement at a wedding, we say take some inspiration from Masaba's styling and you'll have all eyes just on you!
P.S: This vibrant collection is everything that a gal needs to survive this summer wedding season!