Trending Quirky Elements for your Wedding Decor
For a lot of us when we think of decor we cannot go beyond the bulky stages and the floral arrangements. However, over the years, the wedding decor has seen a tremendous overhaul. From chunky, extravagant and run-of-the-mill, the Indian wedding decor scene has now shifted to being more minimalistic, quirky and chic. 
Decorators are paying keen attention to the teeny weeny details and elements, and are trying to fit these in tandem with the wedding theme. With themes becoming increasingly whacky, out-of-the-box and quirky, the elements are also getting quirkier. Nah! I am not complaining.  I am simply amazed by how the most bizzare things have become an integral part of wedding decor and it is a delight to the eyes to see such
Here's me listing the most quirky, eye-catching and interesting elements which caught my attention:
Flamingos
Drenched in pink, these vivid elements are adding the flamboyance and colour to not only parties but wedding ceremonies as well. I am smitten by how these are finely incorporated into wedding decor, especially a rage in tropical weddings! It has also become a fad in Bachelorette parties, where everything is dunked in bright colours and glitter.
1. Large pink flamingos made out of flowers, used as props to welcome the guests.
Image source: Pink Palki
2. I am super-impressed by this colourful bar, decorated with hats, flowers and foliage and with paintings of large leaves and big pink flamingos.
Image source: Pink Palki
3. A large POP flamingo at the entrance of the venue adds the right amount of quirk to the nautical-themed brunch.
Image source: Altair Decor
4. Decorate your tablescapes with cool and quirky centerpieces like this flamingo!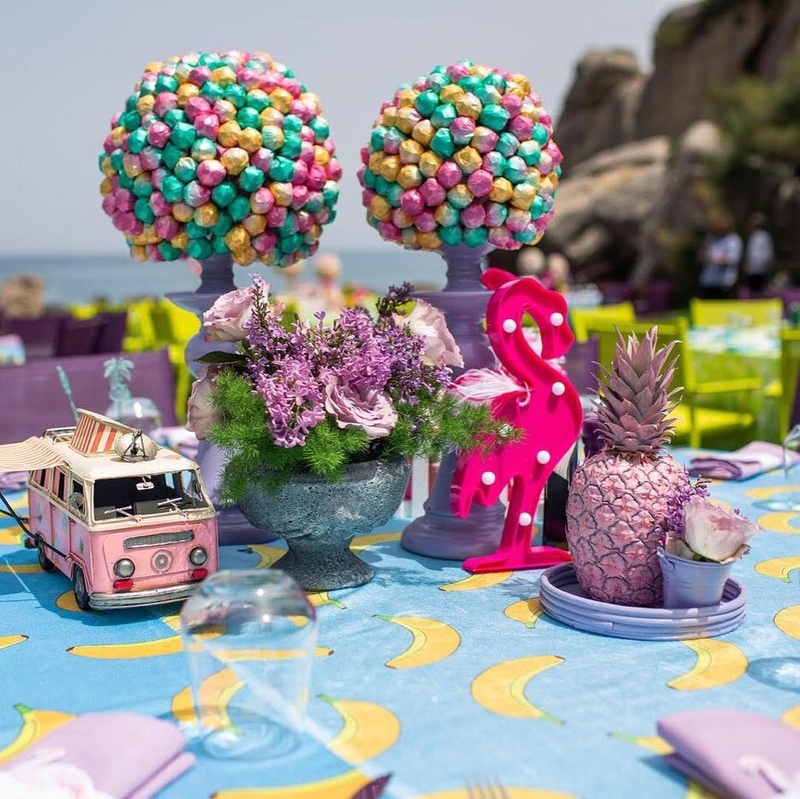 Image source: The Wedding Design Company
5. How cute are these fancy flamingo straws!
Image source: Pink Palki
6. A bunch of pink flamingos and flowers in the same hue with large books and painted branches, giving a rustic feel.
Image source: Elan Events by Nipunika
7. This pool party had a fun photo booth with surf boards, potted plants, gobs of flowers and small flamingos- giving a fun and chilled-out vibe.
Image source: Krish Events
Pineapples
You may not be drooling over pineapples otherwise, but the images  of these decor ideas with pineapples used as prominent elements, are sure to make you drool. Adding these pineapples is sure to take the quirk quotient from 0-100 within a second!
1. Ditching the old fashioned bunch of flowers used as centerpieces, here pineapple with sunglasses on it, has been used to add to the coolness!
Image source: Pink Palki
2. I am in love with these faux pineapple installations-perfect for 100% tropical feels!
Image source: Weddings by Ekta Saigal Lulla
3. Adding the extra elegance to the juice bar, by adding an artificial metallic pineapple!
Image source: With Love, Nilma
4. This red-painted pineapple is adding the extra quirk and a carnival-like vibe to the wedding decor. Not to miss the table cloth with tiny printed flamingos.
Image source: Noor
Chai glasses
"Ek garam chai ki pyaali ho.." Yes, for some of us that one cup of hot tea is utmost necessary to kickstart our day, especially on the weekdays. Since we are seeing decor elements for every theme available at weddings, why not something for the chai lovers too?
1. Cutting chai glasses filled with flowers and coloured powder.
Image source: Altair Decor
2. How about this metallic brass stand with cutting chai glasses! An innovative idea to store flowers, right?
Image source: Altair
3. An unusual decor idea- chai glasses with baby breaths!
Image source: Taarini Weddings
4. Pop colour chai kettles with flowers and pinwheels- perfect elements for a sundowner mehendi ceremony!
Image source: Taarini Weddings
5. Retro elements like table fans, painted chai glasses and flower petals- perfect for a retro-themed shaadi.
Image source: The A-3 Project
Are y'all set to bring on the quirkiness?