Unseen Pictures from Aishwarya Rai and Abhishek Bachchan's Wedding!
The green-eyed beauty, Ex-Miss World and one of Bollywood's most beautiful actresses, Aishwarya Rai now-Bachchan made headlines when Abhishek proposed to her right after the premiere of their film, Guru in Toronto back in 2006. It was Mr Amitabh Bachchan himself who broke the news to the media and it was definitely the biggest thing then.
It was only on the 14th, January 2007 when the duo got formally engaged at the Bachchans' residence, and finally tied the knot in April of the same year. The Rai's and the Bachchans kept the wedding a very private affair with only families and close friends in attendance. I mean some very important Bollywood biggies didn't make it to the wedding and to top it up, the couple never released their wedding pictures ever!
So, when Abu Jani Sandeep Khosla (the designer duo are family to the Bachchans) released some glimpses from the big fat Bachchan-Rai wedding after 12 years, the pictures broke the internet and HOW! 
The Sangeet: 
Abu and Sandeep say, "The three months of joyous preparation for this event was a highly emotional and creatively satisfying time for the duo. It was a truly precious, personal and pleasant experience. The wedding was an epitome of glamour and grace and the memory of it remains fresh in our hearts. "
In the designer's words – "Abhishek looks dapper in a blue silver brocade short Sherwani adorned with gota resham, stones and pearls, while Aishwarya exudes pure radiance in an embroidered pastel resham ghagra set that shone with sequins and stones along with a dupatta that was just as rich in details. Abhishek looks princely as ever and Aishwarya remains reminiscent of a goddess in all her bridal glory."
The Wedding: 
The designers say, "Abhishek Bachchan was royalty personified on the day of his wedding with Aishwarya Rai. His Sherwani was a work of art realized in a fabulous geometric Vasli pattern. 
The inner kurta had self-tailoring and gota details with intricately embroidered Zardozi borders. His jooties too, featured indulgent embroidery and his safa was made of Jamdhani tissue that had dreamy gota details."
About the fam-jam's dress code :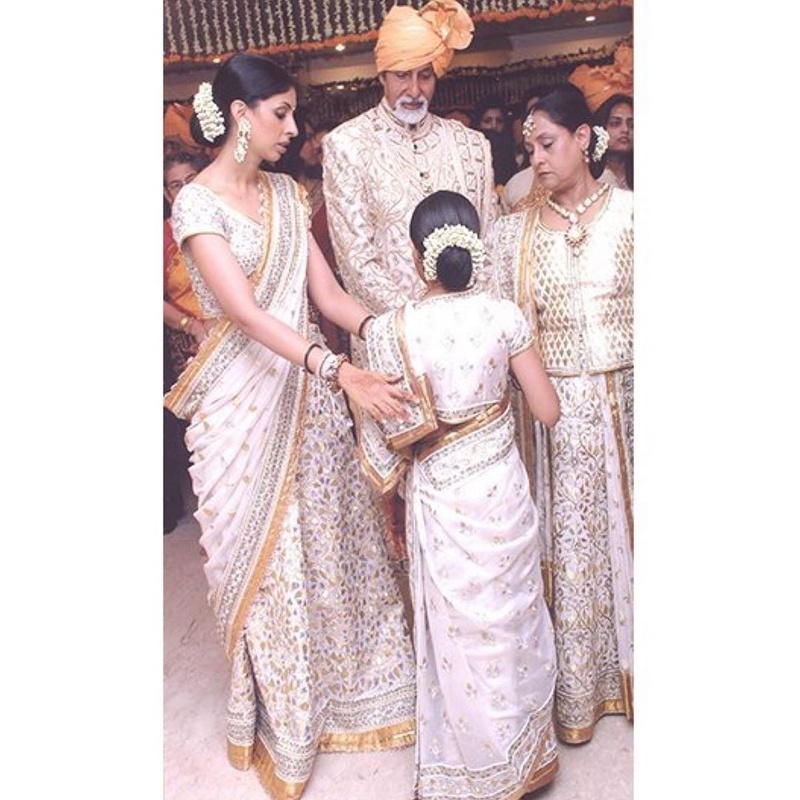 Abu and Sandeep recall, "Like Shweta's big day, Abhishek's wedding too had the pristine perfection of white at the heart of its theme!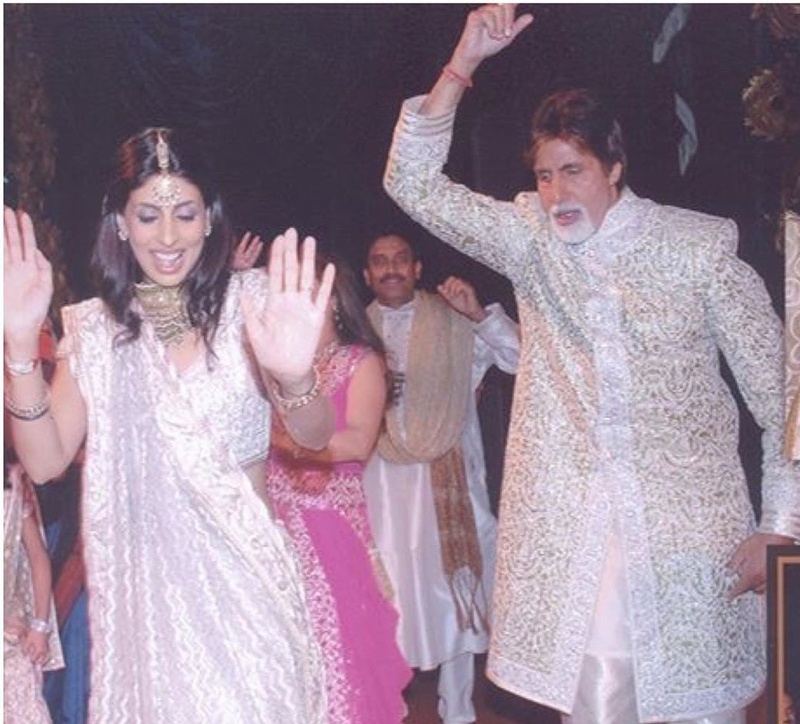 The entire Bachchan family wore Vasli for the nuptials, their meticulously handcrafted ensembles being an ode to unsurpassed elegance. Majestic embroideries in silver and gold Vasli as well as resham lent regal grace and divine auspiciousness to the understated ivory, off-white and beige palette."