Vintage Pre-Wedding Photoshoot in Mumbai with an Old World Charm
This couple's dreamy pre-wedding shoot by Studio Roopkala has caught our latest fancy. Picturesque locations, vintage photo shoot props and outfits that inspire! This pre-wedding shoot held in the outskirts of Vasai and across the widespread beauty of Gorai beach was the best kinda one we've seen in a while. Shristi and Harsh decided to get away from the hustle and bustle of the big city life and have their pre-wedding photo shoot in rustic locations, amidst torn down walls with cute photo props, Viral Dharod of Studio Roopkala brought about a perfect vibe of an old world charm.
Gorg pre wedding photo shoot amidst an age-old forest
Monochrome pictures at the beach – Always a good idea!
Cute vintage pre wedding shoot props that include a gramophone, polaroid camera, and rustic-floral table cloth.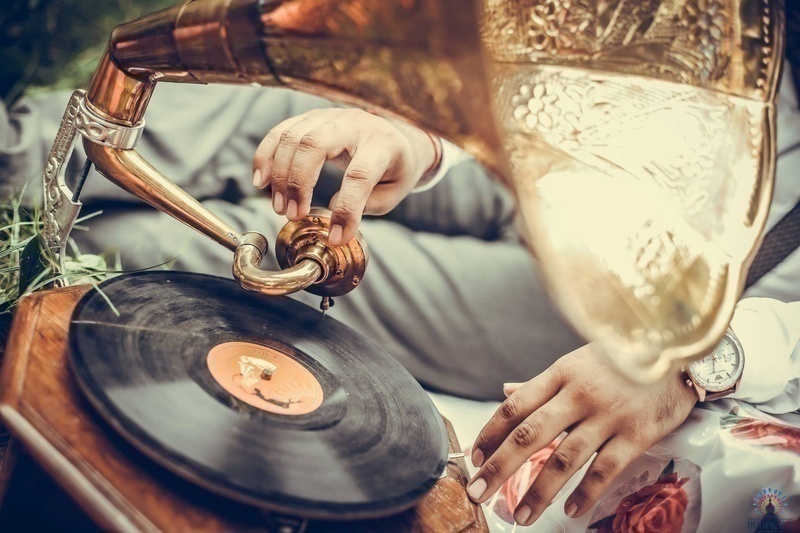 Old-school gramophone for Harsh and Shristi's pre wedding photoshoot. 
Oranges and Grey – Outfits perfectly matched to their vintage pre wedding shoot.
#dhoklawedsdalbaati – Quite the perfect Wedding Hashtag for a cross-community wedding, don't you think?!
Vintage crop top and skirt with stunning floral prints.
Reading The Little Book Of Love – an unusual yet adorable photo prop for the pre wedding shoot!
Perfectly cute Save The Date Ideas!
Romantic pre wedding shoot by Studio Roopkala at Gorai Beach.