Wedding Catering Ideas: 10 Signature Mocktails Recipes to Suggest to Your Caterers
Are you a bride who has never tried alcohol before? Or the kind who swears by sodas and coffee rather than having a shot of tequila? Or have kids, mom-to-be, auntyji's and chachiji's who prefer getting high on Pepsi, attending your wedding celebration and you wish to give them an alternative to boozy drinks?
You always have the option of serving depressing juices or fizzy colas. Why not serve your guests a fancy drink instead? We've talked about delicious cocktail recipes before, but there are some really drool-worthy mocktail recipes we've come across that will keep your teetotallers in high wedding spirits without making them feel left out from the signature cocktail moments.
If you're looking for suggestions to offer to your wedding caterer to create personalized signature drinks, these mocktail recipes are a great steal. Simply hand these over to them and watch the magic unfold. Your guests will surely request for a glass or more. Have a drink dispenser ready, we suggest.  
These mocktail recipes can also come handy for times when you're throwing a house party.
What are you waiting for? Raise your glass girl!
Red, White and Blue Mocktail
INGREDIENTS:
¼ cup fresh raspberries (or strawberries)
¾ tps. grenadine
2 tablespoons club soda
crushed ice
lemon-lime soda
fresh blueberries
INSTRUCTIONS:
Place raspberries in the bottom of a tall glass and drizzle the grenadine over them
Next add your club soda
Then fill your glass with crushed ice (all the way to the top) – this separates the blueberries from the raspberries
Slowly pour in your lemon-lime soda – make sure to pour slowly or the grenadine will mix into the soda too much and take away the "white" look!
Add a handful of blueberries on top
Sip and enjoy!
Source: The Merrythought
Mango Mint Iced Tea
INGREDIENTS:
Mango puree – 1 cup
Tea leaves – 3 tsp.
Water – 4 cups
Sugar – 4 tsp.
Lemon juice – 6 tsp.
Mint leaves – 15-20
Ice cubes
Lemon slices for garnishing
INSTRUCTIONS:
Heat water in a pan. When it comes to a boil, add the tea leaves and switch off the heat
Let the tea steep for 2-3 minutes. Strain the water
Add sugar and mix till sugar is dissolved. Keep aside to cool
Once the tea is cooled, add mango puree, lemon juice and mint leaves
Fill the serving glass with ice cubes
Pour the tea over the ice
Garnish with lemon slices
Serve immediately
Source: Whiskaffair
Watermelon-Strawberry Ginger Lemonade
INGREDIENTS:
3 cups, watermelon, deseeded and cubed
1 cup, strawberries, roughly chopped,
2 tbsp, lemon juice
1 inch, ginger piece, peeled and roughly chopped
8-10, mint leaves
4 tbsp, honey (adjust the sweetness as per your preference)
Few ice cubes, mint leaves  and lemon slices
INSTRUCTIONS:
In a blender add watermelon, strawberries, ginger and mint leaves. Blend it until smooth
Add honey, lemon juice and water, blend again well. Strain it
Put few ice cubes, mint leaves and lemon slices in the serving glasses, pour prepared lemonade and serve chilled
Enjoy!
Source: Cubes N Juliennes
Pomegranate, Lime + Ginger Mocktail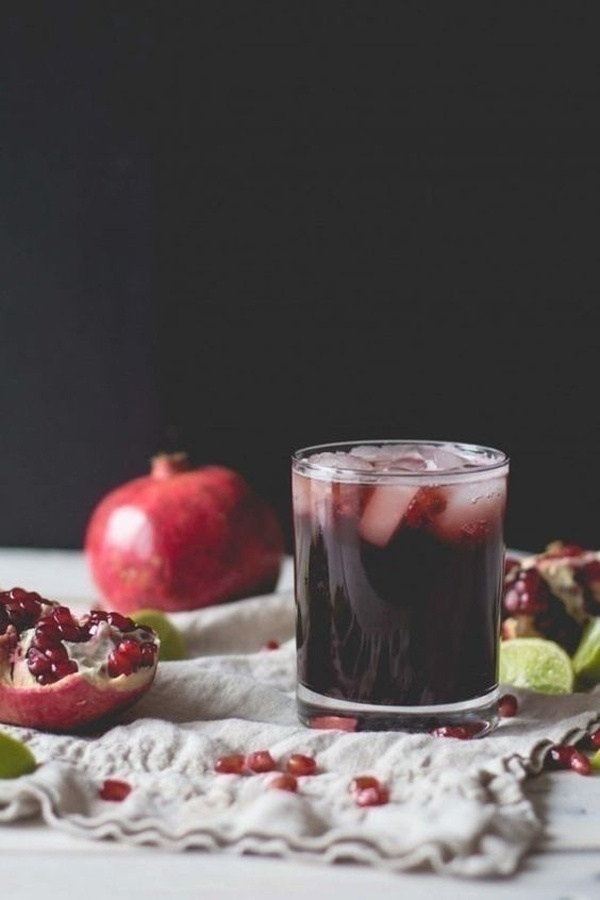 INGREDIENTS:
1 part cranberry juice (100%, no sugar added – not cranberry juice cocktail)
2 parts pomegranate juice (100% pomegranate juice)
3 parts ginger beer (I used Reed's Jamaican style ginger beer)
Squeeze of lime juice (for 1 mocktail, I used the juice from 1 wedge of lime)
Pomegranate seeds or lime wedges for garnish (optional)
INSTRUCTIONS:
Fill glasses partway with ice
Add juices and ginger beer
Stir gently
Garnish with fresh pomegranate seeds or lime wedges
Source: offbeat + inspired
Passion Fruit + Lemon-Ginger Fresca
INGREDIENTS:
Ice
1 tablespoon fresh passion fruit juice*
4 ounces KeVita lemon ginger Sparkling Probiotic Drink
1-2 tablespoons mineral water or sparkling water
Fresh thyme springs, for serving
Passion fruit pulp, for serving
*passion fruit juice
1 ripe passion fruit
2 tablespoons water
INSTRUCTIONS:
In a lowball glass or a glass equivalent in size, add a couple pieces of ice, the passion fruit juice, lemon ginger sparkling probiotic, and 1-2 tablespoons sparkling water (depending on the size of your glass)
Garnish with a sprig or two of fresh thyme and a good spoonful of passion fruit pulp and seeds
Source: Dolly and Oatmeal
Sangria Mocktail
INGREDIENTS:
1ltr grape juice
1-2 oranges/keenu, sliced fine
8-10 strawberries, quartered
1small bunch grapes, halved
1 apple, diced
1 stick cinnamon
4-5 cloves
1 star anise
Honey if required
INSTRUCTIONS:
Place everything except honey in a large glass jug {or nonreactive bowl} and refrigerate for a couple of hours
Add honey if desired
Serve in glasses with fruit ladled in
Source: ASKME ON WELLNESS
Blueberry Mojito Mocktail
INGREDIENTS:
1 cup fresh blueberries
10 fresh mint leaves
2 teaspoons sugar
Juice of 2 limes
Club soda
Crushed ice
INSTRUCTIONS:
In a blender, puree the blueberries, set aside
In a cocktail shaker (or mason jar), muddle mint leaves and sugar
Add the lime juice and pureed blueberries. Shake well
Pour mixture into two tall glasses. Fill glasses with crushed ice. Top with club soda and gently stir
Garnish with lime wedge, blueberries and mint sprig if desired
Source: The Merrythought
Frozen Peach Bellini Mocktail
INGREDIENTS:
2 ripe peaches, peeled and sliced (or you can use frozen)
1 sparkling apple juice, plus more for serving
2 teaspoons SPLENDA® Sugar Blend
1 teaspoon lime juice
INSTRUCTIONS:
Place sliced peaches in freezer for 1 hour
Combine peaches, 1 cup sparkling apple juice, SPLENDA® Sugar Blend, and lime juice in a blender and blend until smooth
Pour into 2 glasses and add about ½ inch of additional sparkling apple juice
Source: Spicy Southern Kitchen
Dark Invader
INGREDIENTS:
11 blackberries
1 1/2 ounces pineapple juice
1/2 ounce vanilla syrup (see note)
Ice
INSTRUCTIONS:
Combine 9 of the blackberries, the juice and syrup in a cocktail shaker; muddle well
Add the ice and shake vigorously for 30 seconds, then strain into a cocktail (martini) glass
Garnish with the remaining 2 blackberries (one on each side of the rim, like alien ears)
Source: Offbeat Bride
Safe Sex on the Beach
INGREDIENTS:
3 ounces cranberry juice
3 ounces grapefruit juice
2 ounces peach nectar
1 maraschino cherry
INSTRUCTIONS:
Pour over ice in a chilled glass and stir
Garnish with a cherry
Source: Offbeat Bride