10 Wedding Lehenga Trends of 2017 That Every Indian Bride Must Know! #BridalTrends
White Lehengas
Paired with pops of colour, white wedding lehengas are no longer avoided.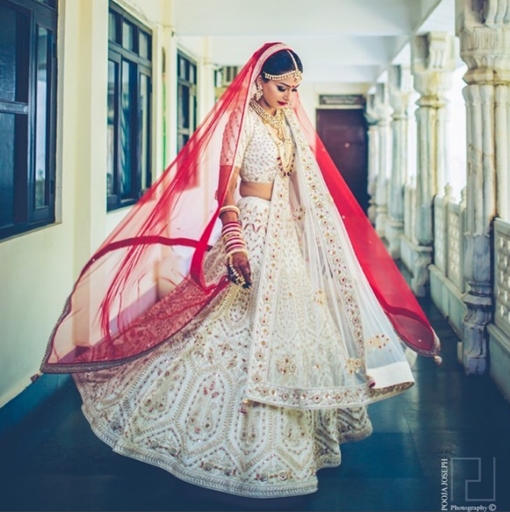 Minimal and Light
Brides no longer want to wear super-heavy outfits that are difficult to even walk in. It's all about minimalism and comfort.
Cut-Out Sleeves
We all know that cold-shoulder/cut-out sleeves are trending in western wear. But guess what, our wedding lehengas have caught up too!
Gold Tones
Glittering gold lehengas are replacing the customary red colours of an Indian bridal outfit.
Sheer Dupattas
Heavily adorned dupattas are gone-gone-gone! Sheer dupattas are everywhere. Pair your bridal lehenga with light, see-through dupattas of a toned down, muted shade of the lehenga-colour. Light embroideries and borders on the dupatta work brilliantly!
Velvet Lehengas
Velvet fabric makes a comeback in deep tones.
Story Lehengas
We've seen a few brides customise their wedding lehengas by weaving couple names or their love story onto the fabric. How creative is this!
Prints In Place Of Embroidery
It's not always about zardozi work! More and more brides are going for printed rather than fully embroidered ones. They are much lighter, easier to carry and also have fun motifs! Ideal for your mehndi day.
Lehenga-Gowns
Bridal wear with western touches – modern lehenga gowns are great options for a Sangeet night.
Quirky Motifs
Indian bridal lehengas with modern touches and quirky, whimsical elements. Mix-n-match works great with these!
Cover image by Shutterdown