Wedding Venues and Their Hidden Costs – Revealed! – Weddingz Advice #11
Planning a wedding can be very exciting but it's advisable to work out a budget before you begin. By doing so, you can prevent sleepless nights over money worries and you'll be able to enjoy the lead up to your big day!
While it may not seem that there would be hidden costs still waiting to drag a happy couple into debt – there are. Aside from the usual costs of the bridal lehenga, the jewellery, the accessories, the venue and the rings, there are a myriad costs and fees that, if unaccounted for, could quickly put the couple-to-be into a deficit.
Wedding venues don't advertise hidden costs. In today's advice, we'll take you through some hidden costs of indoor and outdoor wedding venues, which if you're aware of, can ensure your wedding stays well withing budget.
Foreign Entertainer Tax
Photo via Alif Studio
Planning a lavish Indian wedding with some foreign entertainers who are flying down especially from Dubai or Caribbean to put up a great show at your sangeet, cocktail party or wedding reception? Then it's advisable to confirm with your venue manager if there are any tax provisions that you need to take care of. While some venues may not have these taxes levied, there are a others who impose foreign entertainer tax, just to be on the safe on account of legal repurcussions for entertainment taking place within their premises. If you think your Aunty Sally who is travelling from America can perhaps sing a song or two at your wedding, there might be objections to that too. Have this clarified with your venue manager beforehand to avoid last minute disappointments.
Entertainment Tax for Playing Bollywood Songs
Photo via Richa Kashelkar
This hidden cost is mostly for outdoor wedding venues. Almost all open-air venues will object to Bollywood songs and loud music being played due to music royalty and entertainment copyright laws, and may charge you for permissions or a royalty fee. So, if you think there will be no objections to you playing 'Chamak Challo' or 'Lungi Dance' for your open air sangeet celebration, this hidden cost will make you think twice.
Per Plate Cost Comes With a Catch
Photo via Siddha Photography
So, the venue manager quoted the per plate cost at Rs.1,300 per guests and according to that you've budgeted for say about 160 guests, thinking to yourself you couldn't have got a better deal at an all-inclusive wedding venue. Now, here's the catch – many wedding venues have a minimum amount limit to which the per-plate cost is applicable. If the minimum booking amount is 2 lakhs, it doesn't matter if you have 160 guests or less. Get this communication clear before setting your wedding budget and finalizing the venue.
Live Food Stations Come With an Additional Cost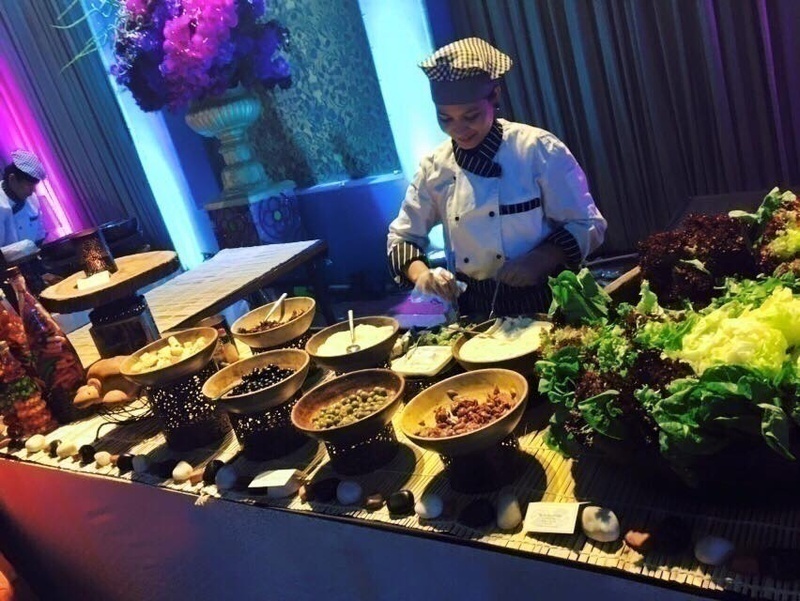 Paprika Kitchen by Praveen Gandhi
So, the wedding venue caterer suggested you add some live food counters to jazz up your catering. If you assume that it will come with your regular catering cost, think again! Live counters come with an additional fee. If your wedding budget allows you to splurge a little there's no harm in getting some entertaining chefs serving you delectable food.
Early or Late Access to Your Venue
Photo via Candid Shutter
Thinking it's absolutely OKAY to come whenever you want and leave whenever you want on the event day since you've already paid for the venue. Well, it's not OKAY with most venue managers as they have certain time slots for when the facilities are available. If you need customized time slots, then be ready to dig an additional hole in your pocket.
Power Generator Cost
Photo via Going Banana's Photography
This one's again majorly for outdoor wedding venues. If you're having a day wedding then there are no issues. But for late evening celebrations, the power generator set ups come with an additional cost.
Changing Rooms
Photo via Going Banana's Photography
Don't go by the assumption that changing rooms come complimentary with your venue booking. While some charge you for changing rooms, some wedding venues provide rooms based on certain criteria, such as which banqueting space you've booked of their venue or depending on the number of guests attending your wedding.
Alcohol / Bar Access
Photo via Camera Crew
If you're planning to serve alcohol at your wedding, it's advisable to ask the wedding venue if you can make your own alcohol arrangements, as in-house liquor can cost you a bomb. Clarify then and there if there are any corkage charges applicable, also what are the time slots or any other hidden costs available depending on stock availability.  
Outside Vendors
Photo via Camera Crew
If the venue allows you to book your own decorator, DJ or caterer that may come with royalty charges. It doesn't matter if the wedding venue offers these services in-house or not. Outside vendors are charged irrespective. Get a clarity on what the charges are if applicable, before booking your favourite decorator, caterer or DJ.
Extra Chairs/Furniture
Photo via PK Suri
Other than the 'X' number of chairs or furniture allotted for the functions, should you need any other chair, table or furniture for your event the venue manager may ask you to lose some change for that too, knowing it's a last minute urgent requirement. Clearly communicate with your venue manager what your event involves and what could possibly be some last minute requirements, if any.  
Top Tips:
Never assume you can do something – if any such though crosses your mind, ask and confirm!
Always check if VAT is included
Always ask if there are any 'hidden costs' that may crop up later on
If you came across any such wedding venue hidden costs that stunned or caught you by suprise, let us know in the comments section below.