Wz Prime Terms and Conditions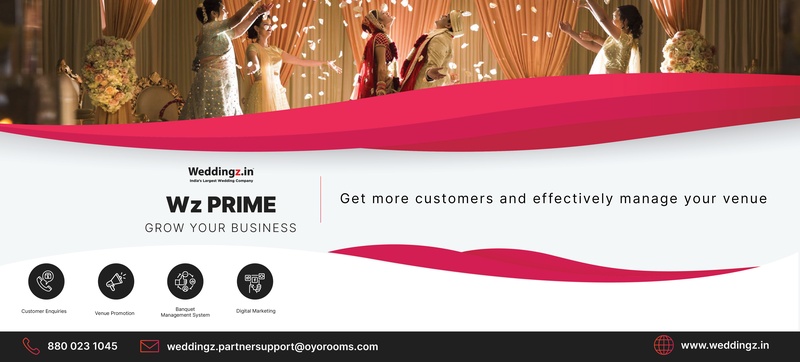 TERMS AND CONDITIONS FOR VENUE PARTNER
These terms and conditions (the "Terms") of Weddingz.in (hereinafter referred to as "Our"/ "We"/ "Us"/" Weddingz) set forth legally binding agreement between the Parties and form part of the Agreement executed between the Venue Partner ("yourself") and Weddingz. The Terms also apply to all applications operated by www.weddingz.in ("website") or any product/software provided by Weddingz or Our affiliates that link to these Terms and related online and offline services thereto.
Upon acceptance of the Terms by You, You hereby agree to have read and understood the Terms and to fully comply with all the provision contained herein (and as may be amended from time to time) and affirm that the Terms form part of the Agreement.
1. LICENCE OF INTELLECTUAL PROPERTY
You undertake not to use, advertise or authorize the use of Weddingz.in name or trademark or any other Intellectual Property for any purposes other than the performance of its obligations under the Agreement and in the manner agreed by Weddingz.in in writing. You undertake to hold harmless and indemnify Weddingz.in and/or its Affiliates for any use by the You of the Intellectual Property otherwise than in accordance with the Agreement. You further hereby grant Weddingz to use name, trademark or any other Intellectual Property of yours for the performance of services in accordance with the provision of the Agreement.
2. DISCLOSURE AND CONFIDENTIALITY
You understand and explicitly acknowledges that the Confidential Information including but not limited to any and all information or proprietary materials (in every form), existing or contemplated products, services, technology, information relating to ideas, techniques financial information is valuable, confidential and proprietary information of Weddingz and that any misappropriation, disclosure or misuse of such Confidential Information might cause severe damage to Weddingz. You agree to fully indemnify and hold harmless Weddingz in event of the breach committed by You with respect to Confidentiality as well as Intellectual Property Rights of Weddingz. This clause shall survive in perpetuity.
3. LISTING OF VENUE
Weddingz.in reserves the right to list the Venue on its Website even post expiry of the Agreement, and the Venue Partner shall be deemed to have given unconditional and irrevocable permission to Weddingz.in for the same.
4. REFUND ON CUSTOMER CANCELLATION
On account of mis-representation or any default attributable to the Venue Partner including but not limited to lack of proper licenses to hold an event etc., and/ or due to any bonafide Venue issue [e.g. Venue sealing, Venue damaged post booking, or any other instance of non-fulfilment of its obligation, resulting in cancellation of event by the customer, Weddingz shall not be liable nor to be held responsible for refund of any payment to the customer.
5. REPRESENTATION AND WARRANTIES
You hereby represent and warrant to have full power and authority to enter and perform your obligations under the Agreement. You further represent not to be insolvent, or bankrupt, neither has assigned any or all substantial part of its business or assets for the benefit of creditors, appointed any receiver/ceased its business, nor is subjected to any legal proceeding.
6. COMPLIANCE WITH LAWS
You agree to comply with all Applicable Laws necessary for performing the obligations under the Agreement.
7. ASSIGNMENT
Weddingz reserves the right to assign its rights and obligations to any other third party as may be required, by providing written intimation to You. You shall not assign your rights under the Agreement to a third party without the prior written approval of Weddingz.in.
8. NO AGENCY
The Agreement shall not constitute or imply any partnership, joint venture, agency, fiduciary relationship or other relationship between the Parties other than the contractual relationship expressly provided for in this Agreement. Neither Party shall have the right to, nor represent that it has, any authority to make any commitment on the other Party's behalf.
9. NOTICE
Any notice or other communication required or permitted under the Agreement shall be in writing, in English language, and shall be deemed to be validly given and effectively served upon when and if (i) delivered personally, (ii) mailed by registered or certified mail, or (iii) transmitted through courier service at the addresses provided by each Party under the Agreement.
10. SEVERABILITY
In case any provision of the Agreement becomes invalid or unenforceable, the Parties shall remain bound by the remainder of the Agreement and replace the invalid or unenforceable provisions with new provisions having a similar effect to the maximum extent possible.
11. ENTIRE AGREEMENT
The Agreement along with the Terms stipulated herein constitutes the entire agreement between the Parties and embodies all the terms and conditions agreed upon between the Parties and supersedes and cancels in all respects all agreements and understandings previously made between of the Parties, whether oral or written, in relation to the subject matter contained herein.
12. WAIVER
Neither failure nor delay by a Party to enforce at any time any one or more of the terms or conditions of the Agreement shall operate as a waiver thereof, or of the right to subsequently enforce all terms and conditions of the Agreement. Any waiver given by a Party is only in relation to a specific breach for which the waiver was given expressly in writing.