Your Guide to Donning the Perfect Panchlada/Satlada on Your D-Day
The craze of the 'return of the classics' is here and how! This rage has spilled itself over to ancient customs, traditions, art, apparels and accessories. It is, therefore, increasingly refreshing to see a cluster of contemporary brides revamping and redoing their ancestral jewellery or jewels. The satlada (seven-strand) and panchlada (five-strand) necklace is one such piece of jewellery that is back in vogue! From celebrity weddings to cross-cultural nuptials, city-bound or countryside, this exquisite jewellery is reigning in glory.
Dating back to Basra in the Persian Gulf, this ornate adornment made its way to India from the ports of Bombay and Hyderabad. Revered by the rulers of these states here, the satlada and panchlada necklaces found a special place in the treasures of the women belonging to the nobility.
Today the satlada and panchlada necklaces can glam up your entire look and classify you as a novelty! Be it a chiffon saree, a pastel-hued lehenga, cocktail or reception gown or even your bridal lehenga, this necklace blends in a way that it can elevate your entire look! To get you started we have ten looks listed here. Take a look at these:
1. Play it to Perfection in this White Satlada with Drops in Rose Cut Diamonds!
Image Source Kishandas & Co
Embellish your look with this bold satlada and add to the drama of your pre-wedding trousseau.
2. Can't Beat the Magic of this Polki and Pearl Panchlada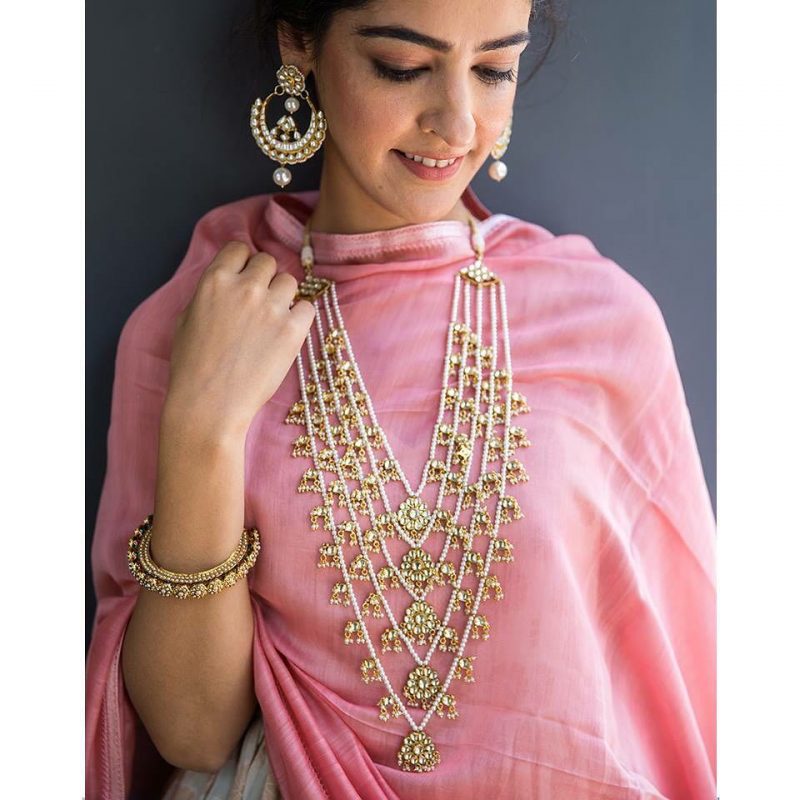 Image Source Zevar By Geeta
Glam up your entire look with this intricate panchlada that can seamlessly blend in with pastel shades.
3. Tinged in Timelessness!
Image Source Birdhichand Ghanshyamdas
An intricate statement satlada is all you need to transform into a vintage bride.
4. Gracefulness Galore in this Intricately Carved Rubies, Diamonds and Pearls Panchlada!

Image Source Tyaani
Let the beauty of this generous panchlada light up your entire bridal aura. You can pair it with a subtle shade and let the haar do all the talking!
5. Triumph in Turquoise!
Image Source Kishandas & Co
Unravel the charisma of contrast with this turquoise satlada in pearls and polki droppings.
6. A Penchant for Precious Stones? Let this Panchlada Fulfill It!
Image Source Prerto
Add a contemporary twist to your appearance with this revamped precious stone panchlada.
7. Dainty in Diamonds!
Image Source Hazoorilal Legacy Jewellers
This drool-worthy diamond satlada is a keeper! This works perfectly well with almost any of your outfits. But we suggest, savour the best for the biggest day!
8. An Ode to Heritage Hues!
Image Source Sabyasachi Official
If you crave to be the classic portrait of a timeless traditional bride, this intricate satlada could be the real deal for you!
9. Kind in Kundan!
Image Source Paisley Pop Shop
Opt for this green gold plated kundan panchlada for a rich and royal look!
10. Ace it With This Aesthetically Crafted Panchlada!
Image Source Prerto
Add an exquisite edge to your bridal look with this pearl and kundan panchlada and be the bride of your dreams!
Ladies, we hope you can take many leaves out from this book (list) and get inspired to embrace and experiment with this iconic piece of jewellery. Which one are you choosing then?